I've mentioned this before but I'm not a same meal every day kind of person. Eating is one of the things I like most – not in a food dependency kind of way but in a great pleasures of life kind of way. And variety in food is my favorite, especially at dinnertime, so I'm always brainstorming something new to try. Recently I had bok choy, asparagus, and mushrooms in the fridge and was thinking up ways I could use them, and I kept coming back to a Chinese vegetables and rice dish. Turns out it was super easy to pull together and tasted so good. So much better than Chinese restaurant food and I didn't feel like I'd swallowed a brick. You know that heavy feeling you have after eating Chinese food? Well not with this – you won't believe how easy it is to make healthy homemade Chinese food yourself.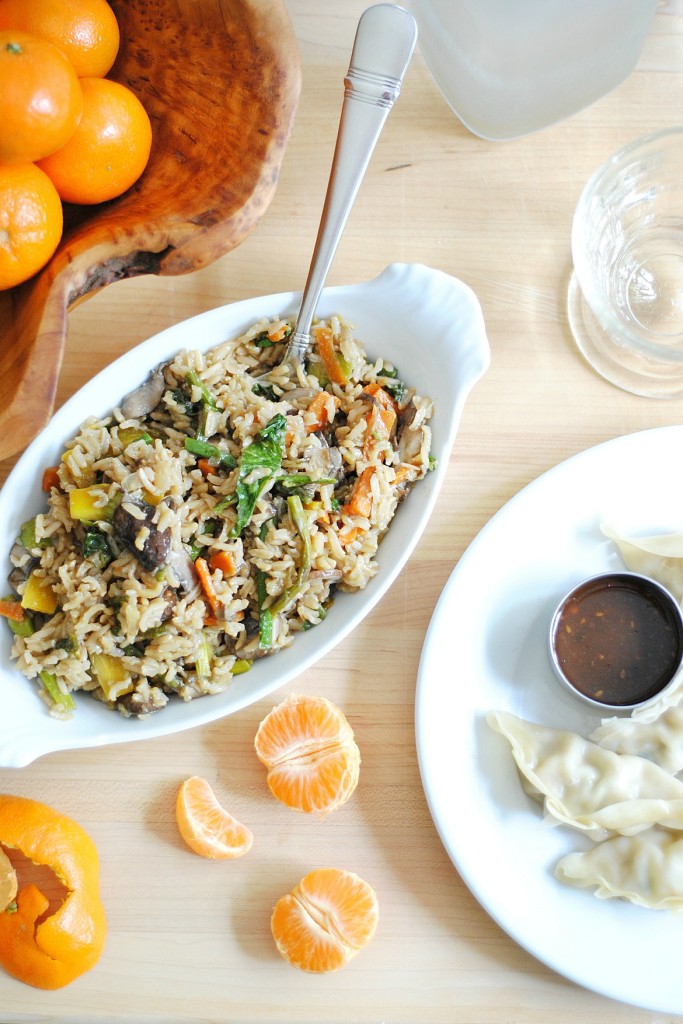 Now, not to mislead you. I did NOT make Chinese dumplings! I bought those frozen from Trader Joe's. My family loves them and they also sell a gyoza dipping sauce that is great with them. You toss the dumplings in a steamer basket and they're ready ten minutes later. I do take shortcuts sometimes and my family loves these dumplings. My daughters also love the dumplings and leftovers of this rice and vegetables for lunch. Such an easy lunch to throw together (and I'm all about different ideas for lunchboxes and breakfasts on busy weekdays).
The Chinese vegetables and rice are slightly more involved than steaming the dumplings but honestly, not much. Here's how to get authentic Chinese flavor with all of the tastiness and none of the bad stuff.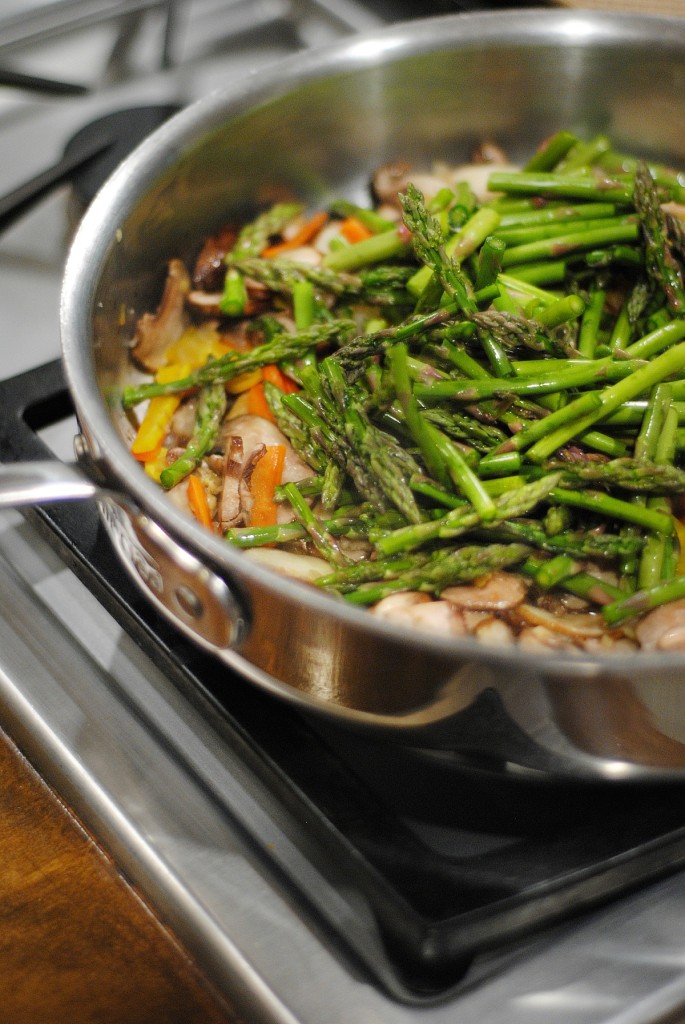 Easy Healthy Homemade Chinese Food - Chinese Vegetables and Rice
Easy, healthy, and delicious Chinese vegetables and rice.
Recipe type:
Main Course, Side Dish
Ingredients
1 c. brown rice (dry)
1 tbsp. canola, grapeseed, sunflower or other lightly flavored oil
small yellow onion, diced
3 cloves garlic, minced
1 tbsp. ginger, minced
10 oz. mushrooms (I prefer cremini), washed and sliced
3 carrots, peeled and cut into 1" matchsticks
12 oz. asparagus, cut into 1" pieces
6 oz. bok choy, chopped
3 tbsp. soy sauce
2 tbsp. flour
1 c. chicken broth
Instructions
Cook brown rice according to the package directions. Let sit covered in its pot until you're ready to use it.
Heat oil in a sauté pan over medium-high heat. Add the onion and cook until translucent. Add the garlic and ginger and cook about 30 seconds. Add the mushrooms and cook until browned and soft. Add the carrots and cook until slightly softened. Add the asparagus and cook a few minutes, until it's lost some of its bite but is still bright green. Add the bok choy and cook until it's wilted.
At any point while the vegetables are cooking, put the soy sauce and flour in a small bowl and whisk until smooth. When the vegetables are cooked add the soy sauce mixture and the chicken broth to the pan and bring to a boil. Lower heat and simmer a few minutes until the sauce has thickened.
Stir in the cooked rice, taste for salt, and serve hot.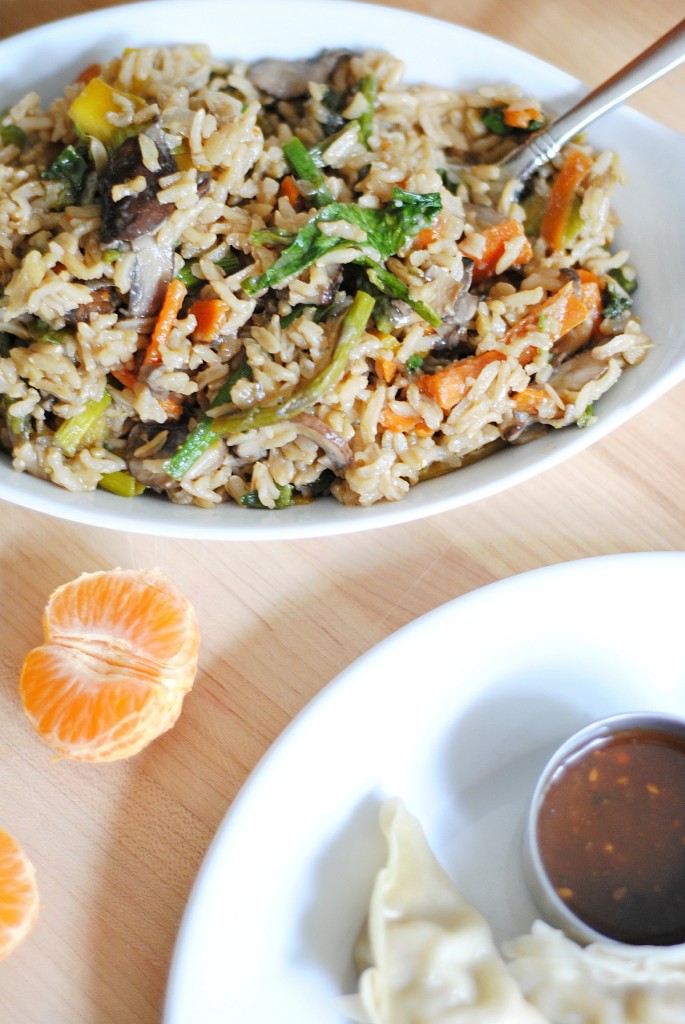 And I just had to share this behind-the-scenes peek at my Chinese food photo shoot – I posted on Instagram yesterday. My sweet Elle is often on the sidelines while I'm taking photos around the house. You usually just see the finished photo and probably don't think much about how it got there but that photo at the top of this post required me standing on a ladder, perched over the edge with my camera, and a four year by my side saying, "Can I have a dumpling yet? How about now? How about now? How about now? Why is this taking so long? Are you finished your pictures yet?" :)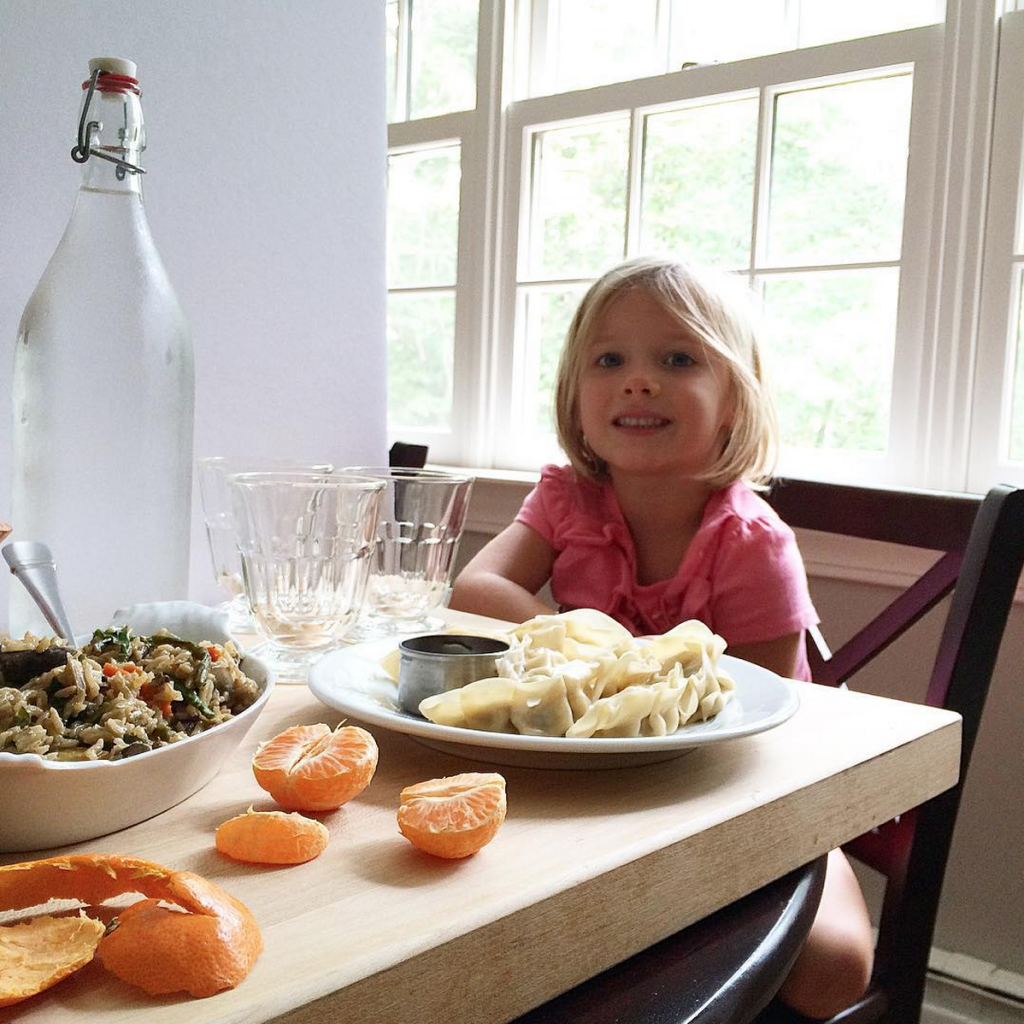 It can be challenging getting anything done with her at my heels all the time but she will head off to kindergarten next year and I know I'll miss having her little voice as the background noise to my days. And the unbridled joy when I finally said, "Go ahead, you can eat the dumplings" was enough to make me smile for awhile after the photos were finished.