The Christmas decorating continues over here this week and today I'm taking you through my front entryway. On Monday last week I shared how I decorated my living room and dining room and on Wednesday how I spruced up the mudroom, kitchen, and family room for Christmas. The entryway tour today is part of another week-long tour of homes – All Through the House hosted by Town and Country Living and The Everyday Home – with each day focusing on a different part of the house. Today is porches and foyers, Tuesday we'll take a look at living and family rooms, Wednesday is kitchens, Thursday is dining rooms, and Friday is kind of a wildcard and could be anything from bedrooms to sunrooms. Make sure you check out the other blogs participating (at the end of this post) for a whole houseful of Christmas decorating inspiration this week.
My entryway was the very first part of my house that I decorated this year, which seemed fitting since it's where people first walk in when they come over.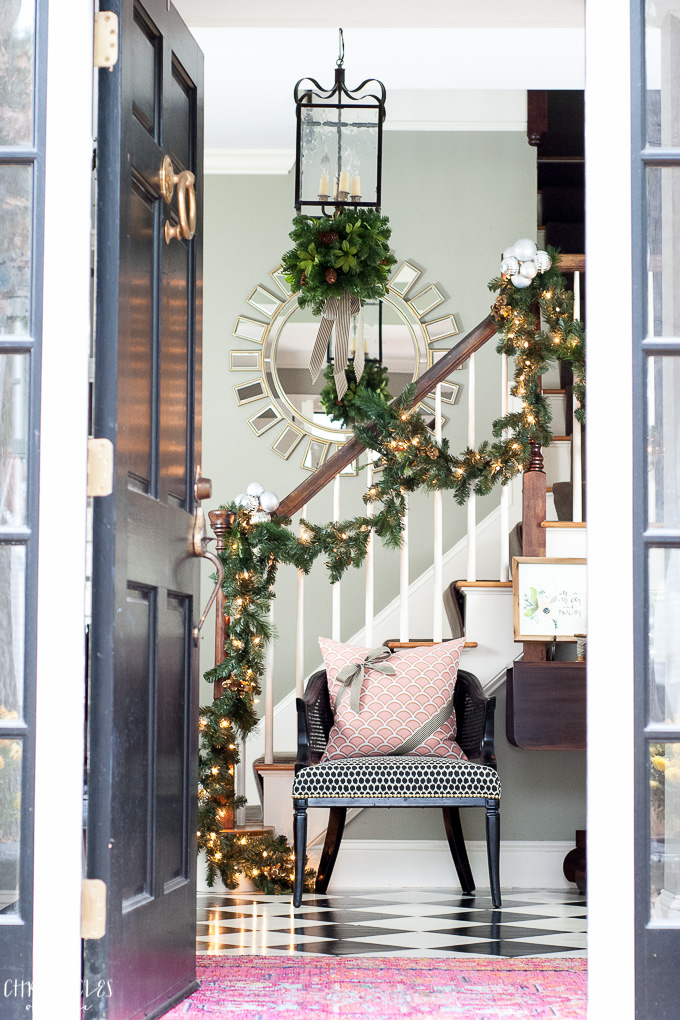 Directly inside the front door, on the right, is a little built-in bench.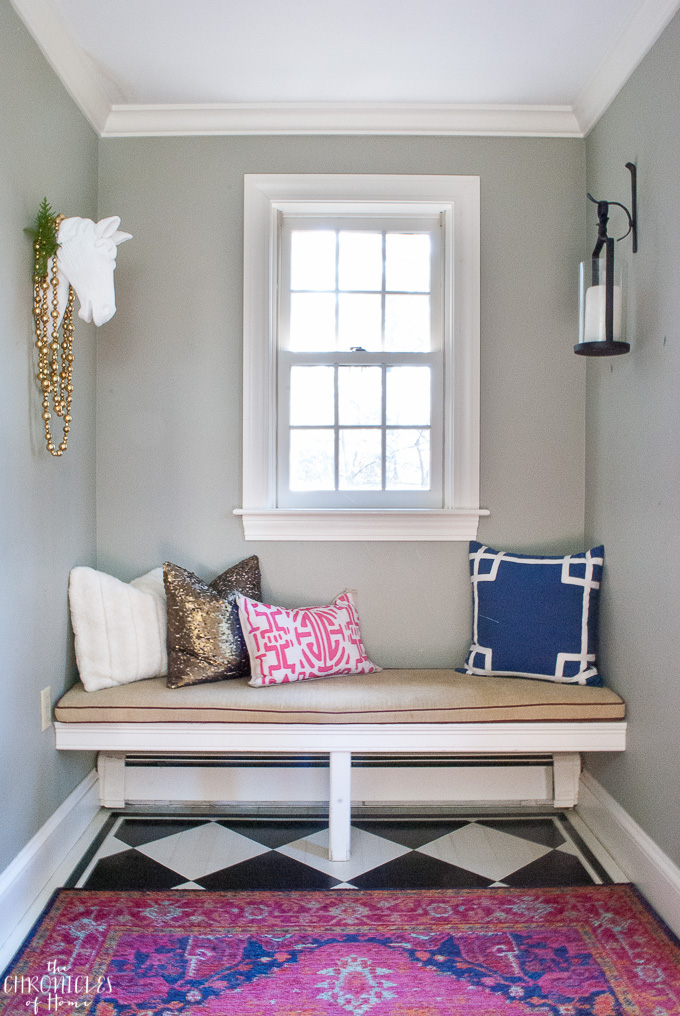 I really wanted to keep the main focus of the entryway on the lit staircase garland you see in the first photo, so kept this bench area very simple. I added a bronze sequined pillow I made a couple years ago – it can often be found somewhere around the house and always seems to make a guest appearance in my holiday photos. There's just something about that sparkle…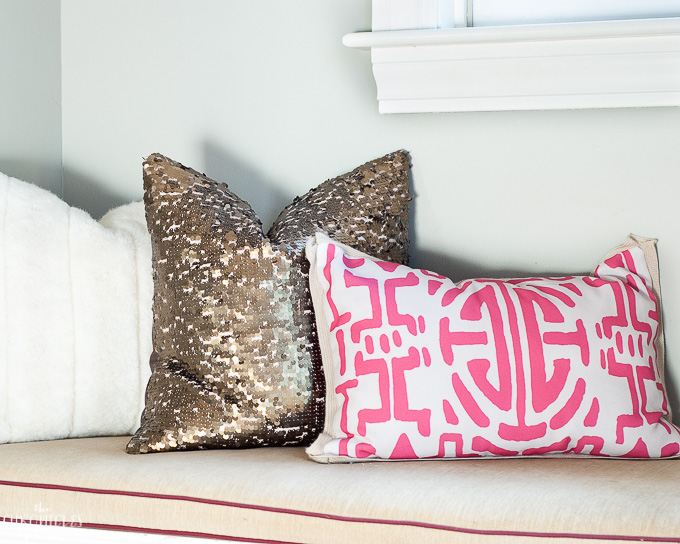 I recently hung this handsome horse on the wall in the bench area and gave him a little sparkle and greenery of his own for the holidays – a gold beaded garland I had (you can see it on the living room mantle in my Christmas house tour last year) and a few sprigs of greenery cut from the yard.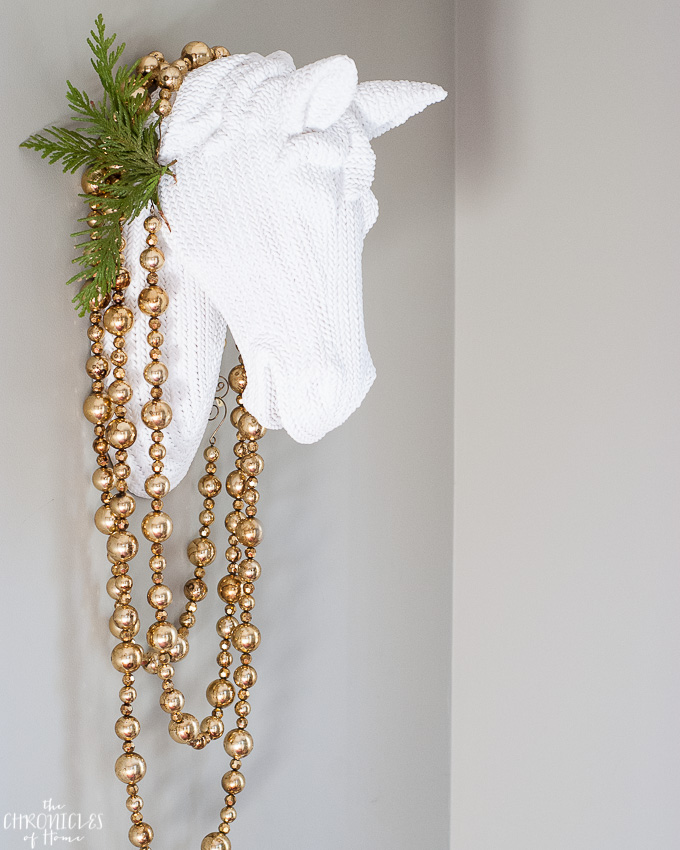 I feel like the sort of knit texture of the horse is extra perfect for this time of year, though he will live here in all seasons.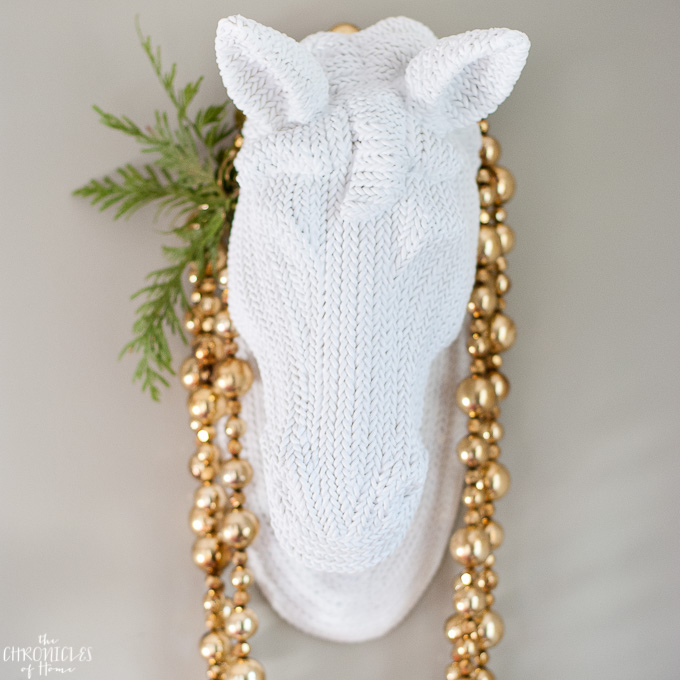 Looking back toward this area from the hallway you can see the swag I hung on the inside of the front door. (p.s. I often get asked about my entryway rugs – they are drop dead gorgeous and unbelievably forgiving. You can find them here.)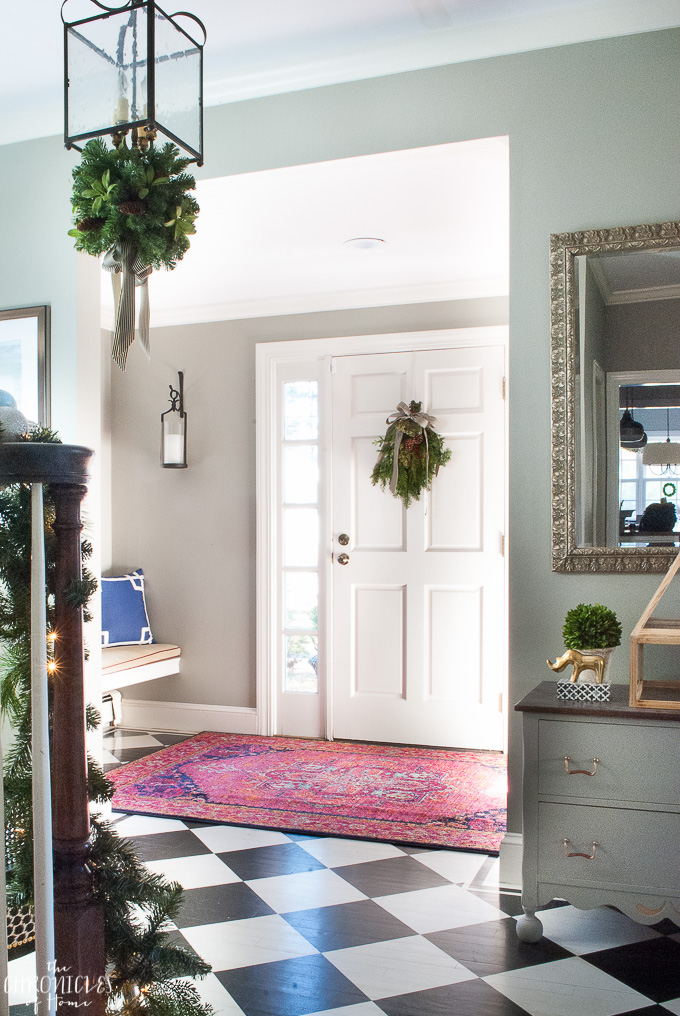 Christmas decorations do not have to be complicated or expensive to be beautiful. This is just a swag I grabbed at the grocery store last week and tied a black and white striped ribbon around the top.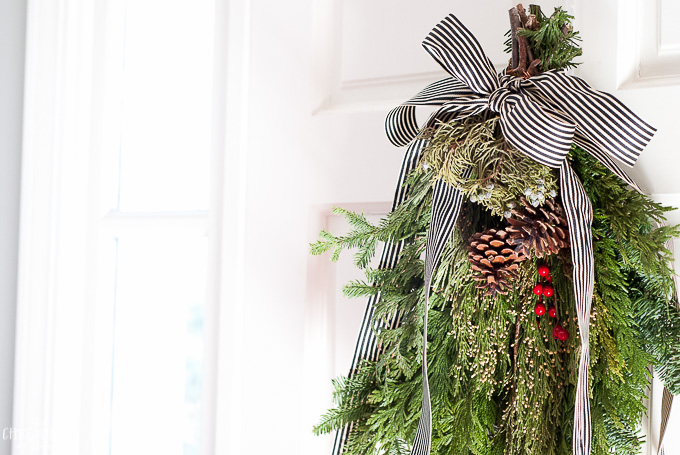 My house is a classic center-entrance colonial with the living room on one side of the entryway and the dining room on the other. I love this view from the foyer into the living room, where I put our Christmas tree.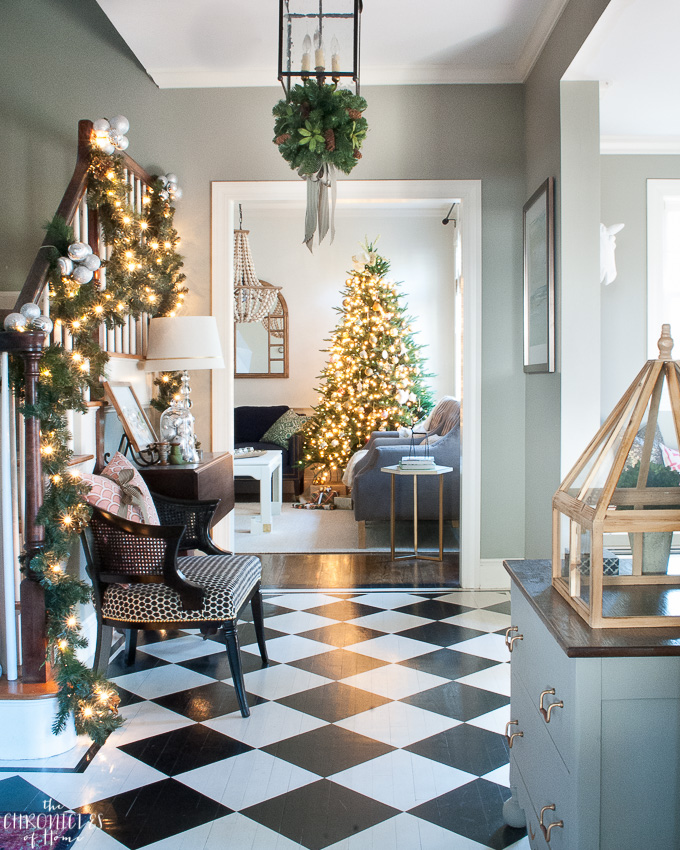 I hung a kissing ball from the entryway light for a fun little touch. You can see how I made the bow for it here.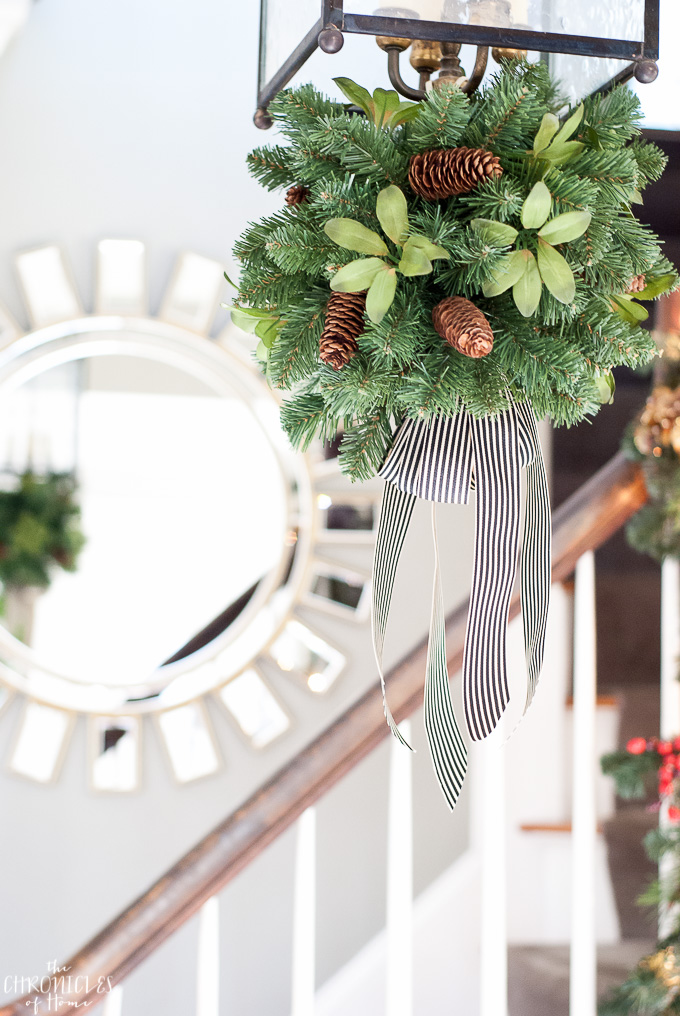 I used a pre-lit garland on the banister and made some simple ornament clusters out of shatterproof ornaments. I first tried with glass ornaments and that didn't end too well… I also took a regular old pillow and tied on the same black and white striped ribbon I used on the door swag and kissing ball to make it look a bit like a wrapped present. The cane chair was a piece I rescued from the dump and made pretty again.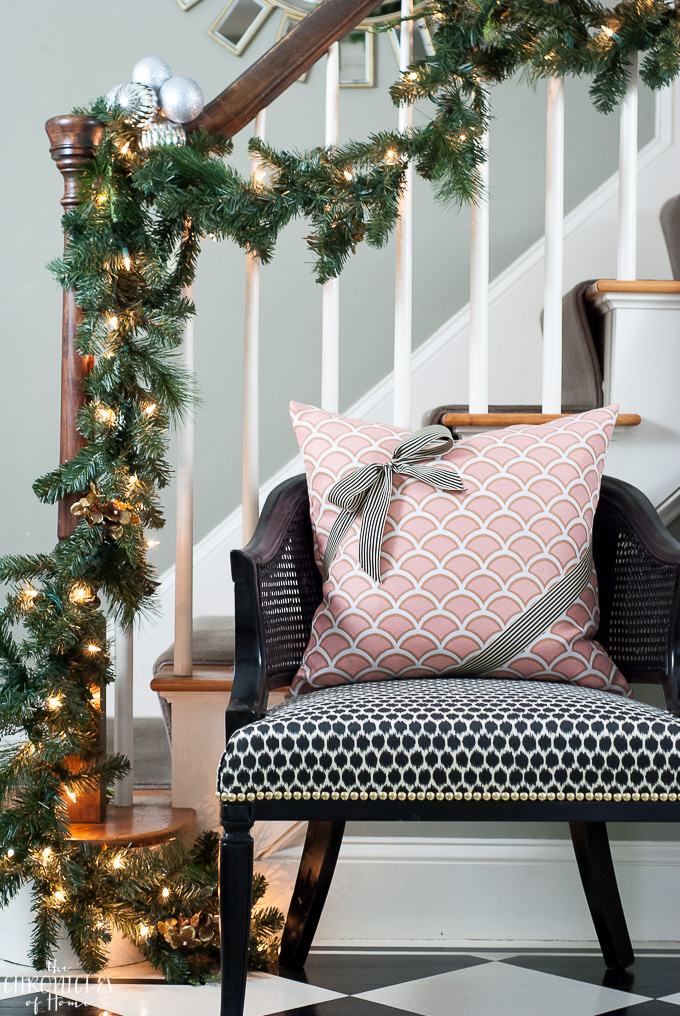 On the table next to the chair I put together a simple little vignette with some more silver ornaments under a glass cloche and ribbon wrapped around antique spools.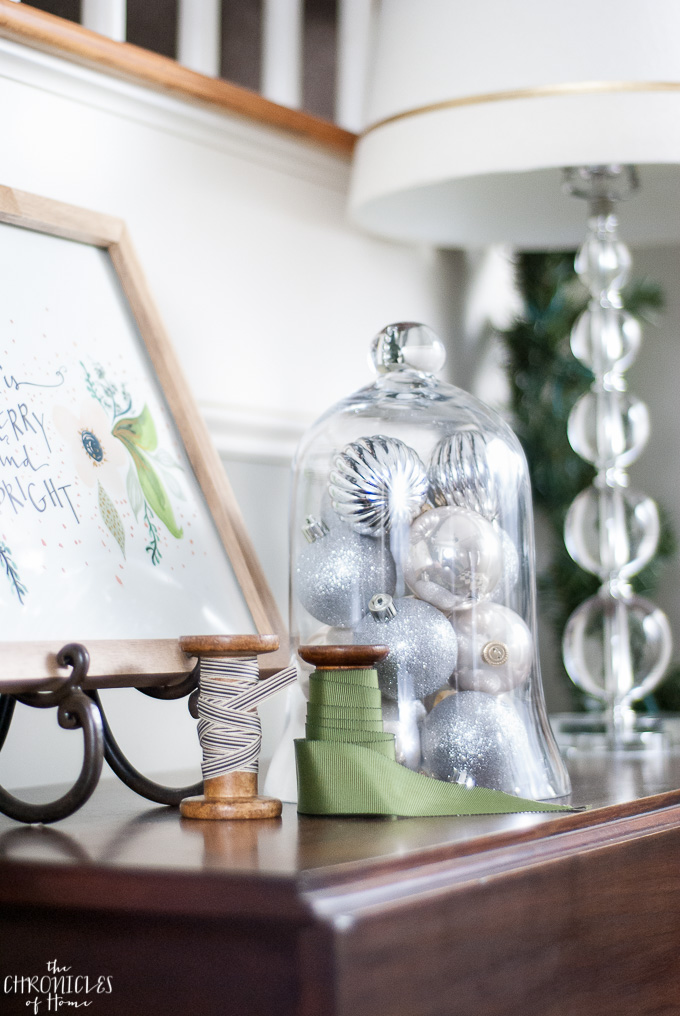 The free printable watercolor that inspired a lot of my Christmas decorations this year is on this table too. You can download and print for personal use here.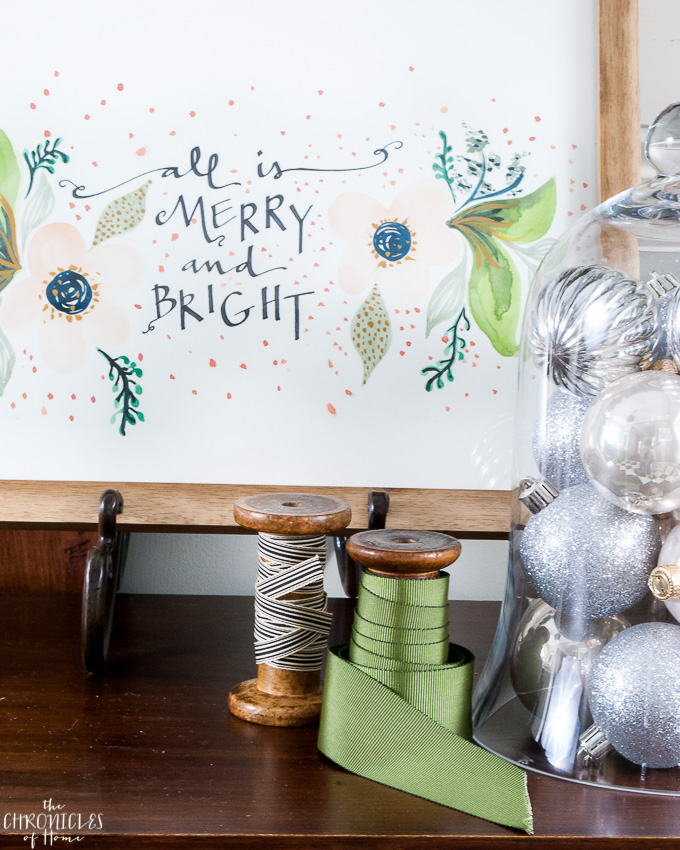 I'm so glad you stopped by today – make sure to check back with the other ladies coming later in the week as we make our way through the house. You can find them all below, and the links will take you to their posts once they are live.