Hello there! I'm really glad you're here today :)
I have jumped right on in to my first house project of the year, and that project is the mudroom (you can catch up on details of what I'm planning to do in the mudroom and what other projects I'm hoping to complete in 2016 here). I actually waffled a little on where to begin, but since I had all of the supplies I needed to begin on the mudroom wallpaper job, I decided to start there.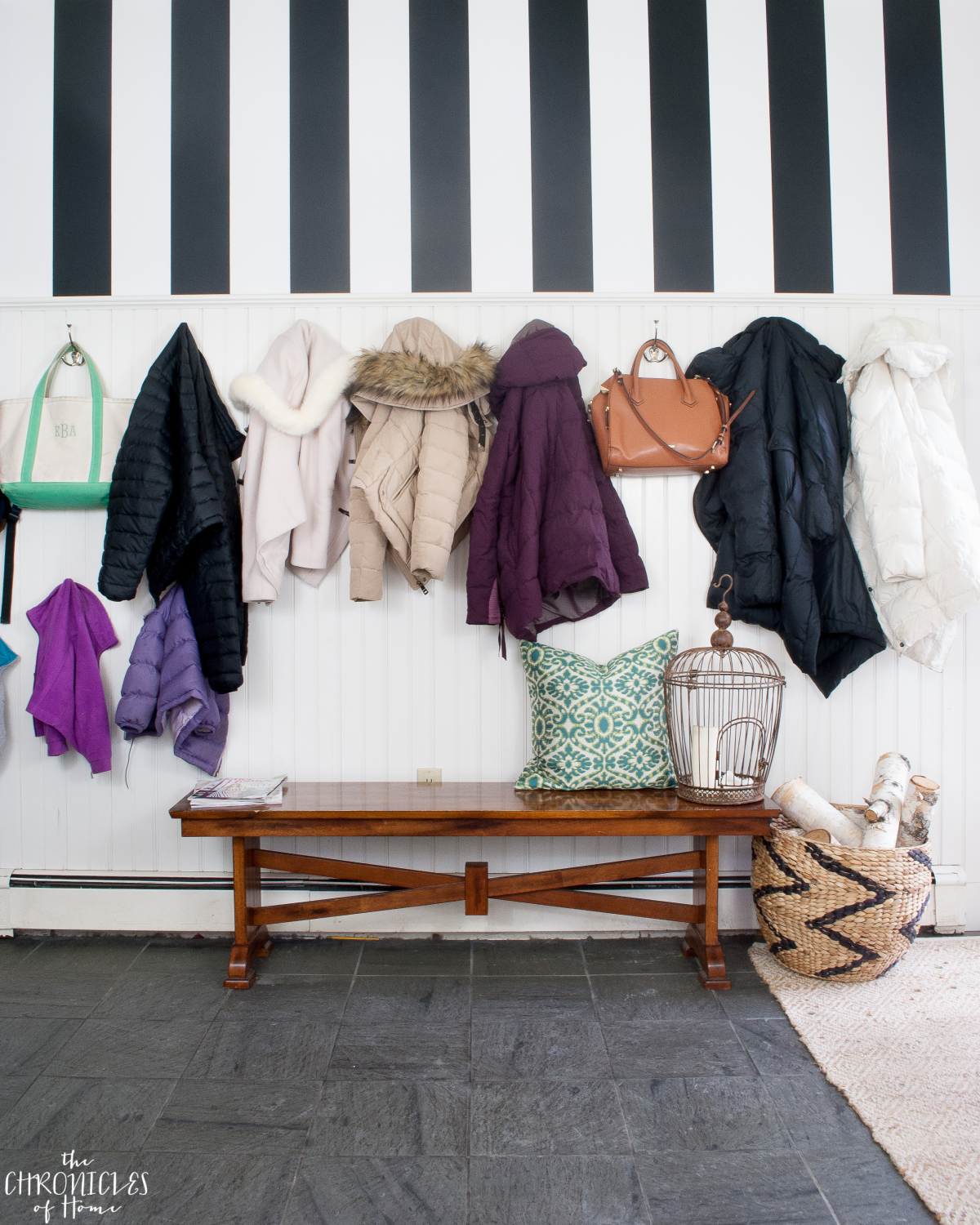 These are largely unstaged photos I'm showing you today – I did pick up boots left on the floor and tidied the coats on the wall a bit but that's about it. I just wanted to give you a peek at how things are coming along, if for no other reason than to show you that house projects big and small do not go from zero to hero overnight. At least they don't for me, and I'm guessing that's true for many of you as well.
I've had this black and white striped wallpaper from Serena & Lily for two years. It has been dejectedly sitting on a shelf in my laundry room for two whole years, remembering how excited I was when I found it for $22 a roll at Home Goods, and wondering why I have since chosen to ignore it completely. These things take time, my little wallpaper friend, but your moment in the sun has come.
As a reminder, the wallpaper went down on top of dark yellow paint (like the color of dijon mustard) and the difference has been even more powerful that I thought it would be.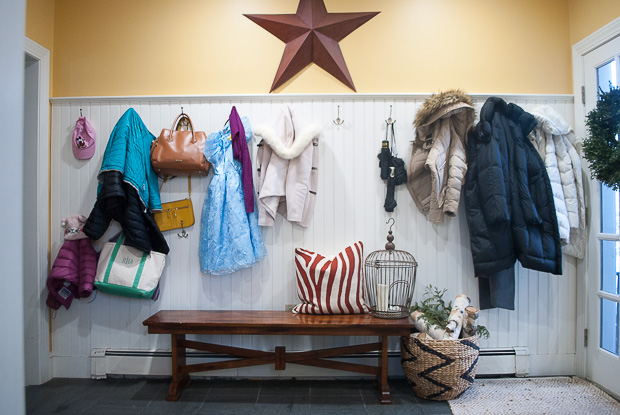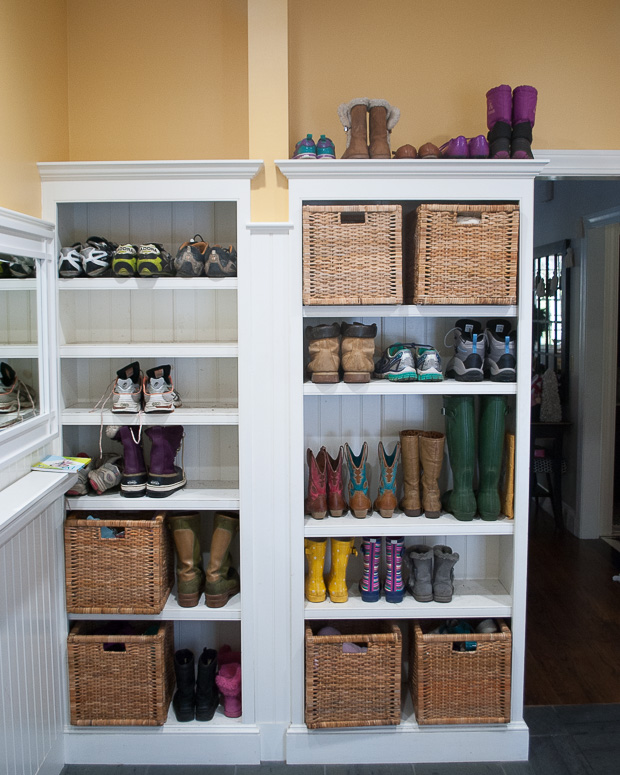 Here's the new view over to the built-ins that hold our shoes and boots, and the kitchen behind it.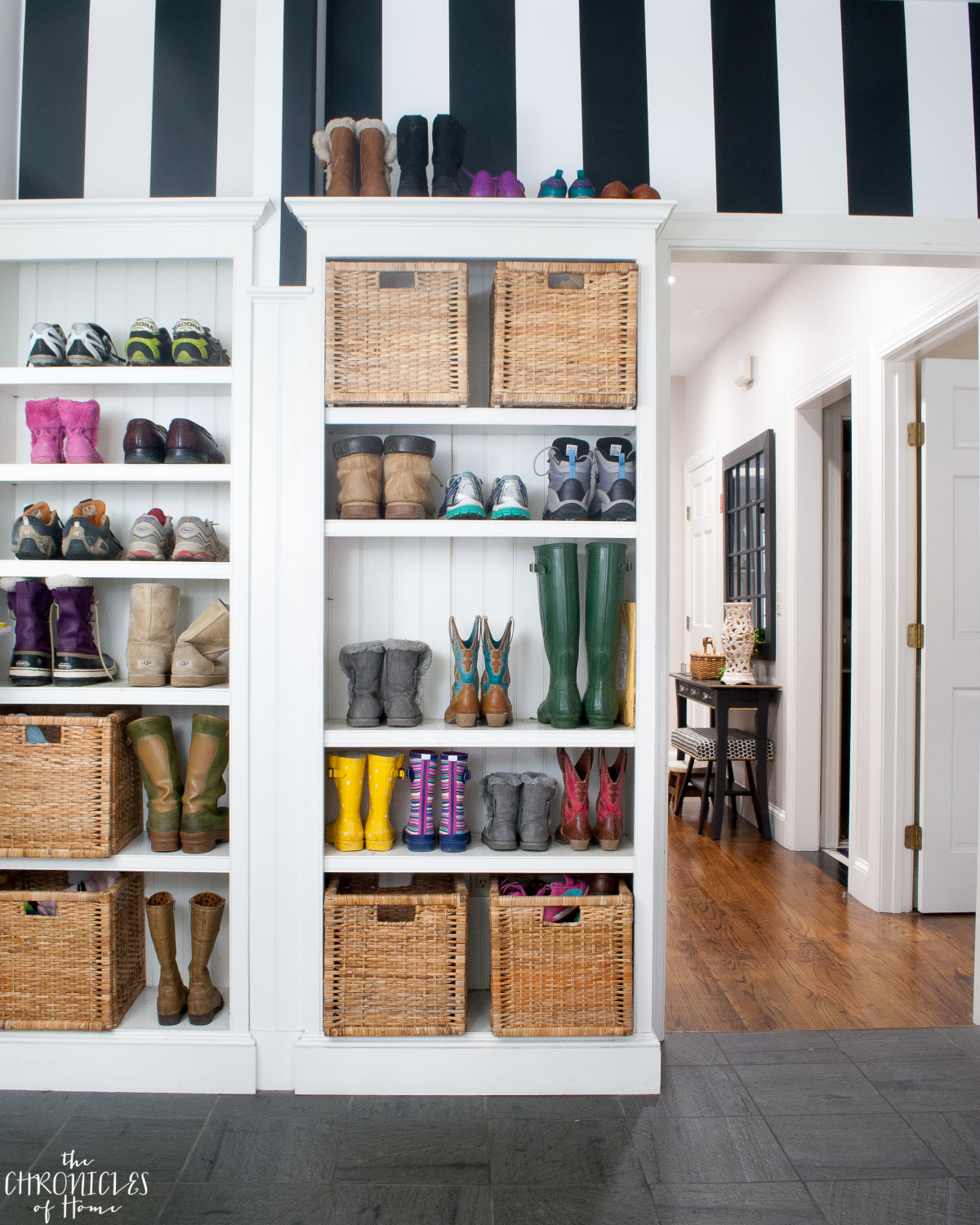 I am still in that early stage of an update where I peek my head in here multiple times a day to soak in the new look. I love the classic beauty of it. I'm torn between thinking the wallpaper looks formal and playful, which is probably the perfect mix for a mudroom that also serves as an entry for most people who come to our house. The mudroom felt a bit dark and gloomy to me before and now it feels crisp and fresh, which I much prefer to be greeted with.
Here is a look down the Great Wall of Coats to the doors out to the driveway and garage.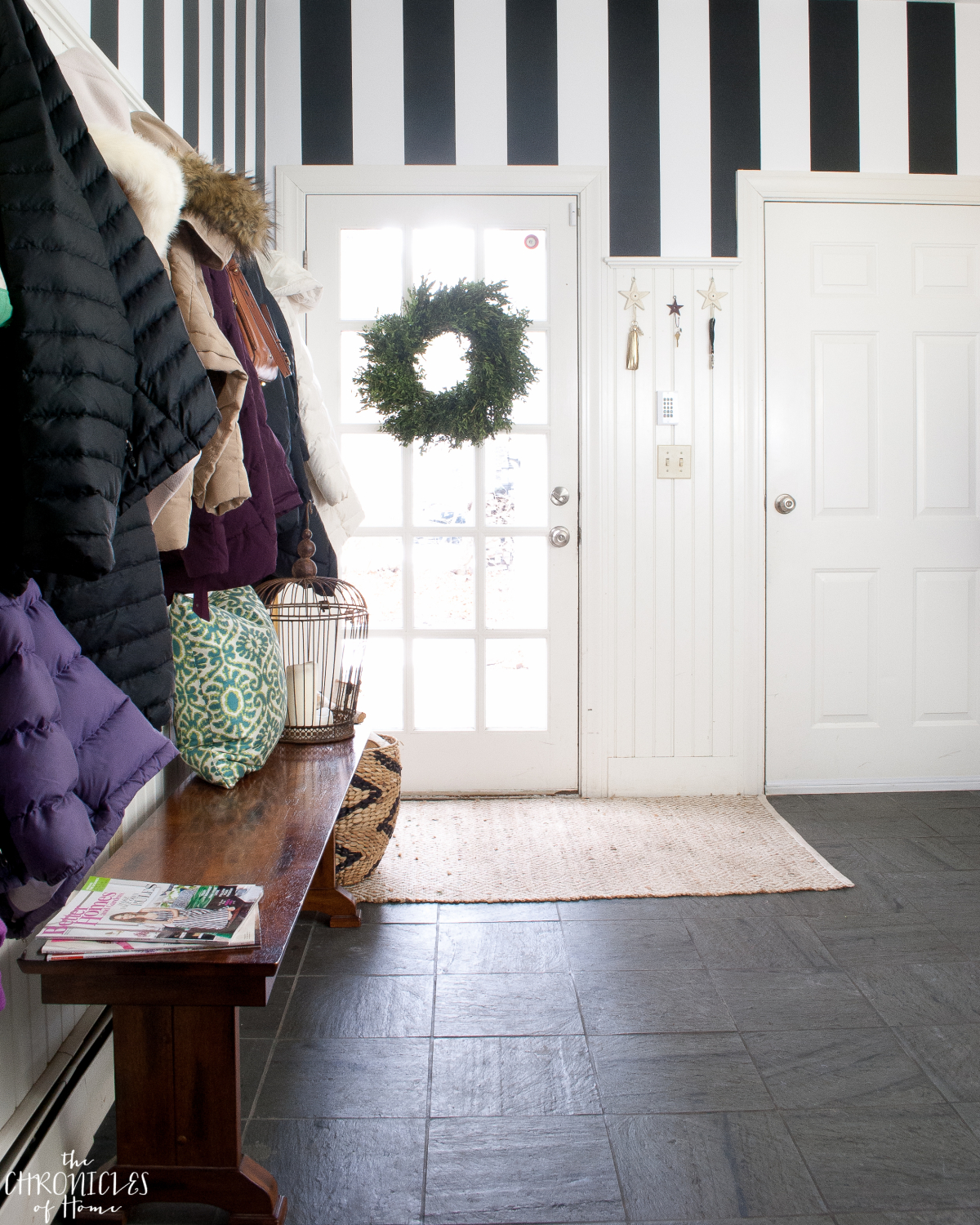 Which brings me to Phase Two of Mudroom Update 2016. I want to paint those two doors black. They get touched by dirty little hands so many times a day that the white is just not a great choice. I also love the look of a black door. I am trying to convince myself that all of the wood trim and beadboard don't need fresh white paint but the truth is that they really do. I may start on the planned built-in bench and cubbies before I get to repainting everything, if only because I'm much more excited about building the bench than I am about repainting a mile of beadboard.
What do you think? Do you feel cheerful just looking at those stripes?! I sure do. I'll check back in soon with the next update as soon as I've made some more progress!