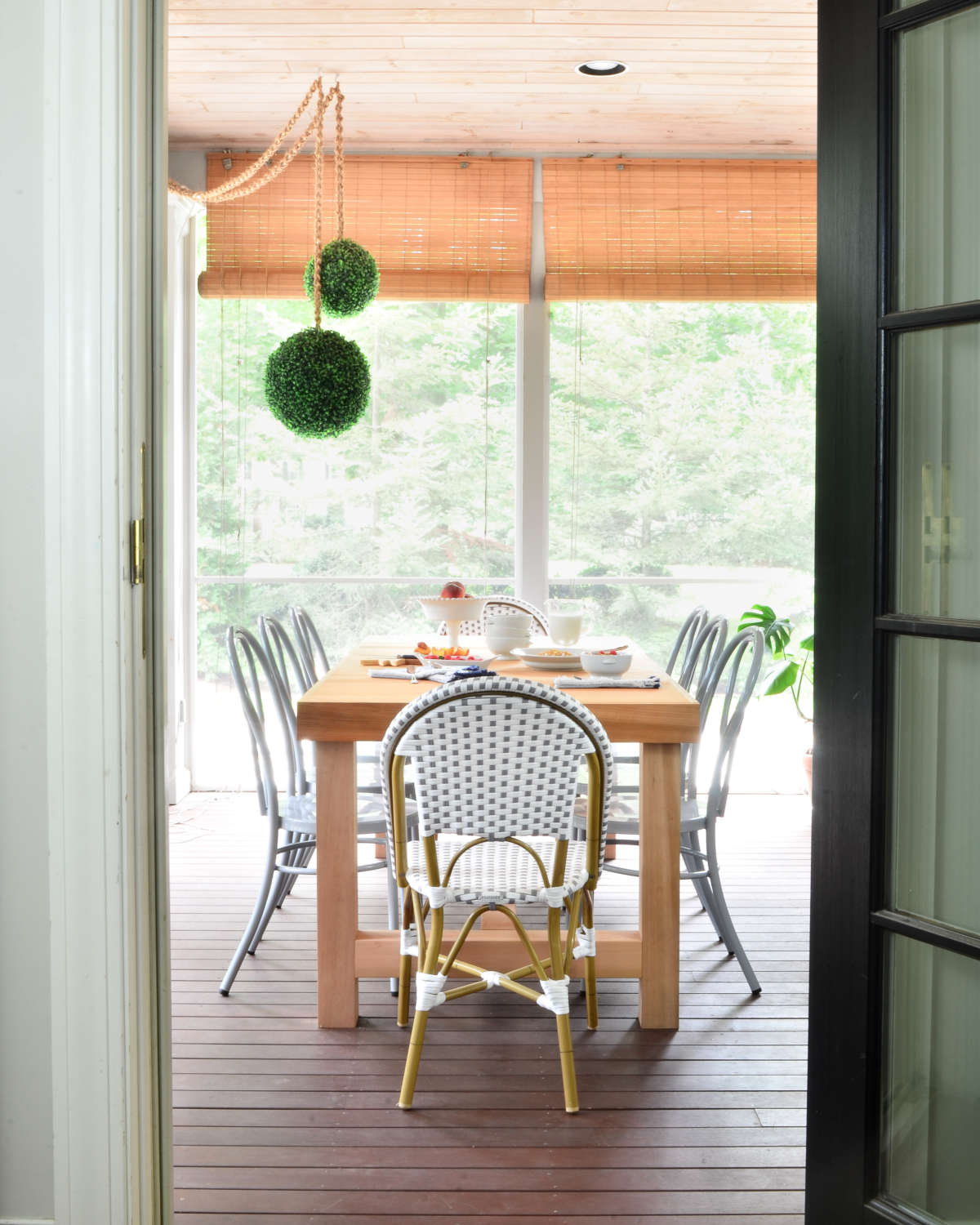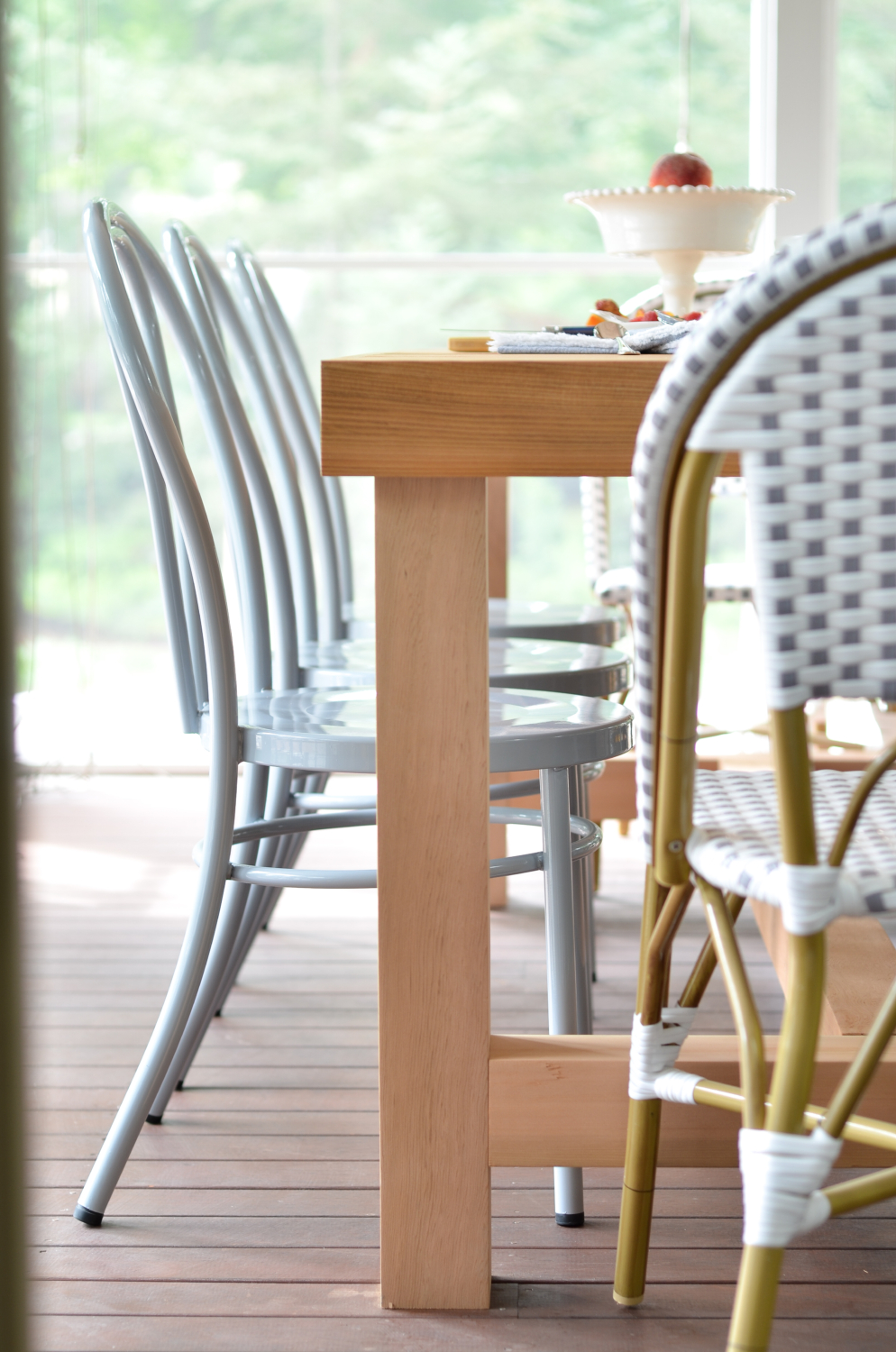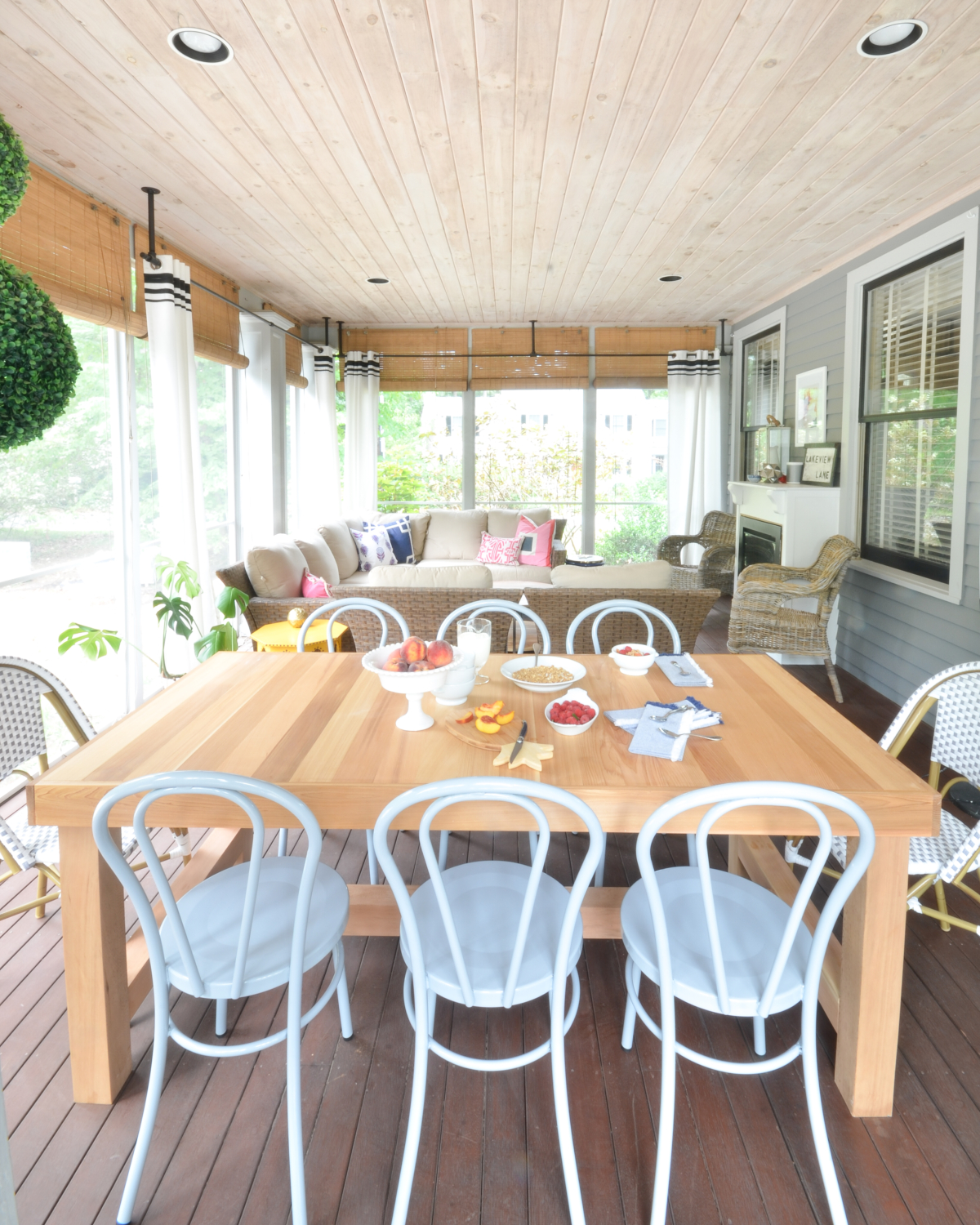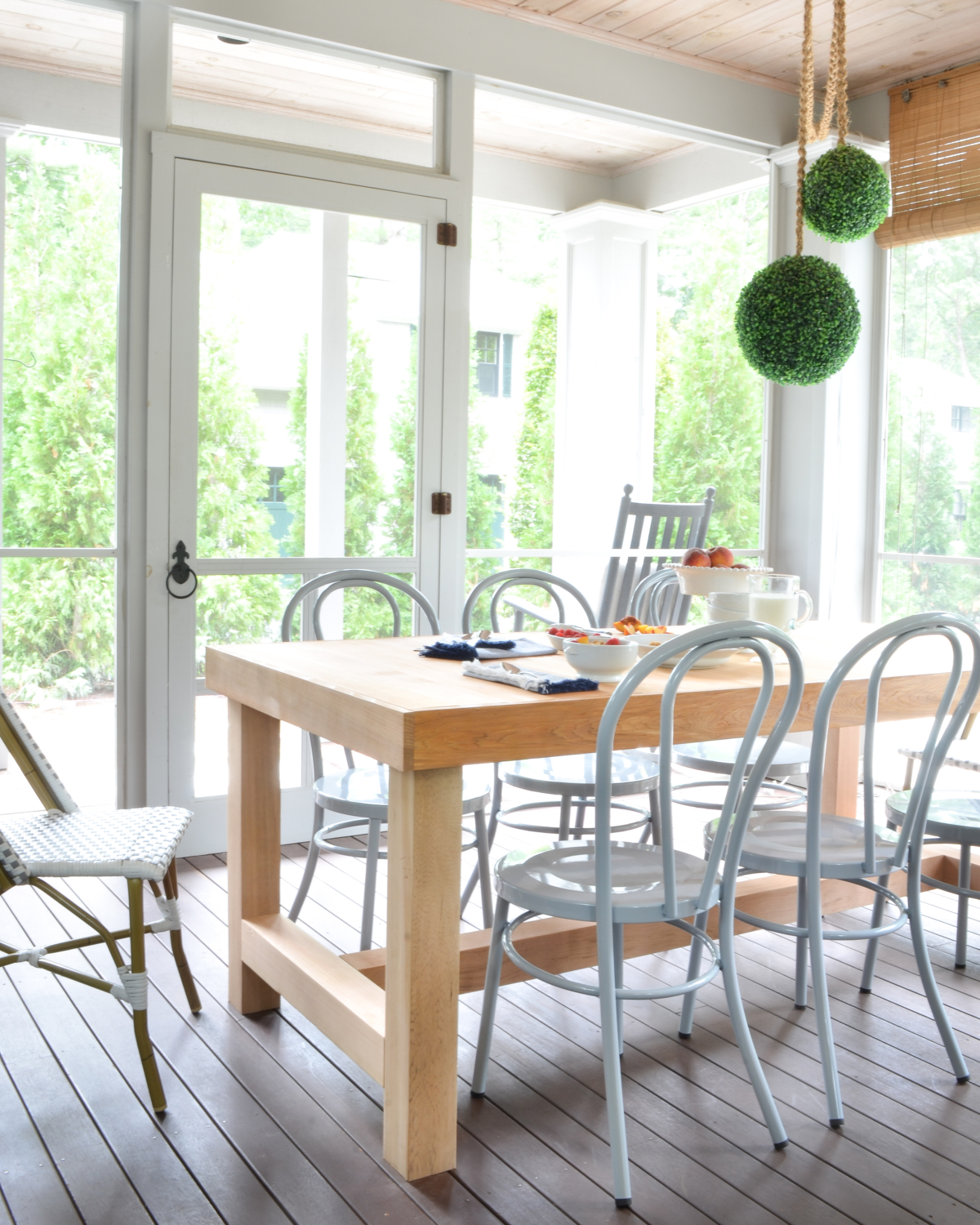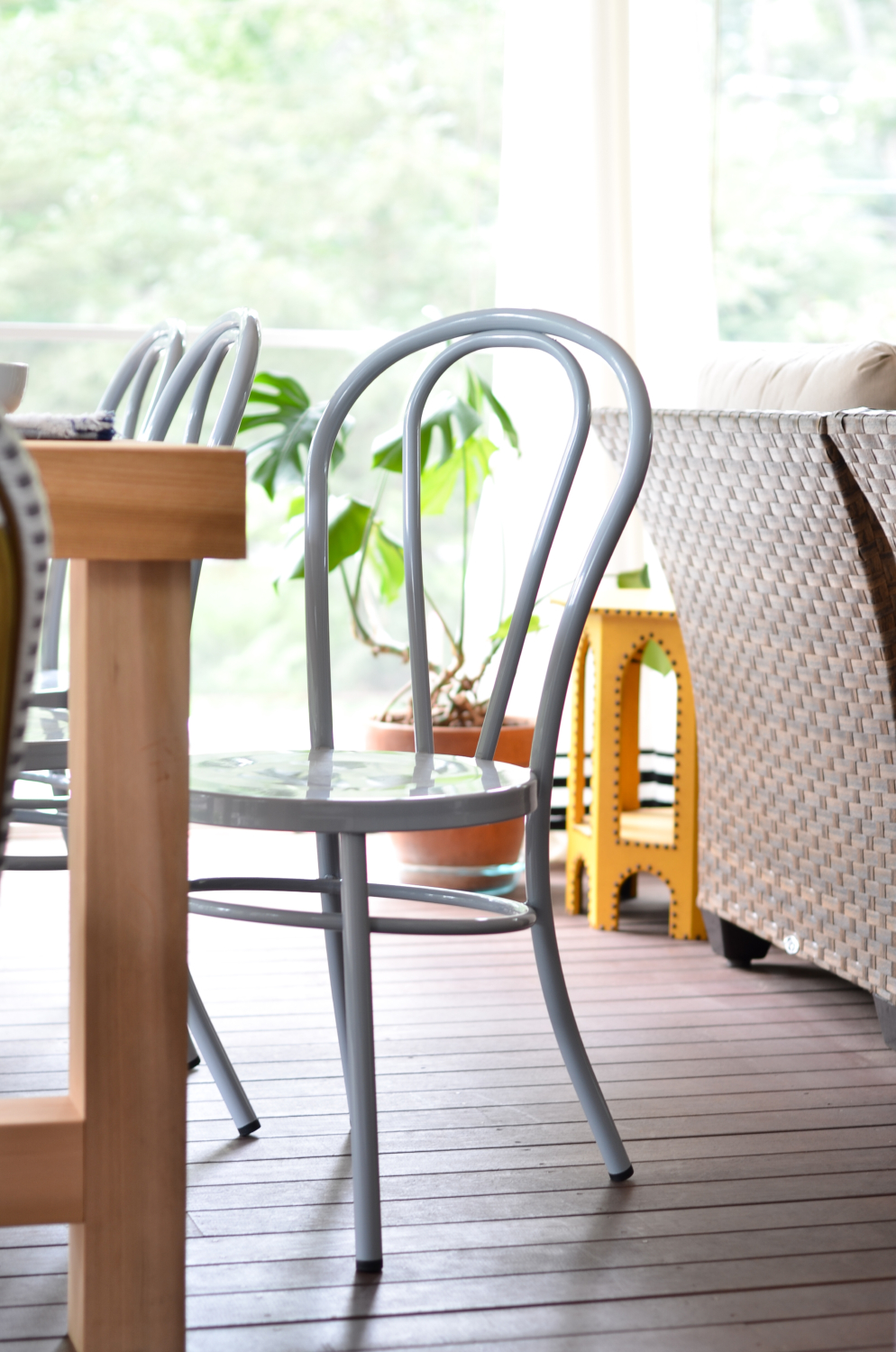 I think you all know by know (because I have mentioned it approximately 143 times here on the blog) that my most favorite room in my house is the screened-in porch. In New England, where I live, the warm weather season between pollen-apocalypse and fall chill is all too short so I really try to soak up every minute I can on the porch when the season is here. I gave the porch a major makeover a little over a year ago as part of Home Depot's Patio Style Challenge and have kept the seating area that was the main focus of that makeover just the same as it was then (except for some pillow shuffling because I am always shuffling pillows somewhere).  Last summer, when we started our deck project (alllllmost finished, update coming soon!), I moved our outdoor dining table onto the porch temporarily and it turns out I absolutely loved having a large dining table there. Perfect for dinner parties or just family dinners, it was just what was missing in the room.
Once I had decided to add a larger dining table to the porch, I knew that I would build rather than buy it because I wanted a somewhat narrow table but long enough to seat three people on each side, eight total. I'll have a full tutorial for you next week detailing how I built the table, but today I want to focus on the chairs I added around the table. Going from a teeny tiny bistro table to an eight-seater I needed a lot more chairs. I decided to keep two of the woven wicker chairs from the bistro table and found these beautiful metal bentwood chairs from OSP Designs for the sides. OSP Designs has the same parent company as the mid-century inspired chairs I added to my guest room a few months ago.
The metal bentwood Odessa Chairs have the timeless look of wooden bentwood chairs but are metal with a glossy finish making them perfectly suited to my semi-outdoor screened porch. I really waffled on the color – the chairs come in black, matte galvanized steel, orange, yellow, pastel blue gray, teal, pink, red, and white. I had to seriously push down the color monster that lives inside of me but I kept coming back to the pale blue gray (called Pastel Quarry) and when they arrived I knew I'd made the right choice. They're a soft, classic color and tie in beautifully with the deep pink and navy that are the dominant accent colors in the seating area next to the dining table.
For the record, I would also put these metal bentwood chairs indoors in a hot second. While they're perfect for a covered outdoor area they would be great around an indoor dining table too. VERY kid-friendly and easier to clean than wood, and I will take all the help I can get when it comes to cutting down on cleaning up after my kids around here! But seriously, they are that perfect, often elusive combination of kid-friendly and stylish. This style has been around since the wooden version was introduced in 1859 by Michael Thonet (bentwood chairs like this are often called "Thonet chairs") so the design certainly has stood the test of time. OSP Designs' version is a brilliant, contemporary interpretation of a classic, and contemporary versions of classic anything are pretty much always my favorite.
Don't forget to stop back next week for the tutorial on the dining table. The design is based on a Restoration Hardware table but cost me, oh, several thousand dollars less than buying it. And the building process was actually reasonably simple. Don't miss it!
This post was sponsored by Office Star Products but all ideas, opinions, and gushing are sincere and my own. Thank you for supporting the companies that partner with me, I am careful to choose only ones I truly love and would share with you anyway!