For many people, how to choose artwork for a room feels so overwhelming and scary it becomes that one last thing that sits undone for months or even years after the rest of a room is finished. And I get it. Artwork is expensive. Even when you buy prints as opposed to original artwork (which I usually do), once you add up the cost of a large-scale print and the framing you are probably looking at a pretty penny and it's not the kind of thing you can get and then change your mind about, unless you're prepared to eat the cost and start over. So, yikes, yeah, it can be a scary decision to make. But I have some tips for you on how to choose artwork that will help you know where to start, how to narrow things down, and how to choose with confidence.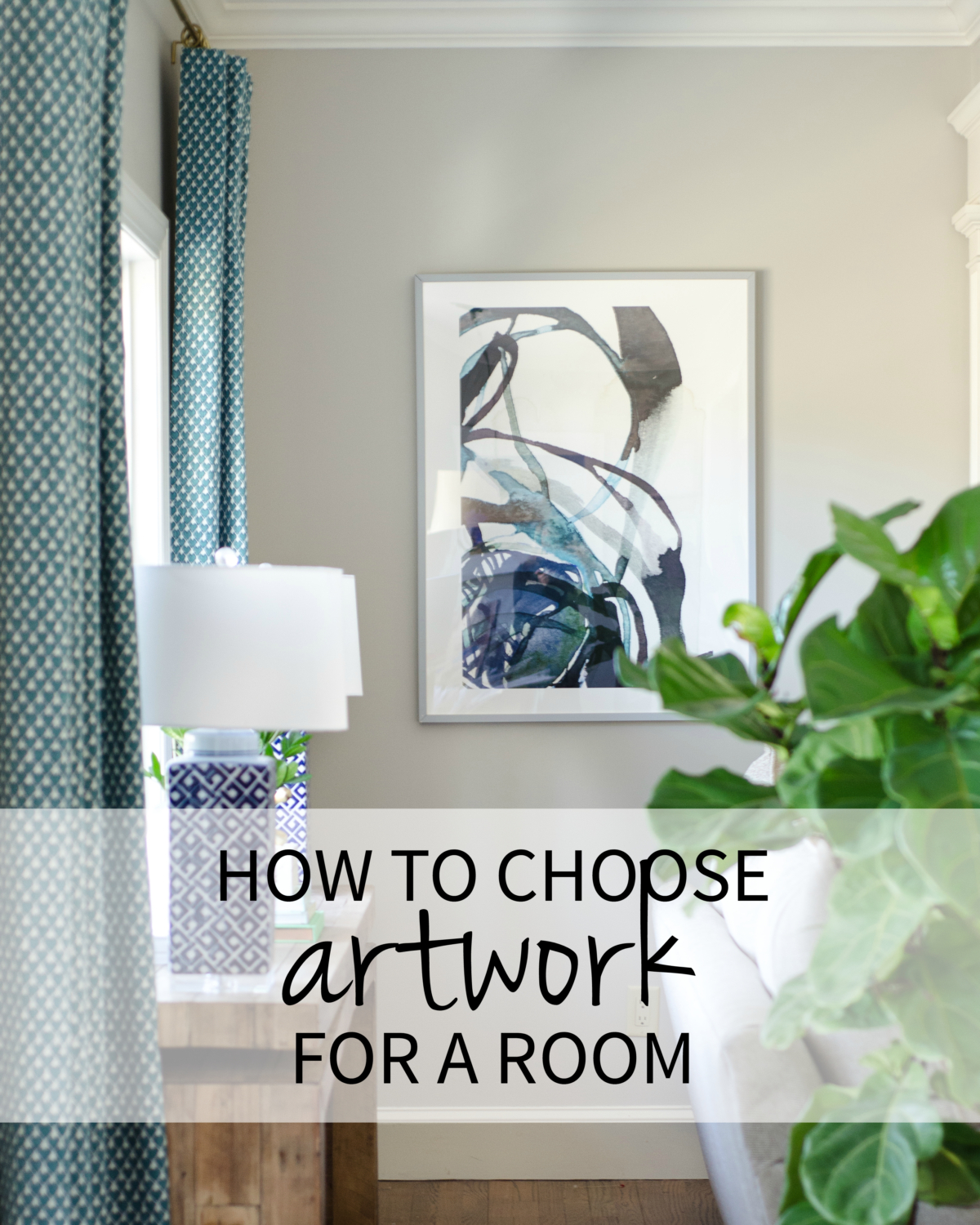 Step 1 – Have a Plan for the Room
Here's a little confession for you. At least half the rooms in my house have almost completely empty walls. And this is not because I'm afraid to commit to artwork, it's because my plan for those rooms isn't really complete yet. For me, it makes sense to choose artwork as part of a bigger design plan. Sometimes I start with artwork as the jumping off point for a room (like in my kitchen breakfast nook) and sometimes the artwork is the last thing I add into a design (like in my guest room). But either way, when considering how to buy artwork, I would always recommend viewing art in terms of how the whole room will come together.
Step 2 – Research
For my purposes here I'm going to assume we're looking at art prints and not original art. I think for most people prints are a more accessible and affordable way to go and since they're what I usually work with, it's also what I know the most about! There are a few artists whose work I love and I usually keep an eye on what they have to offer since it's not a huge body of work to go through and their pieces can change frequently. But besides those select artists my go-to first stop is always Minted. The selection is unparalleled, you can always find something new, and their prints and framing are of impeccable quality. Minted works with a wide range of independent artists and you can find just about anything you're looking for in terms of style – abstracts, photography, drawings, typography. I have never walked away from looking through the site without feeling inspired. Never.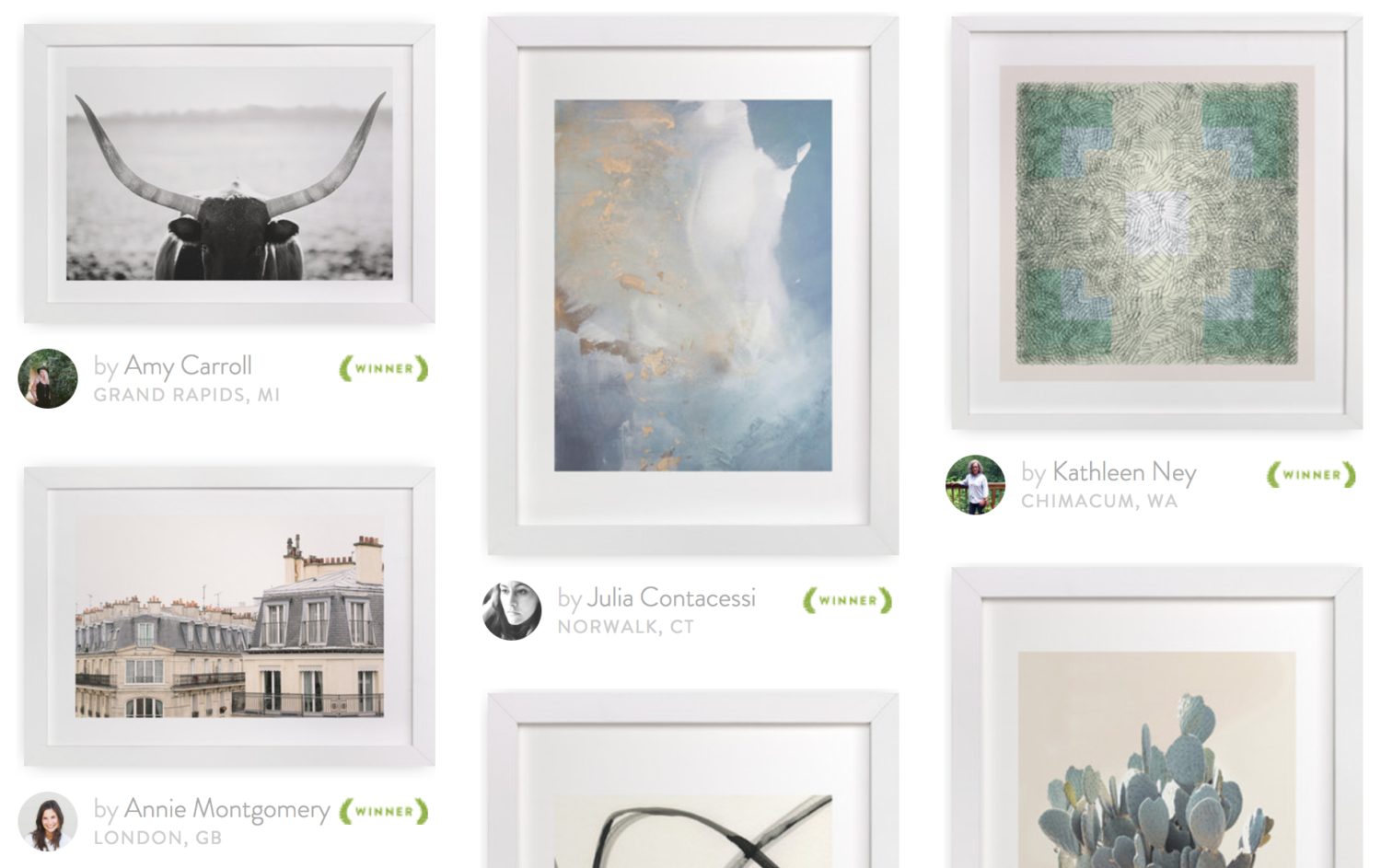 Step 3 – Screenshots
So you're on Minted's site and no doubt you are finding loads of pieces you like. How do you narrow things down from here? Start by taking a screenshot of any artwork that speaks to you. And by "speaks to you" I mean, those pieces that stop you scrolling, that you click to open larger, that just grab your attention in some way. These are the ones that you should pay attention to. There's no right or wrong answer here and we're all attracted to different things, so you just need to go with your gut. No permanent decisions yet, you're just collecting pieces that you like by taking photos of them. On a Mac, you can take a photo of anything on your screen by clicking Shift+Command+4 simultaneously. That turns your cursor into a little crosshairs and you click and drag around te image you want to take a picture of. You may also want to keep a list of links to the pieces you're saving so you can find them again easily . I often do this in a Pages or Word document.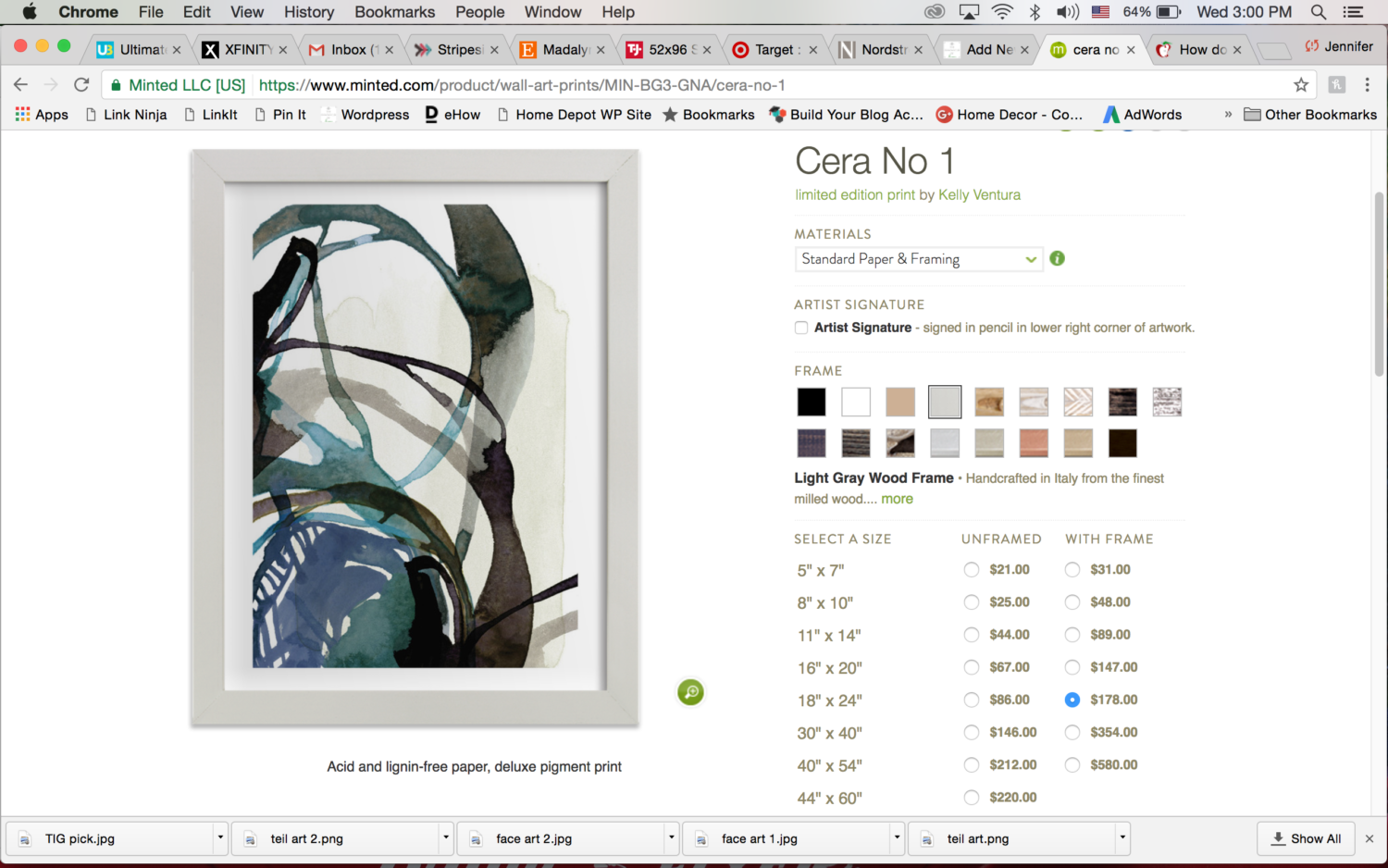 Step 4 – Moodboard
For me, this is just about the most important step in the decision making process. I use Olioboard, a free online tool, to put together moodboards when I'm designing a room. I can't tell you how much of a game changer this was for me when I discovered planning rooms this way. It basically gives you the ability to see things together before you actually get them in your home and you'd be surprised how a piece of art or a rug or some other piece you'd been considering suddenly looks off or out of place when you pop it into a moodboard with other items for the room. I've found this helps tremendously when deciding on artwork for a room. You'll need to take screenshots of some of the other items in the room and upload them to "My Items" in Olioboard, then drag and drop them onto a new "olioboard" and arrange in a way that makes sense for how the room will be laid out. I usually group things that will be together in real life together on the olioboard. And then add the artwork pictures. I think you'll find this hugely helpful in seeing how the art pieces you liked will look with the rest of the room. And just like with the research phase, go with your gut. If something looks or feels "off," it will probably feel the same in person. So as much as you might like a certain piece of artwork, if something doesn't feel quite right on the moddboard it's probably not the right choice for that particular room.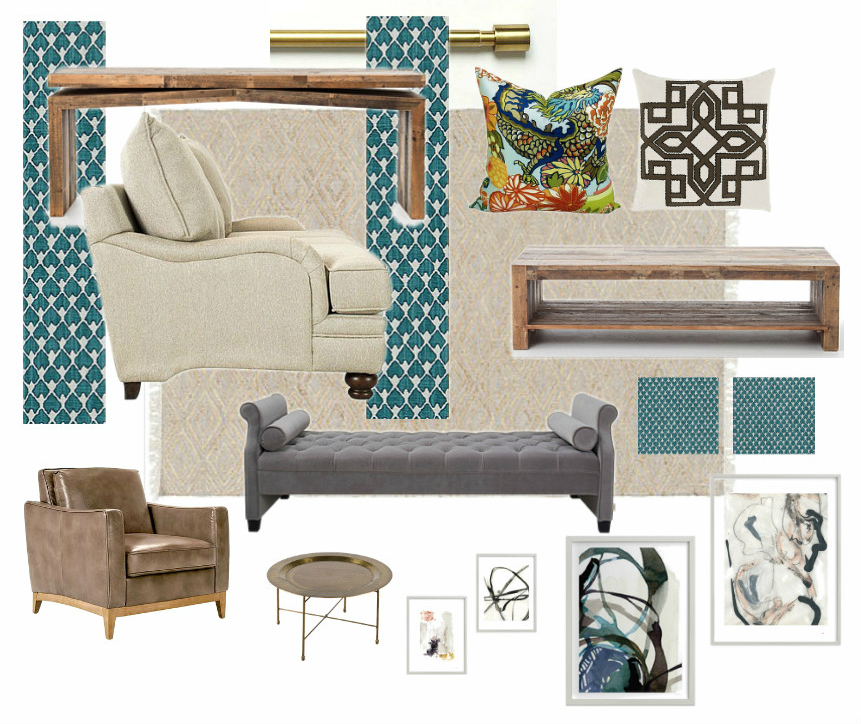 Step 5 – Consider Sizing
Once you've chosen the pieces you want to use in your space, you need to think about sizing. I often go for big framed prints. I like the impact they have, but that isn't always the right call depending on your layout. If you have a long wall, a series of prints may be the best way to fill the space. If you have light switches to contend with on the intended wall, you need to make sure your artwork isn't going to cover them. I ran into a light switch obstacle on one of the walls in my family room and decided to do two 18×24 prints hung vertically instead of a 30×40, which I initially thought I wanted, to make sure the switchplate could still be fully accessed.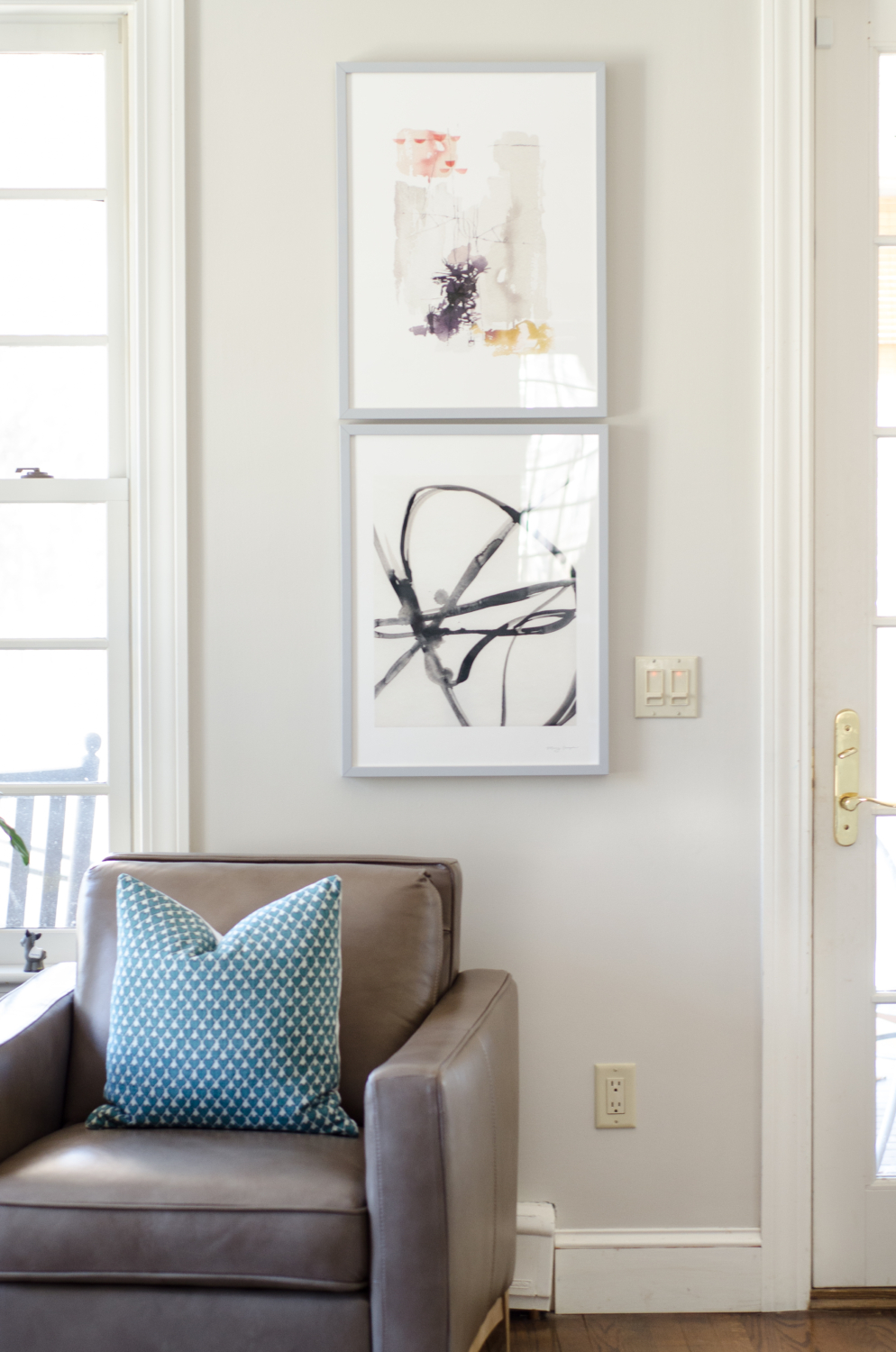 Passage art print
Plant Cell 1 art print
Step 6 – Take a Deep Breath and Order!
You've started out armed with tips on how to choose artwork, you've done your research, played around with a moodboard to make sure you like the artwork with the other things in the room, now the time has come to place your order. You can move forward confident that you're ready to make that big purchase and that you're going to love it. Here are some photos so you can see how my family room went from a moodboard to an actual room. You can find a source list at the end of the post.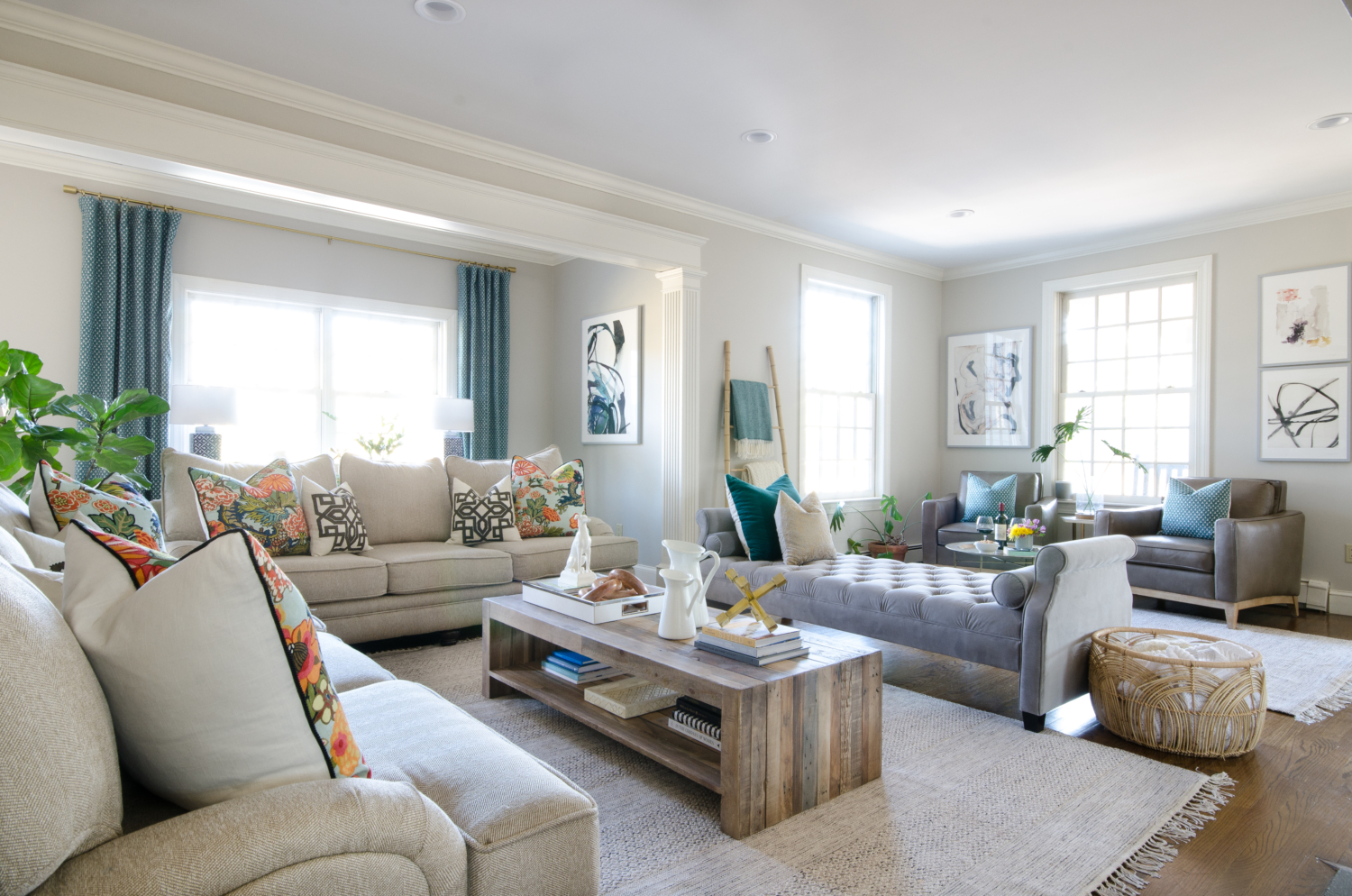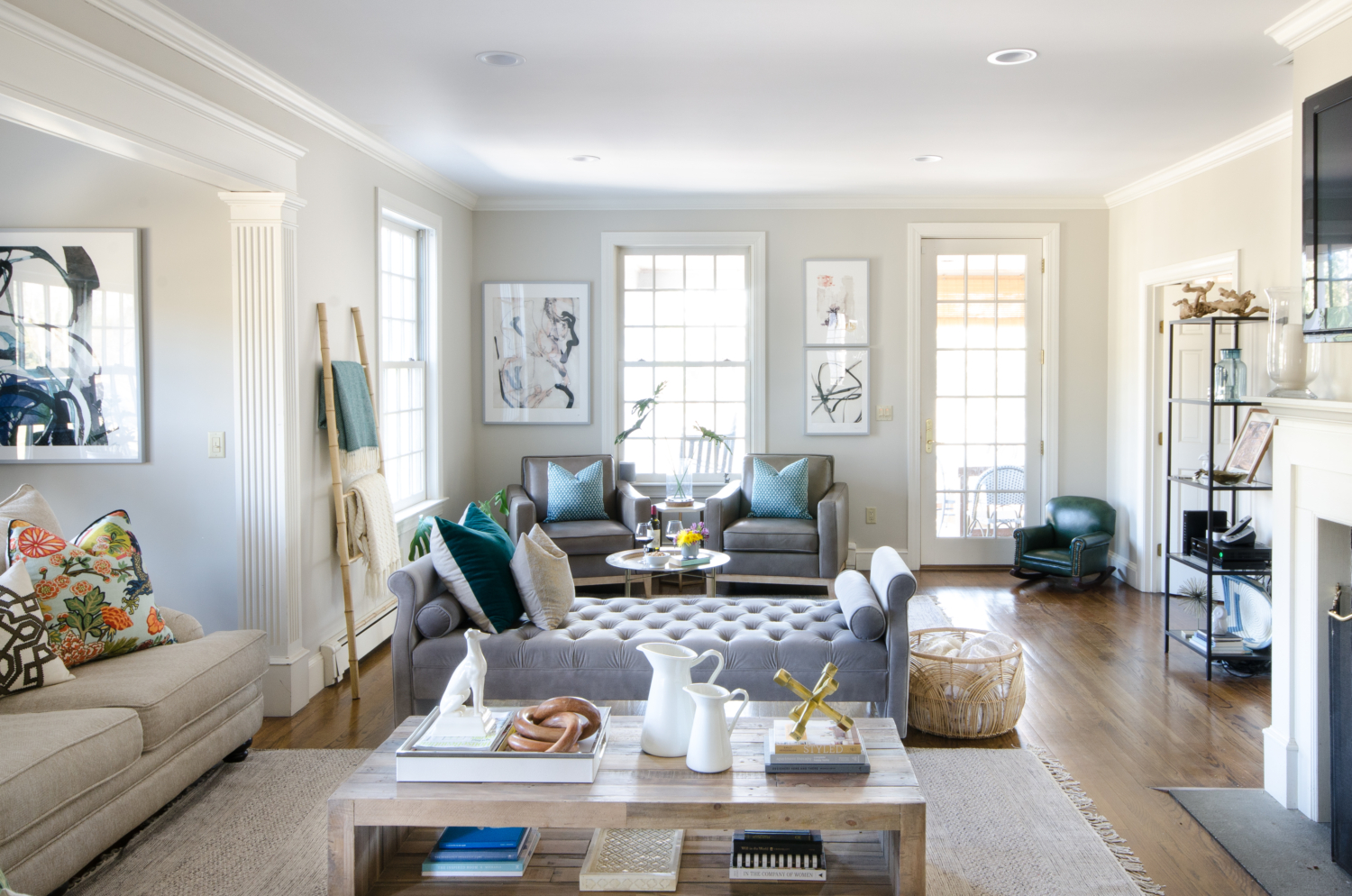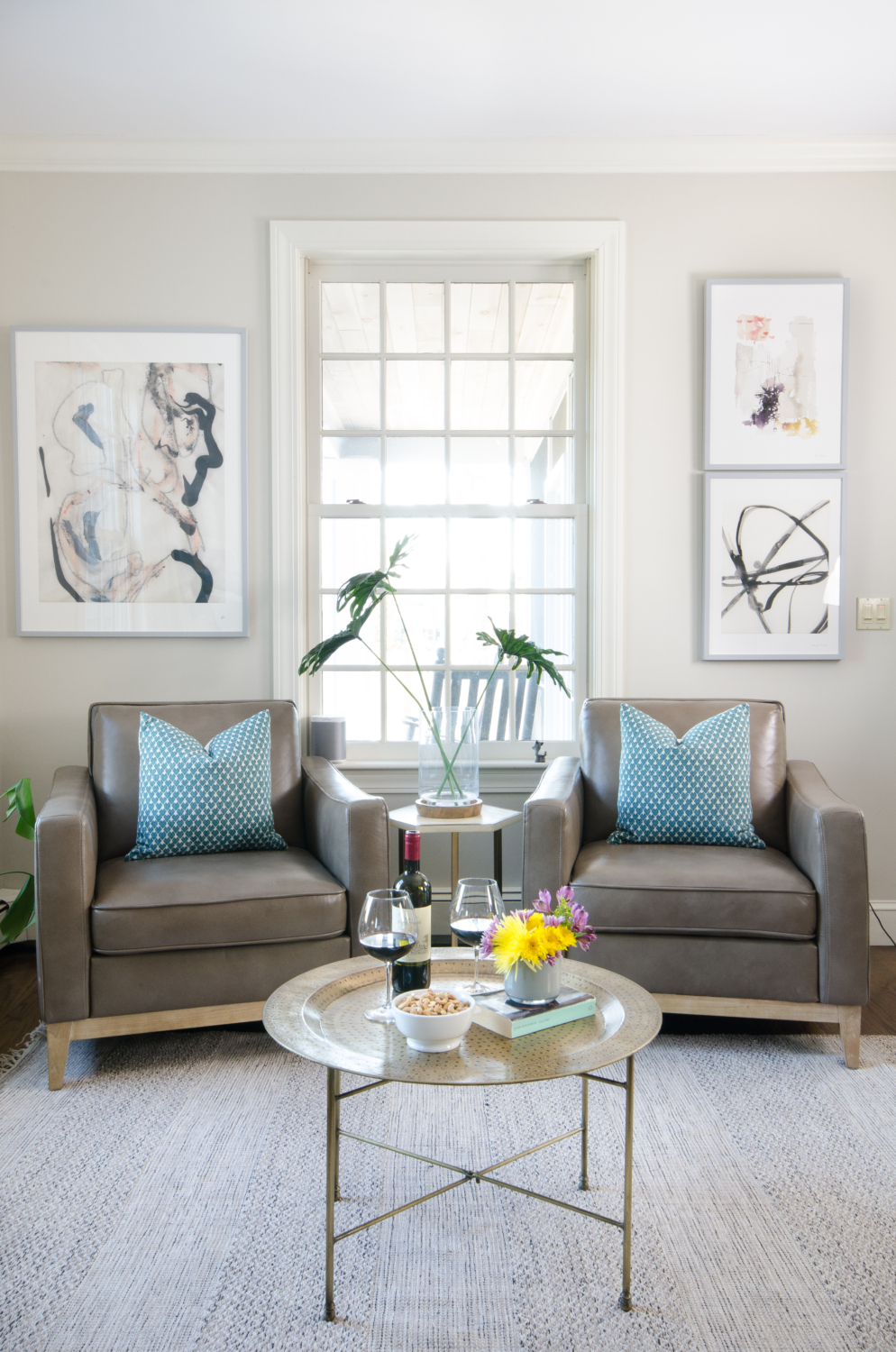 Southern Cotton Series 4 art print
Passage art print
Plant Cell 1 art print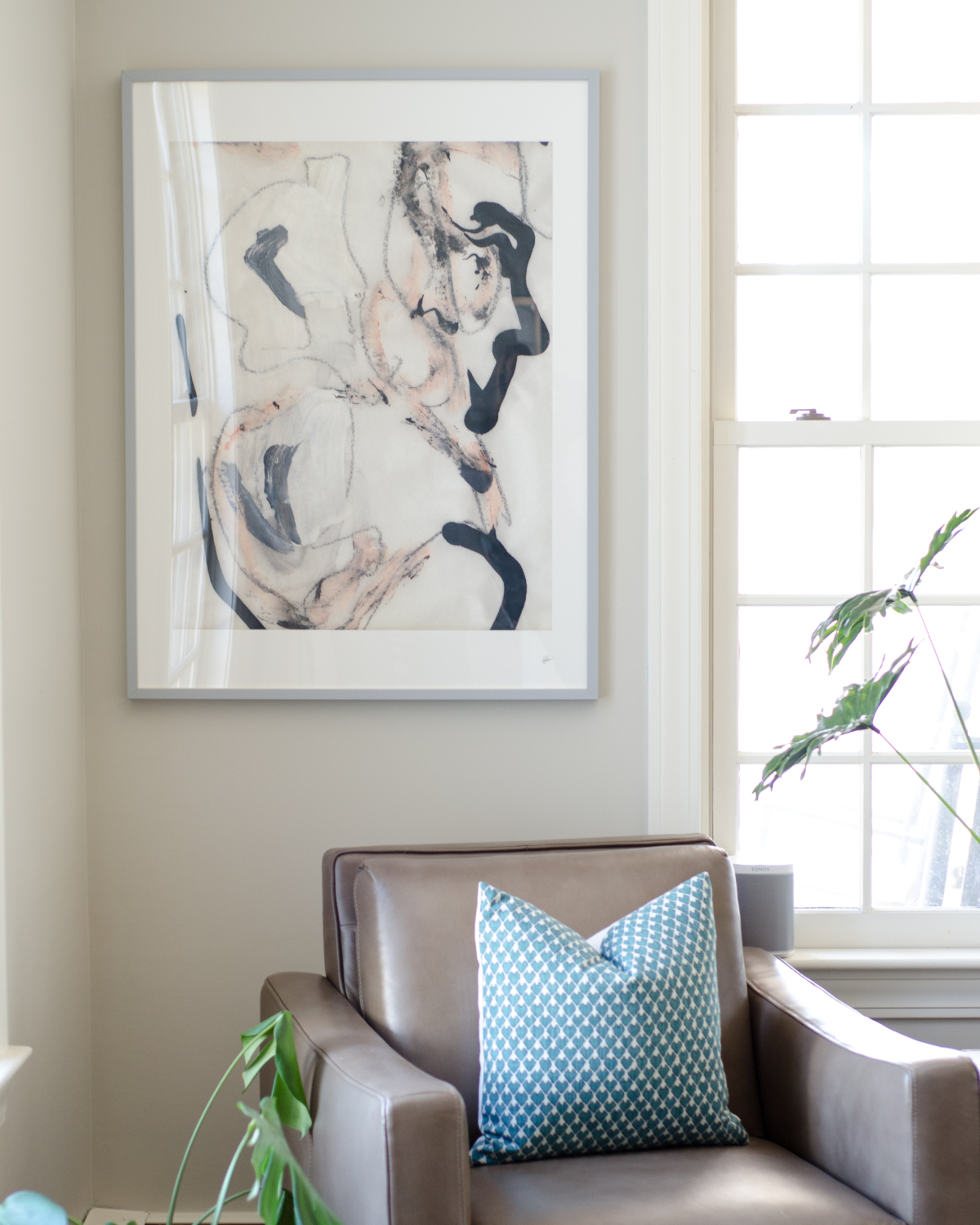 Southern Cotton Series 4 art print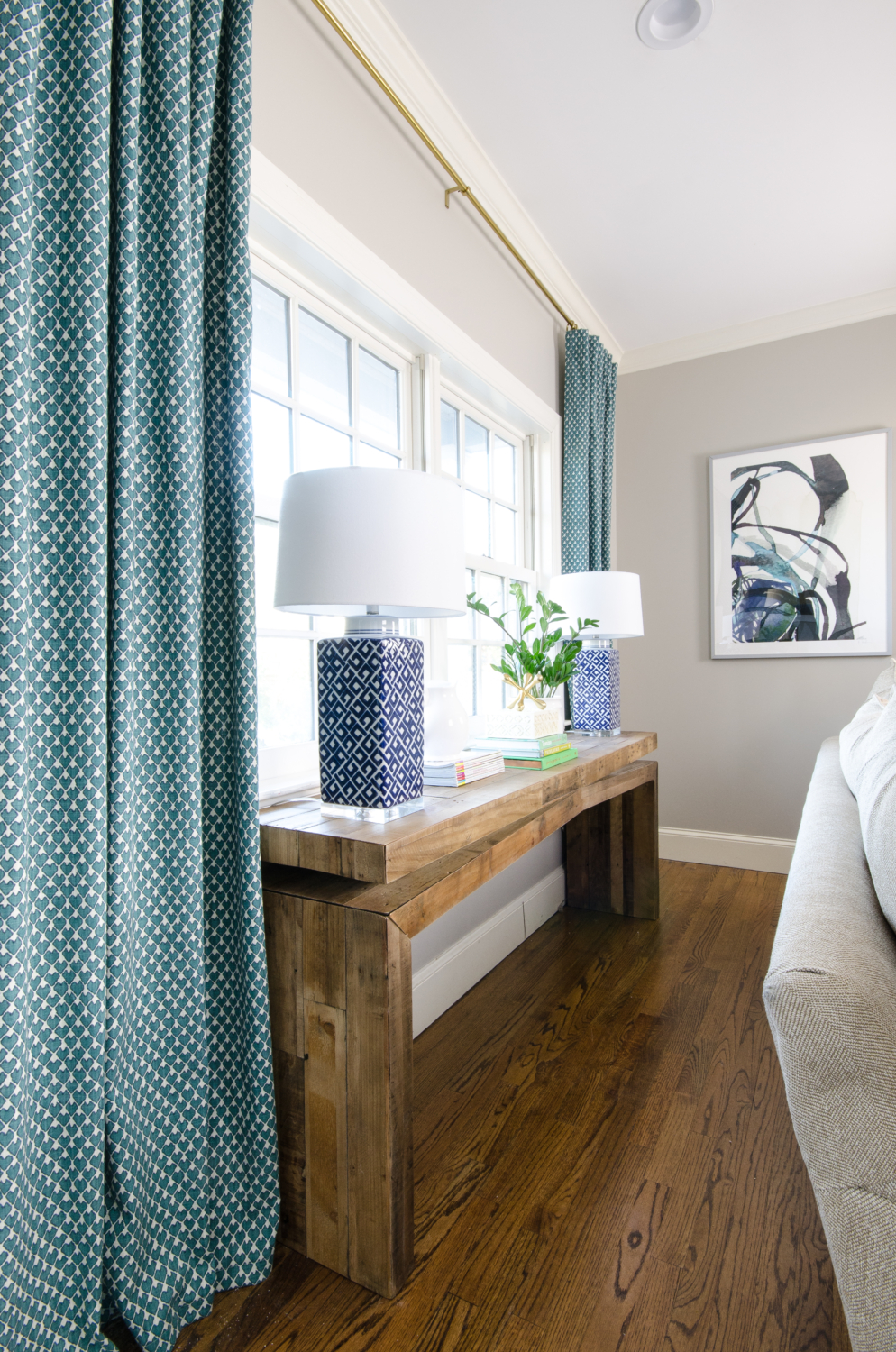 Cera No 1 art print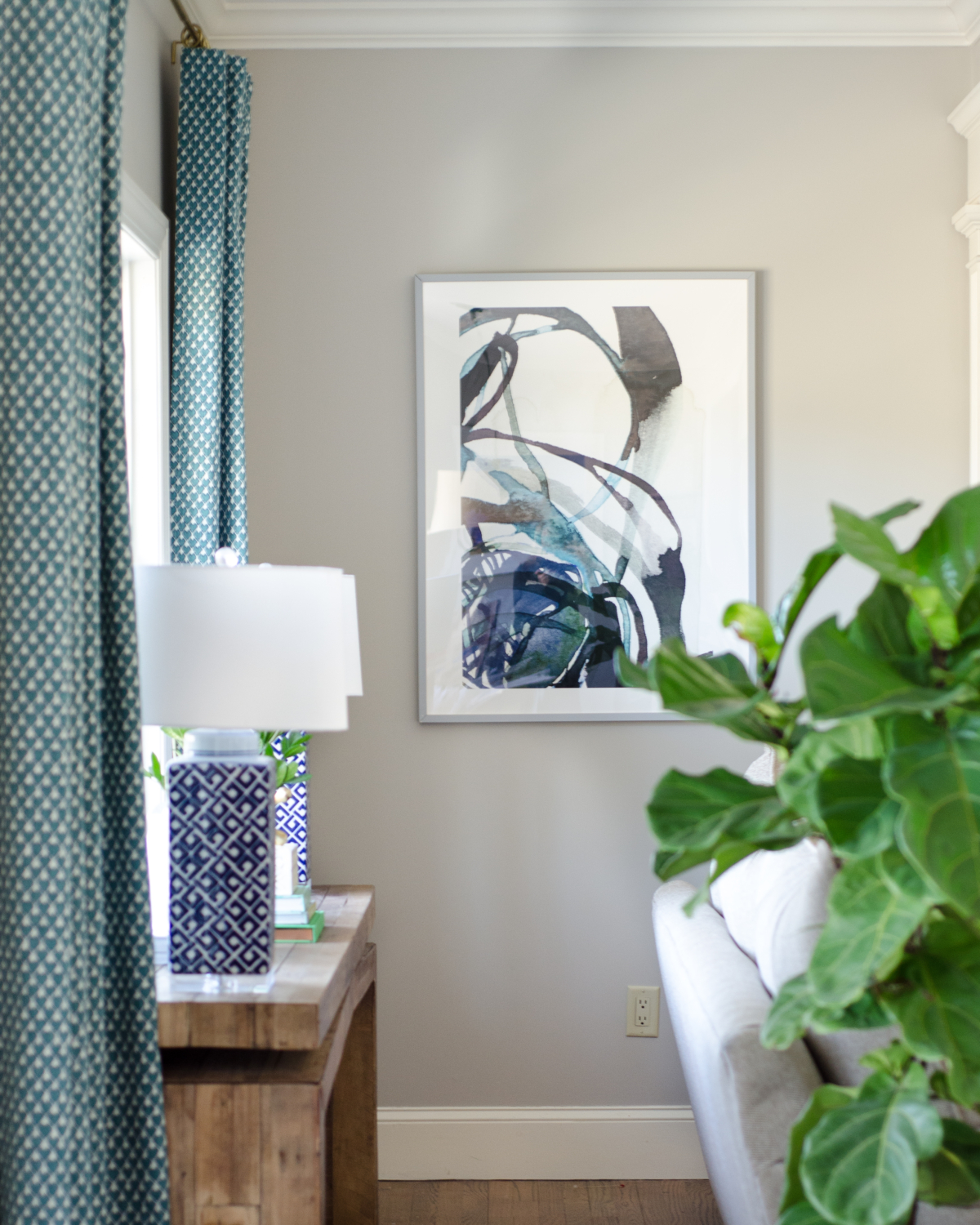 Cera No 1 art print
Family Room Source List
Tweed English roll arm sofas
Chiang Mai dragon pillows
Appliqué pillows
Curtain rod
Drapes fabric
Wood console table
Cera No 1 art print
Velvet backless sofa
Wood coffee table
Bamboo blanket ladder
Round brass coffee table
Leather chairs
Southern Cotton Series 4 art print
Passage art print
Plant Cell 1 art print
Rugs
Minted sent me the artwork featured in this post but all copy and opinions expressed are sincere and are my own.