This post is sponsored by BabbleBoxx.com on behalf of Single Edition Media.
Spring cleaning mania hits me every year about now when the weather starts to warm up and the world outside seems revitalized and new. It just seems to naturally follow that I want that same fresh, cleansed feeling inside my house as well. I always get this intense urge to clean alllll the things inside but that can be pretty overwhelming without a solid game plan. So to keep the focus small and give you (and myself!) an actionable set of steps I'm funneling it down to my kitchen spring cleaning steps and essential products today.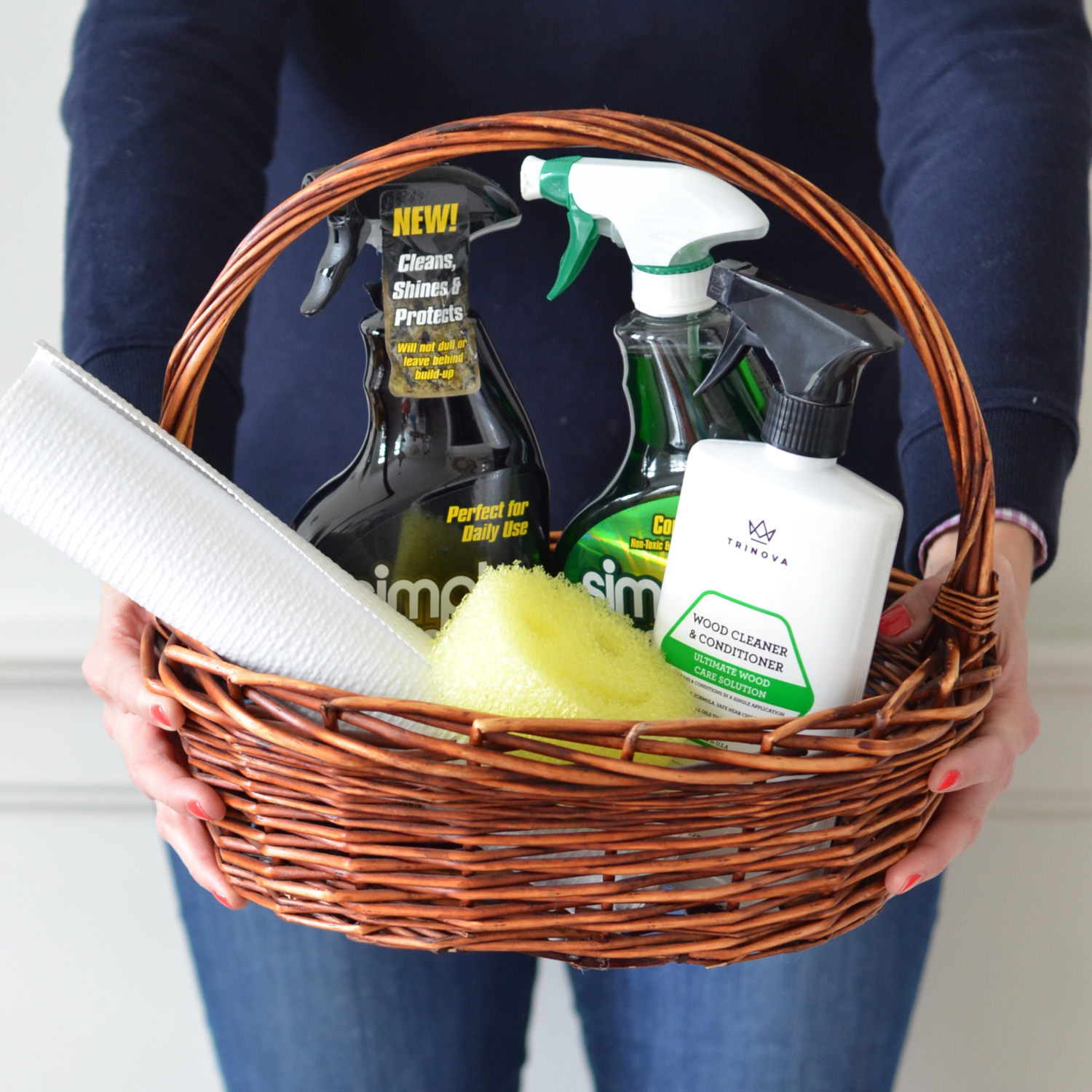 The kitchen is by far the room in my house that gets used the most. And while I vacuum and mop the floors, wipe down the counters, and sanitize my sink regularly, there's a list of kitchen spring cleaning tasks that really keeps things in the kitchen looking their best all year round. Here's a quick look at the kitchen spring cleaning tasks I do, which I've followed below with more detailed descriptions of exactly how I complete these tasks.
Clean and line drawers and cabinets that are showing wear.
Scrub cabinet faces to remove dirt, spills, and fingerprints.
Deep clean and condition counters.
Clean and condition wood surfaces.
Clean and line drawers and cabinets
First, I take a look at the insides of cabinets and drawers. If some of the surfaces are starting to look a bit worn a shelf liner is the perfect easy solution to refresh interior cabinet and drawer surfaces. I used Duck Brand Smooth Top Easy Liner inside the drawer where I keep my girls' plastic dinnerware and cups. The bottom of the drawer was looking pretty scuffed and dingy and Easy Liner's bright white surface instantly freshened things up.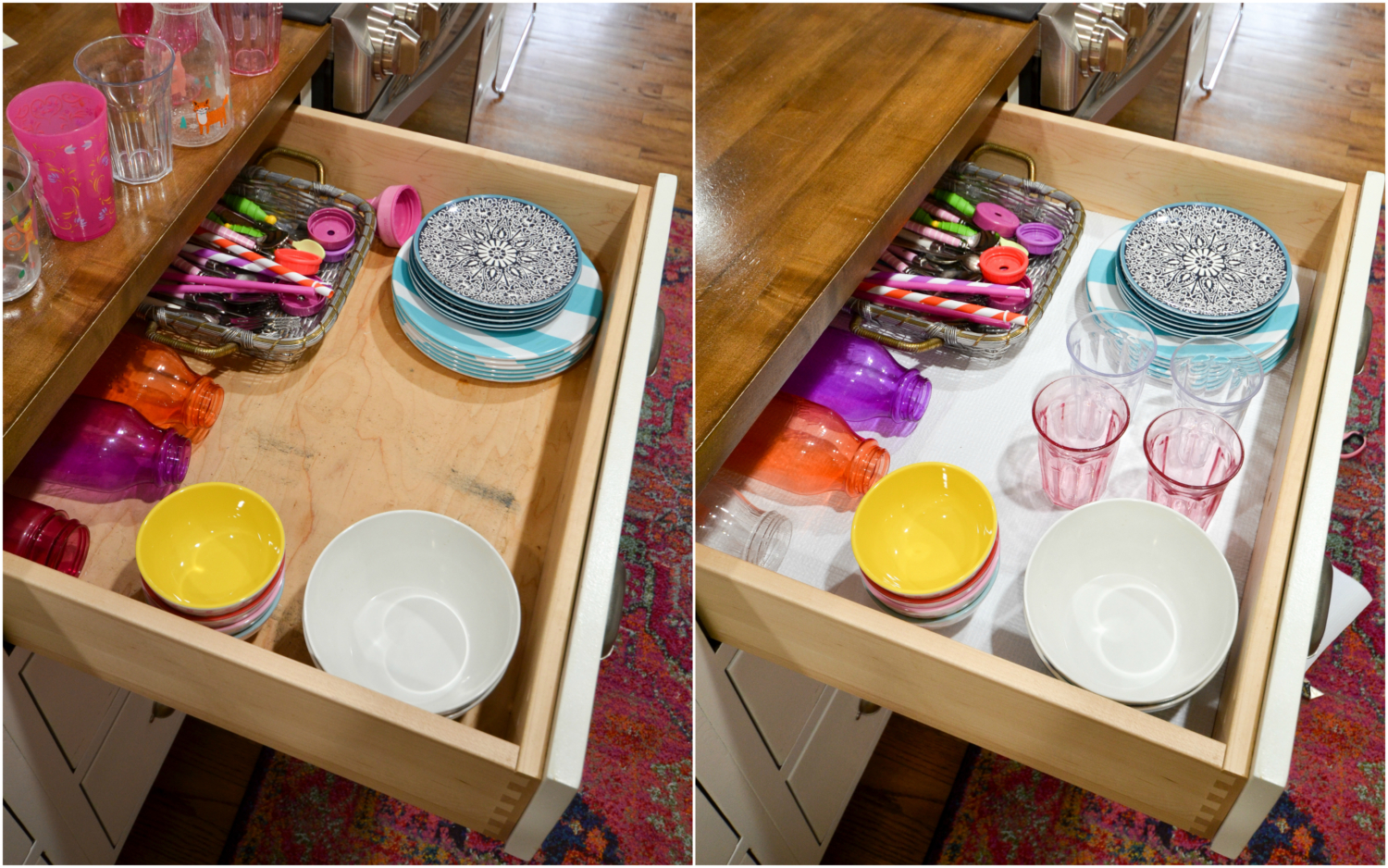 It's non-adhesive so if the liner starts to look worn in another year I can simply take it out and replace it. The smooth top lets items slide across easily but the grip bottom holds it in place. This version of Duck Brand Easy Liner also includes Clorox antimicrobial protection (though it's bleach-free) to help protect against mold and mildew. Next up I'll be lining the cabinet under my sink with this – it always seems like a black hole under there and this is just the thing to lighten things up and help keep the space both looking clean and actually clean. You can purchase Duck Brand Easy Liner HERE and be sure to check HERE for coupons!
Scrub cabinet faces
Next up on my kitchen spring cleaning list is the cabinets. When you really look close you wouldn't believe how dirty kitchen cabinets get over the course of a year! If you have painted cabinets like I do you have to be careful of what you use to clean them though or you risk scrubbing off the paint. The two cleaning tools I like best for this job are a Scrub Daddy (or Scrub Mommy) sponge and Simple Green All-Purpose cleaner. The Scrub Daddy sponge feels like it's going to be super abrasive but doesn't scratch at all. You can adjust the texture from firm to soft based on water temperature but even at its firmest it won't scratch. What it does is scrub away dirty marks and stains almost effortlessly. I spray a little Simple Green All-Purpose cleaner right onto my cabinet surfaces, scrub with a Scrub Daddy sponge, and and then wipe dry with a paper towel. You would not believe the difference this simple cleaning regimen makes in freshening kitchen cabinets. I keep Simple Green in the house for general cleaning as well – it's biodegradable and non-toxic and is super concentrated so it can be diluted for lighter cleaning too. Click HERE to print a coupon for $1.75 off any Simple Green product.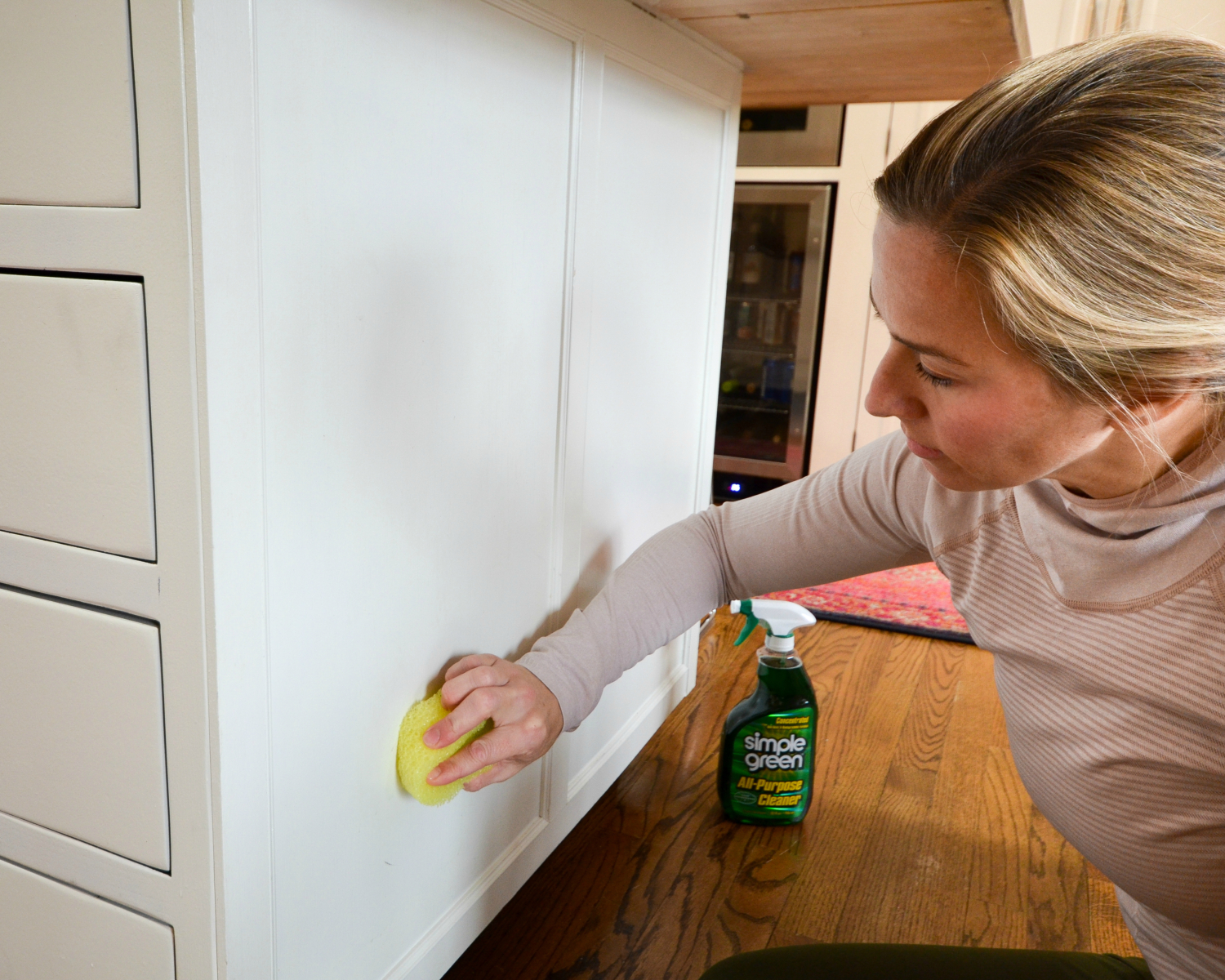 Deep clean and condition counters
Okay cabinets are gleaming, what next?! Counters of course! I have two different counter materials in my kitchen – quartzite and butcher block. For the quartzite I used another Simple Green product – Simple Green Stone Cleaner and Polish. This is a great product to keep right under the sink for regular cleaning as well as kitchen spring cleaning since it acts as both a cleaner and adds a satin gloss to stone surfaces that helps protect and reduce wear. You just spray it on your stone counters and wipe it off with a paper towel or cloth, or spray and let it sit for a couple minutes for grease or stains. It's great for use on granite, marble, travertine, limestone, porcelain, ceramic, quartz, and engineered stone surfaces. Just as with the Simple Green All-Purpose cleaner you can click HERE to print a coupon for $1.75 off.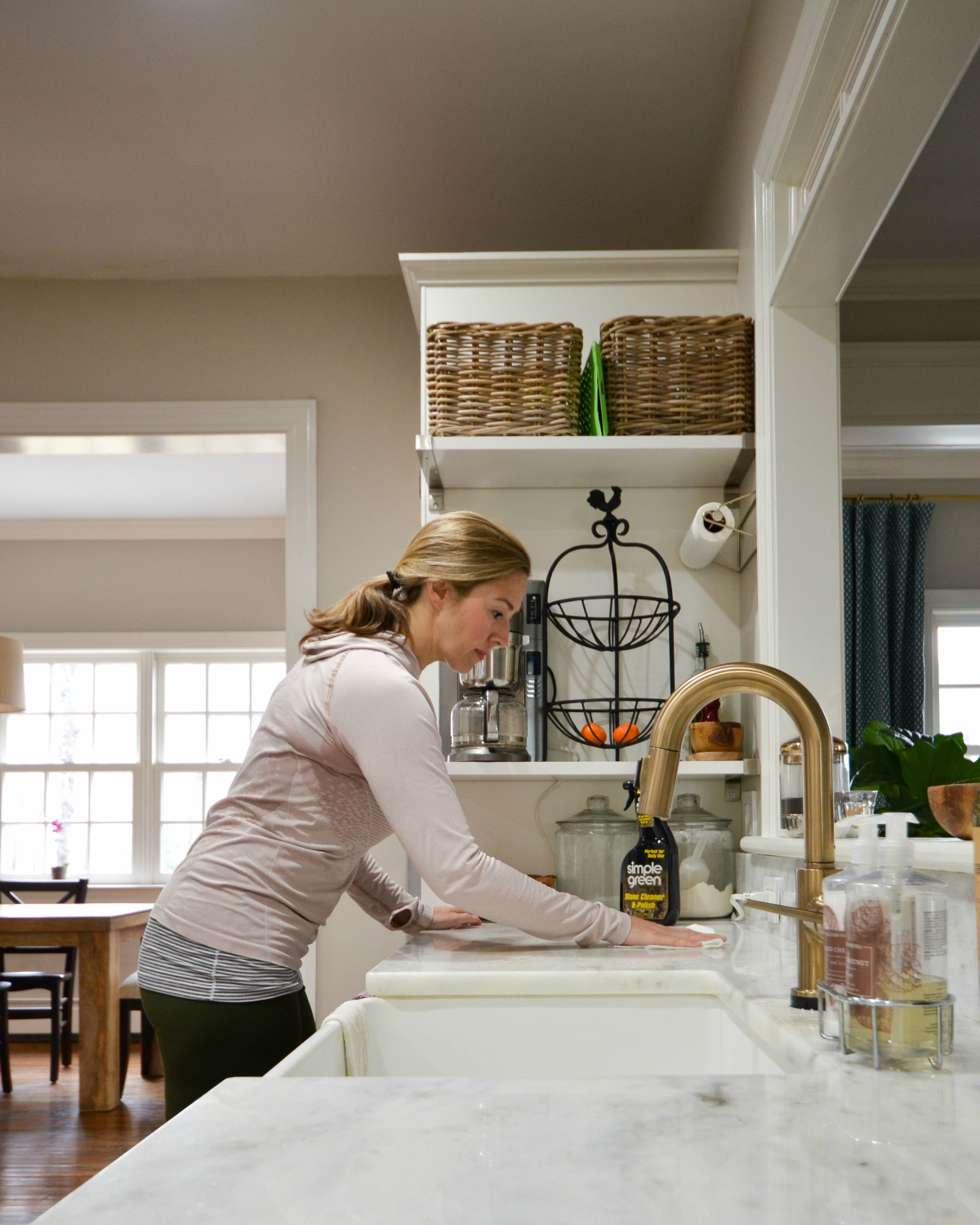 To clean and condition the butcher block counter on my island as part of my kitchen spring cleaning I used TriNova Wood Cleaner and Conditioner. You likely won't notice that the wood surfaces in your home need conditioning until you apply a product like this. I could see the difference immediately when I starting rubbing it into my counters. Look at the difference in shine and richness between the counter in the left of the photo and the counter to the right of my hand.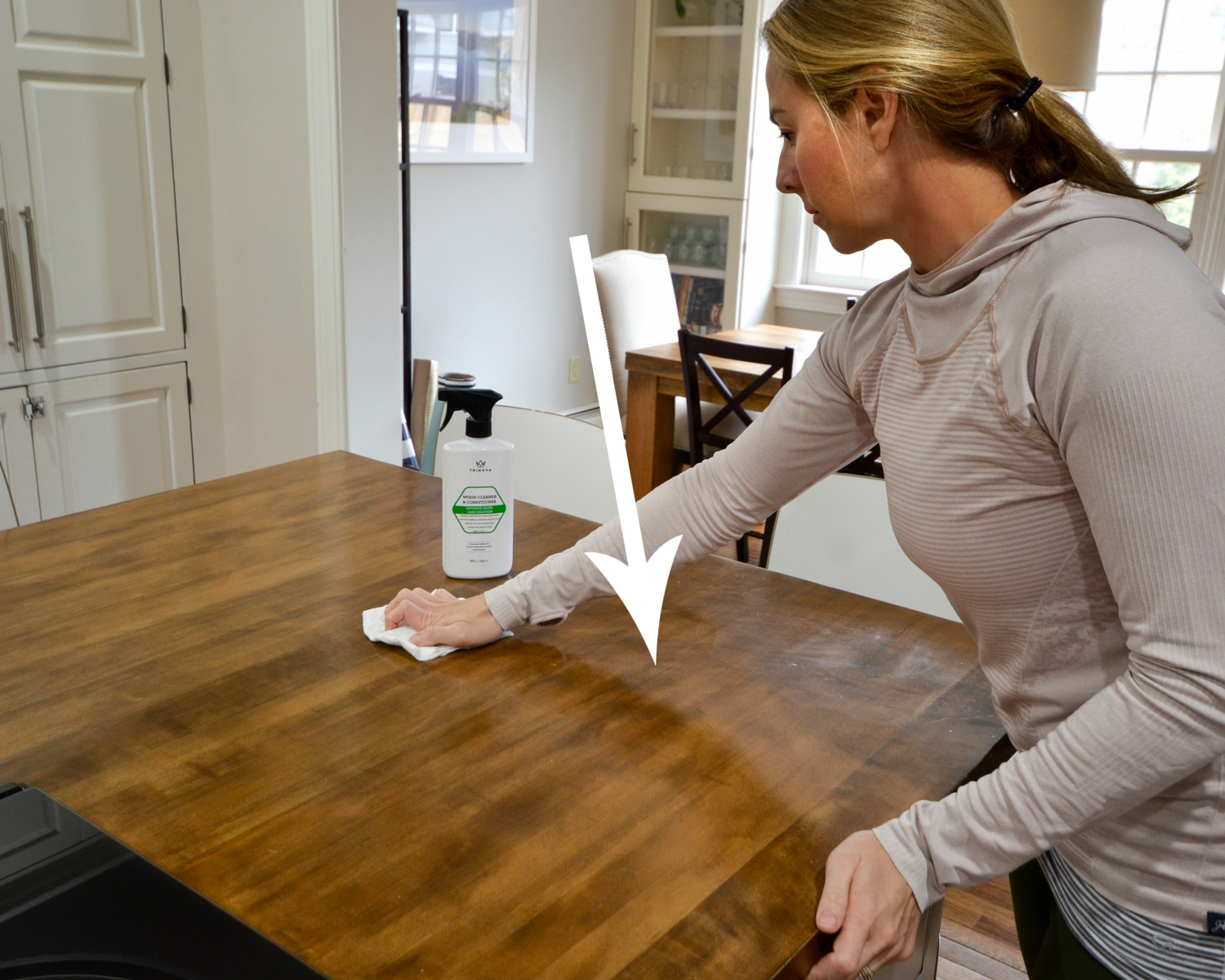 I had gotten away from using wood cleaners like this because I felt like they always left this streaky, greasy residue behind but TriNova's Wood Cleaner and Conditioner was both so easy to use – just spray on and wipe off – and there was no filmy residue. I'll be using this to keep my kitchen table in tip top shape too. You can get 20% off your purchase of TriNova Wood Cleaner and Conditioner through 4/30/17 by entering the code Babble20 at checkout on Amazon.
Do you have a spring cleaning checklist for your kitchen? Anything you think I should add to my list?