I feel like I've developed a definite decorating pattern in this house, which we've been living in now for almost a year and a half.
Neutralize.
Add color back in.
Except, of course, for the powder room where the game plan was COLOR!
If you've been reading here for awhile, you know I've been chipping away at updating the kitchen, and so far it's been all about neutralizing. I painted the walls to take them from deep yellow to very pale gray. I painted the kitchen cabinets white which has brightened the room considerably. I still have the island to paint (which I'm actually hoping to start on next week!), but as I've been getting used to the new look of the kitchen I found myself wanting a little splash of color. I had a simple gray and white runner behind the kitchen stools that I liked just fine, but I knew a colorful runner would be the perfect pop in my otherwise neutral kitchen.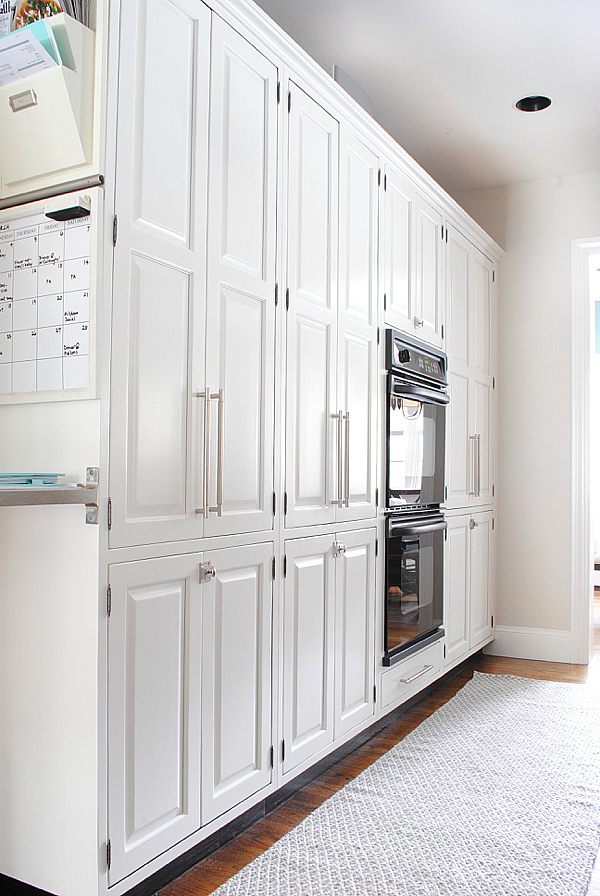 After an epic berry applesauce spill that went undiscovered for several hours, making it basically impossible to remove the stain, it felt like the perfect time to update the runner and get that punch of color I was craving. Let me introduce you to my newest love.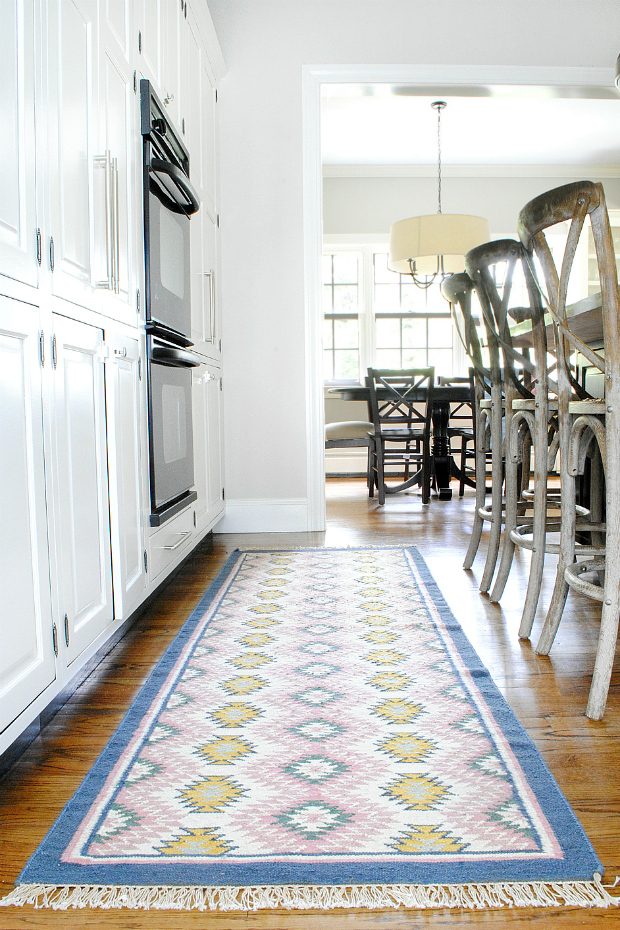 Painted Desert Rug
This rug is AWESOME. It's colorful but not in your face about it. The pattern feels both very modern but also has a vintage Aztec feel. It's a total showstopper. Pretty much every person who has set foot in my house since this rug arrived has said, "Oh my gosh, is that a new rug?!" My daughters' four and six year friends included. It's just one of those pieces that gets noticed right away.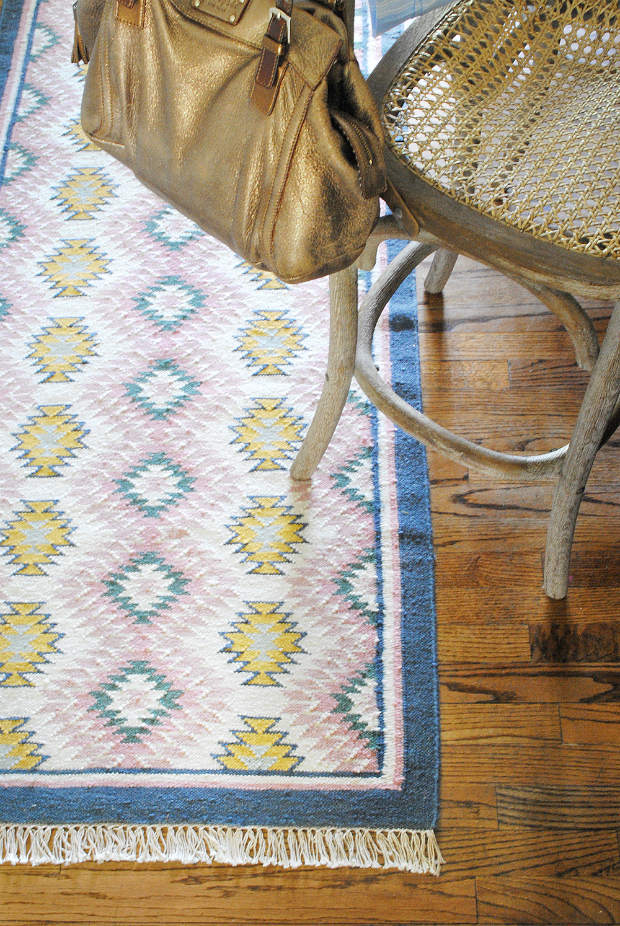 I love the way the colors play against the wall of white cabinets. The colors in the rug help to make the white of the cabinets shine and the white of the cabinets helps the rug stand out as a statement piece. A perfect marriage.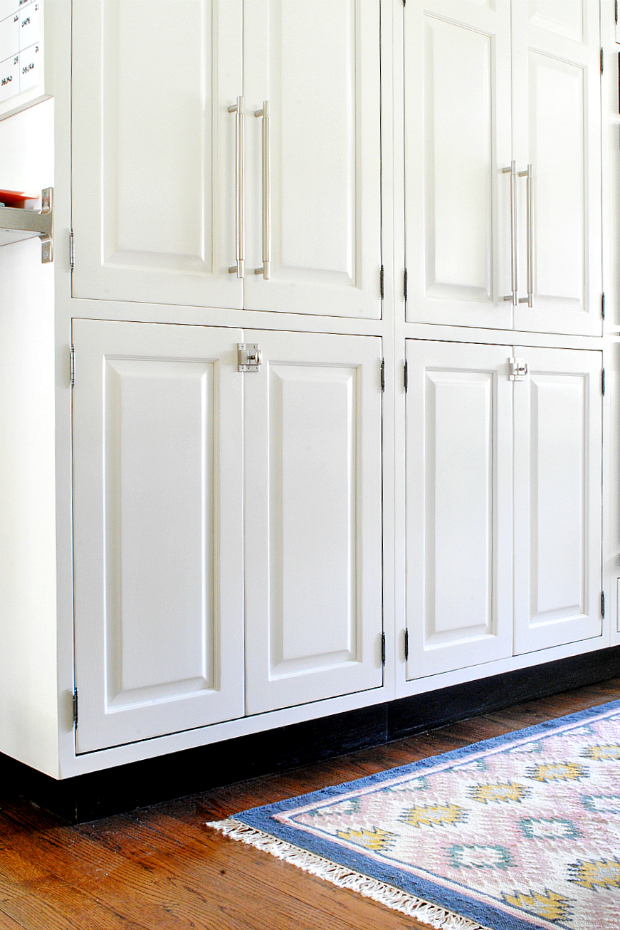 This piece has satisfied all my color cravings for the kitchen. I mean, some pretty Mother's Day flowers don't hurt either… ;)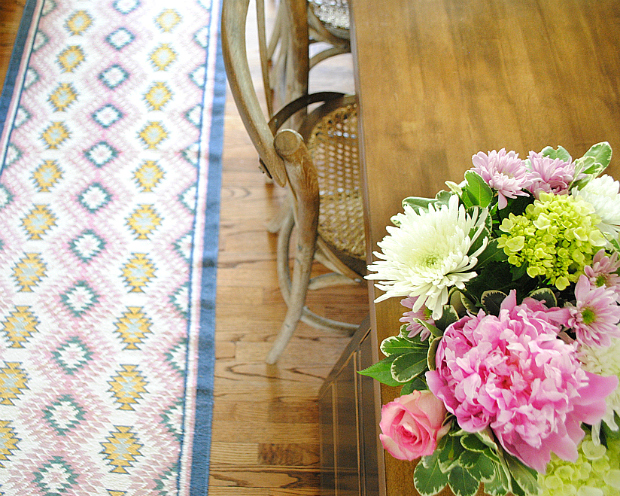 In typical fashion the new rug has been my jumping off point for another upcoming project – upholstering the counter stools. They've actually been a huge disappointment – only a year old and the caning on the seats is sagging and ripping terribly. I think I can salvage them by building a solid seat and upholstering, and I'm in the researching fabrics phase now. I don't want anything that's going to take away from the new rug, but do want something that will accent the colors in the rug. I'm considering something deep yellow, like this fabric, though with a smaller scale, since the rug has a large scale pattern.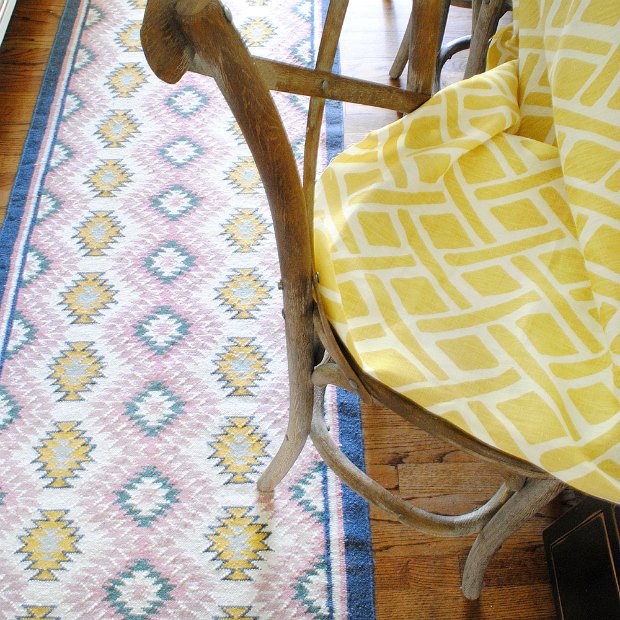 One of the chair seats is about to break right through so this project may be happening sooner rather than later.
What do you think of the yellow? It feels to me like the most natural color to pull out of the rug. I don't want to go with pink – I love it as an accent but don't want it as the main color here. I was also thinking of navy, which might be a more classic choice, but I'm just not sure yet. You know when you stare at something so long you feel like you can't even really see it clearly anymore? That's kind of where I am. I'd love some fresh perspective if you have an opinion!
Make sure you check out Lulu & Georgia's selection of rugs – they carry some of my absolute favorites, like my entryway rugs and now this gorgeous kitchen runner. The rugs they carry are beautifully curated, which makes it so much easier to sift through and actually find your favorites!
Lulu & Georgia provided me with this rug but all ideas and opinions expressed are sincere and my own. I only share products and companies I truly love!