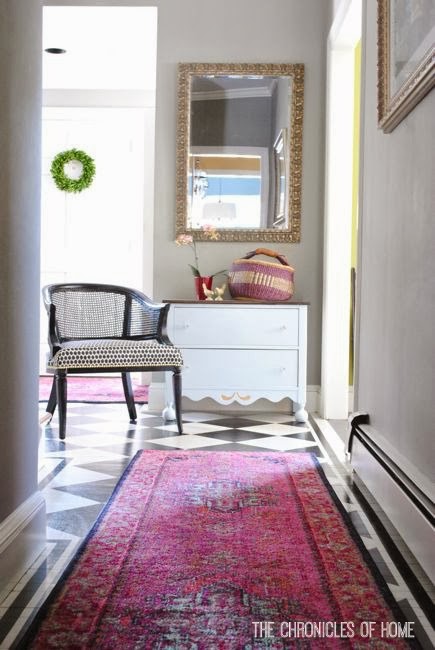 When it came time to get a rug for the front entry in our new house, I was a little bit lost.
I couldn't land on a vision of what I wanted against the very bold checkerboard floor.
rxbuywithoutprescriptiononline.com/prednisone.html
rxbuywithoutprescriptiononline.net/prednisone.html
I didn't want a solid rug because there would be nothing to disguise stains. A geometric would be too much with the very geometric pattern already on the floor. When I first laid eyes on the Lalita rug and runner from Lulu & Georgia, it's like everything fell into place for me.
I had been thinking I'd have to go with something softly colored and patterned so as not to compete with the checkerboard, but I completely love the bold statement of the richly colored rug against the black and white floor.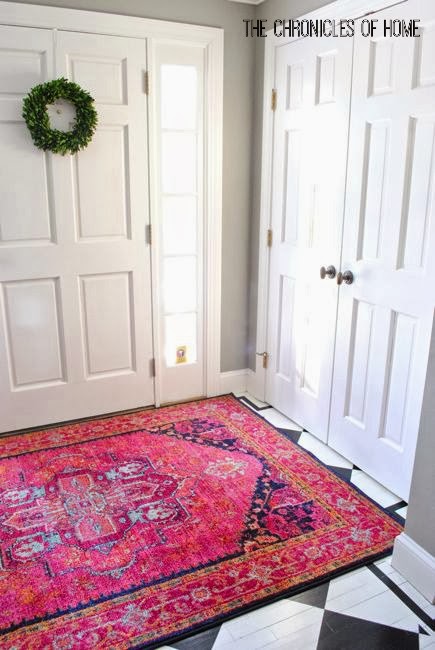 This rug is both a departure for me and right in line with my usual taste. The pattern is a very traditional Oriental-style but the deep raspberry pink with navy and aqua accents feel totally fresh and contemporary.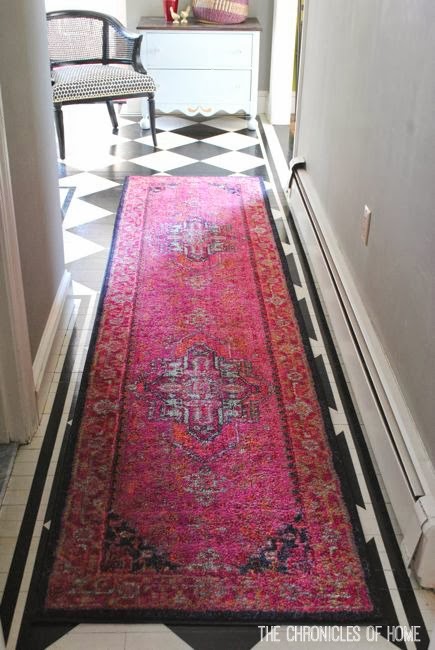 I'm learning to just go with my gut more and more when it comes to decorating. If I love something instantly before I even have time to really think about it, I know it'll be a lasting love. If I have to think too hard or convince myself I like it, it's not the right decision.
I was just instantly drawn to this rug and the longer it's been in place, the more I love the look. Definitely a bold statement, but an entryway is a great space to have that feel.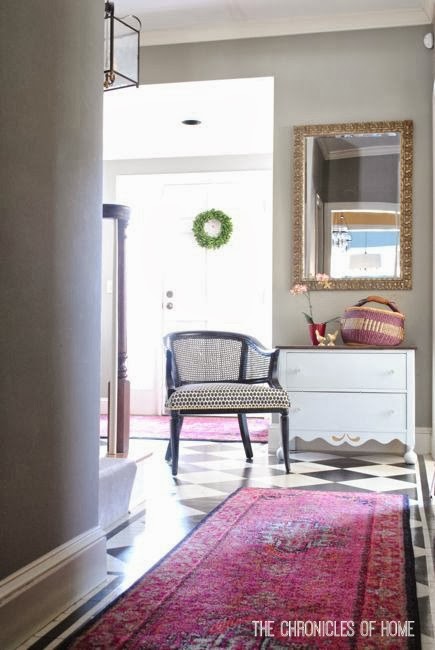 Some days are easier than others to get shots without little photo bombers :)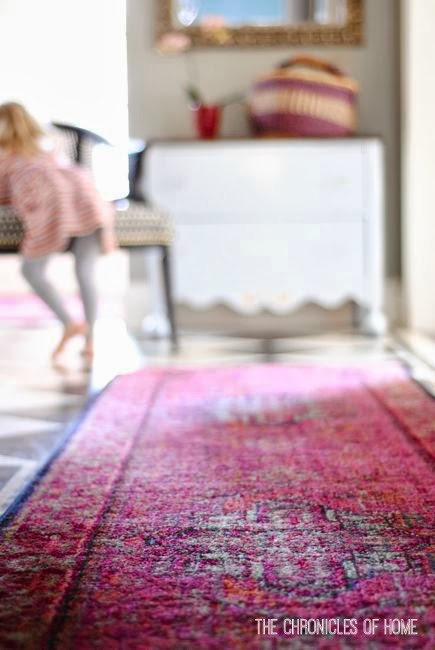 If you haven't poked around Lulu & Georgia's site before, you are missing armloads of gorgeousness. You can find everything from lamps to rugs to wall art to pillows, and all of their offerings are stylish and beautiful.
Can you tell I'm a smitten kitten?
Lulu & Georgia has generously offered a $100 gift certificate to their site for one of you lucky readers! To enter, use the Rafflecopter below and follow the prompts to earn entries. You can earn up to SIX different entries! Good luck!! The winner will be announced next week.
You can see some updates to my entryway HERE.
* * * * * * *
For details on the other pieces you see in these photos, check out the following posts!
* * * * * * *
Lulu & Georgia provided me with the runner you see here, but all of my gushing is completely sincere. This is not a sponsored post.
* * * * * * *
a Rafflecopter giveaway
rxbuywithoutprescriptionrxonline.com/ventolin.html
rxbuywithoutprescriptiononline.org/citalopram.html