This shop has been compensated by Collective Bias, Inc. and its advertiser. All opinions are mine alone. #ICantEven #BigLots #CollectiveBias
My family room has been itching for a makeover for awhile now. The first year we lived in this house was all about changing paint colors on the walls and figuring out where we wanted to put the furniture joining us from our old house here in the new space. We bought some new chairs here and there and started to piece things together. The family room was fine…but just fine, not great, and definitely not working for us the best it could, since it's the room we use the most for lounging, watching TV, working, etc. Let's take a look at where the room is now and then I'll walk you through the details of the family room makeover and show you some before and afters!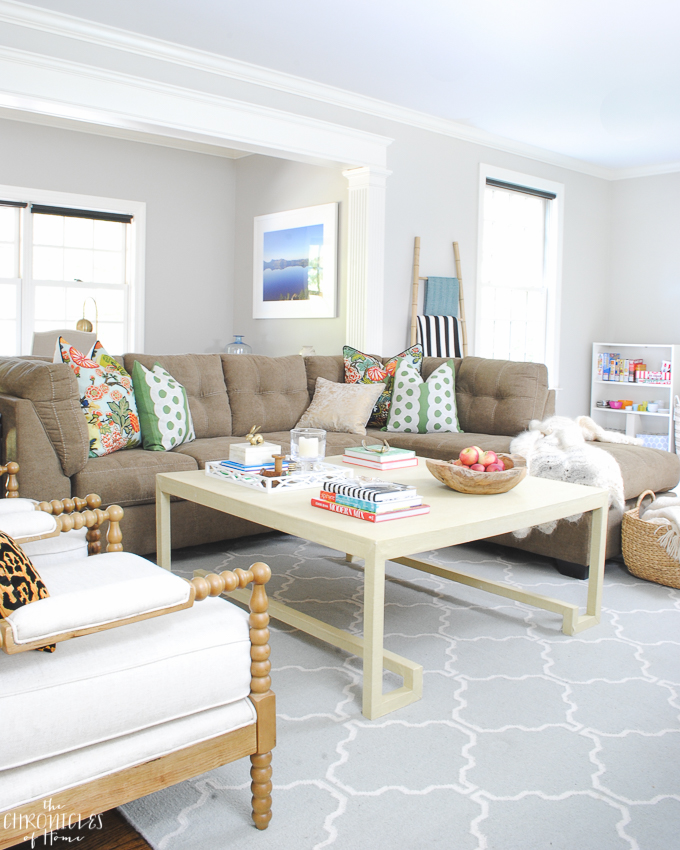 And here's how the room looked just a few weeks ago for my fall home tour.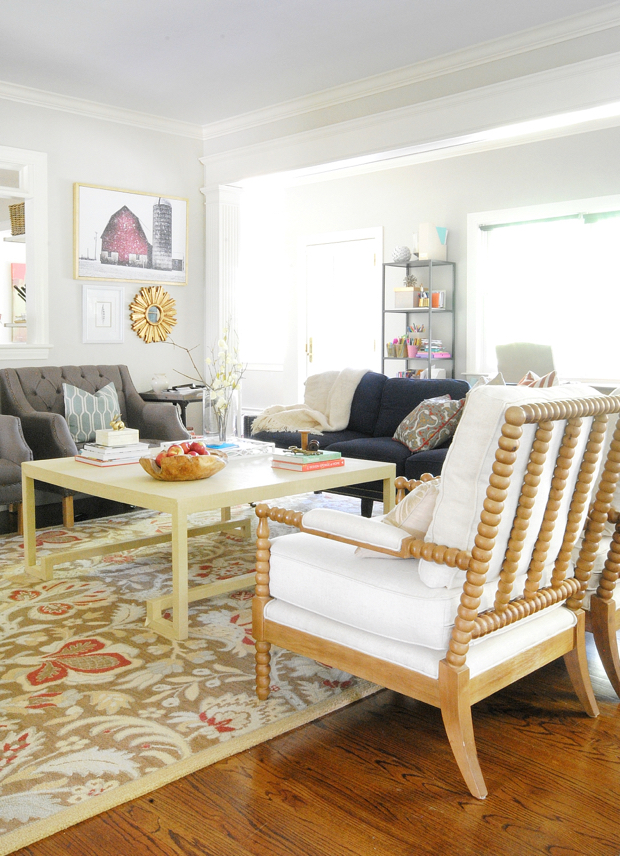 I literally started from the ground up by clearing everything from the room and swapping the rug for something lighter and less busy. I loved that tan and red rug – in fact it's the first thing I ever bought for our first house – but it just wasn't working for me in the family room here. I took the rug we had been using in the dining room and used it in the family room. I always try to shop my house before I buy anything new. I also love the navy blue sofa in this photo but it's really meant to be our living room sofa and it was just getting kind of wrecked by my perpetually sticky-fingered little girls. Seriously, WHY are their fingers always sticky?!
Plus, what we really wanted for the family room, and what would be the most conducive to how we use the room, was a sectional. So after the rug, the next piece to go down was the new sectional sofa.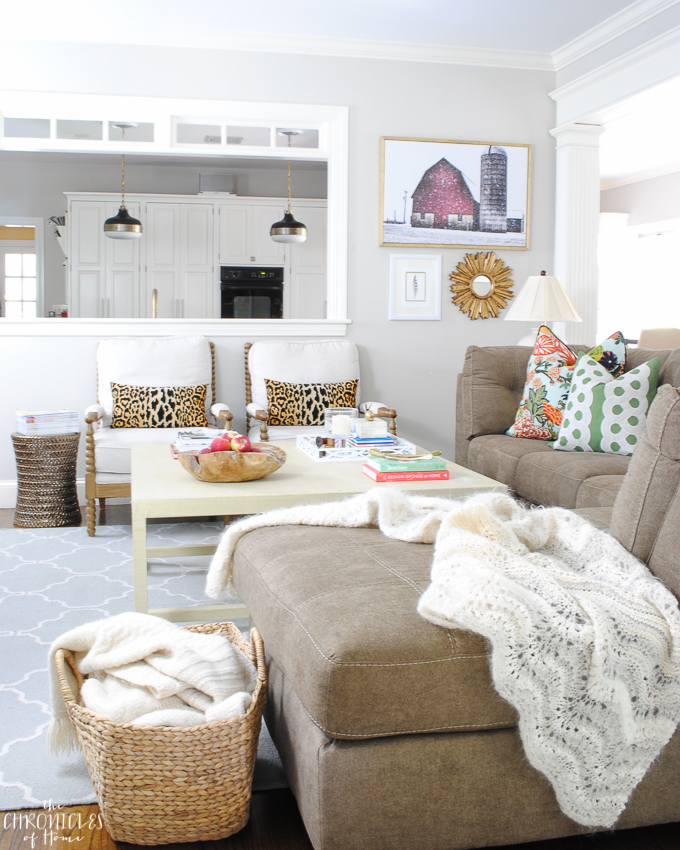 You guys, this sofa is so comfortable. Not to mention well-made and a killer deal. It's the Ashley Driskell sofa from Big Lots. This was my first time shopping at Big Lots and it really was the greatest experience. The people working in the furniture department were so attentive and friendly, without being at all pushy, and they had me loaded up and on my way in no time. Plus I picked up a new steamer basket and some snack bag clips while I was there. Gotta love the one-stop shopping experience :)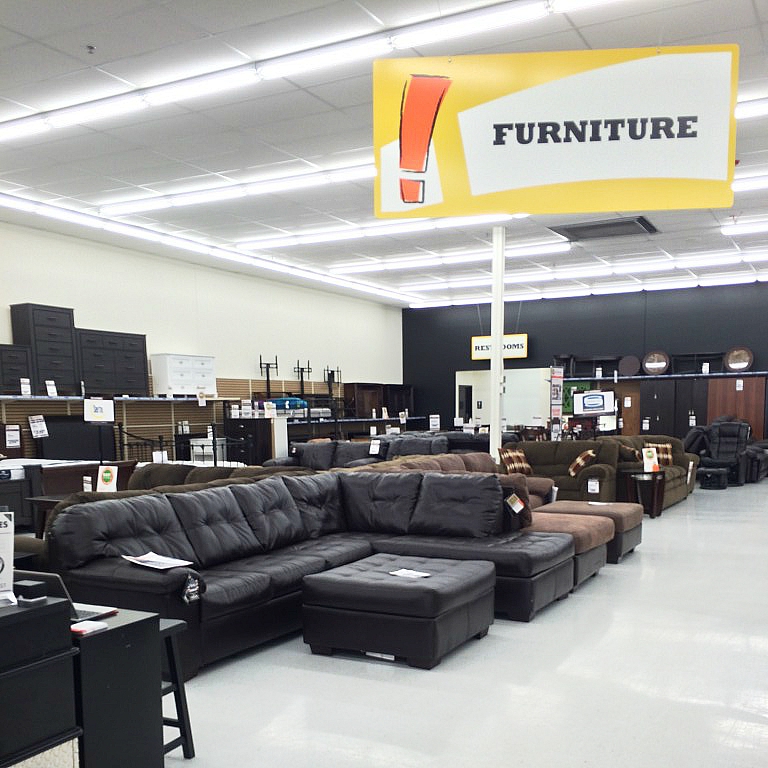 The next step was adding a couple of chairs back in – probably no surprise that I chose my spool chairs. I told Scott the other day that I might want to buried in them. They're just my favorite chair style of all time. I also really wanted to keep the base of the new look neutral.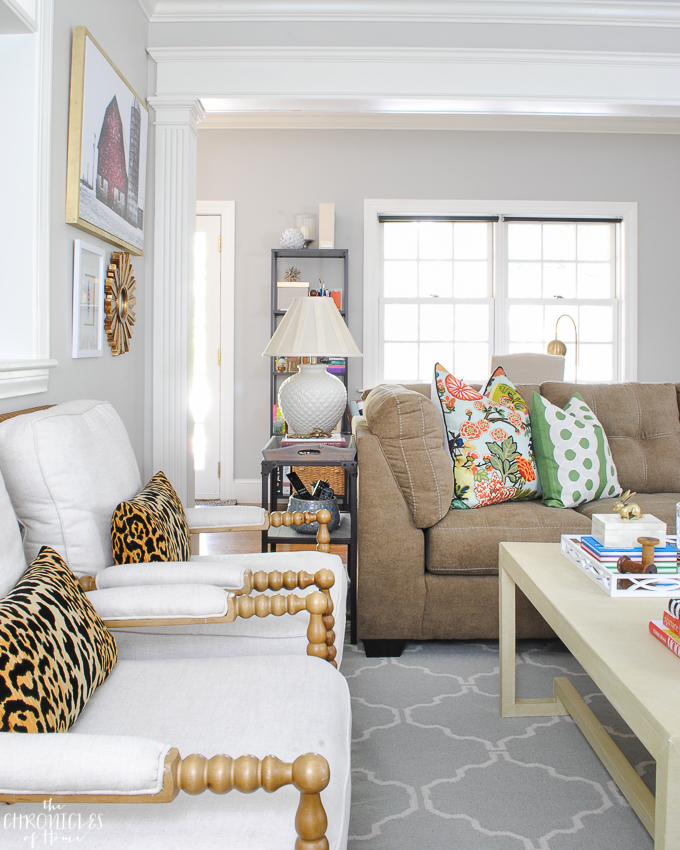 And then, of course, I added some color and pattern back in. Because they're my favorite. For the sofa pillows I made a pair of oversized (26×26) pillows out of Schumacher's Chiang Mai Dragon fabric in aquamarine and paired them with some smaller kelly green appliquéd pillows. The metallic gold velvet pillow has been a favorite of mine for a long time and fit right in with the new look. You also get a good look at the stitching detail on the sofa in this picture. I love how the stitching on the back sofa cushions mimics the look of a tufted cushion.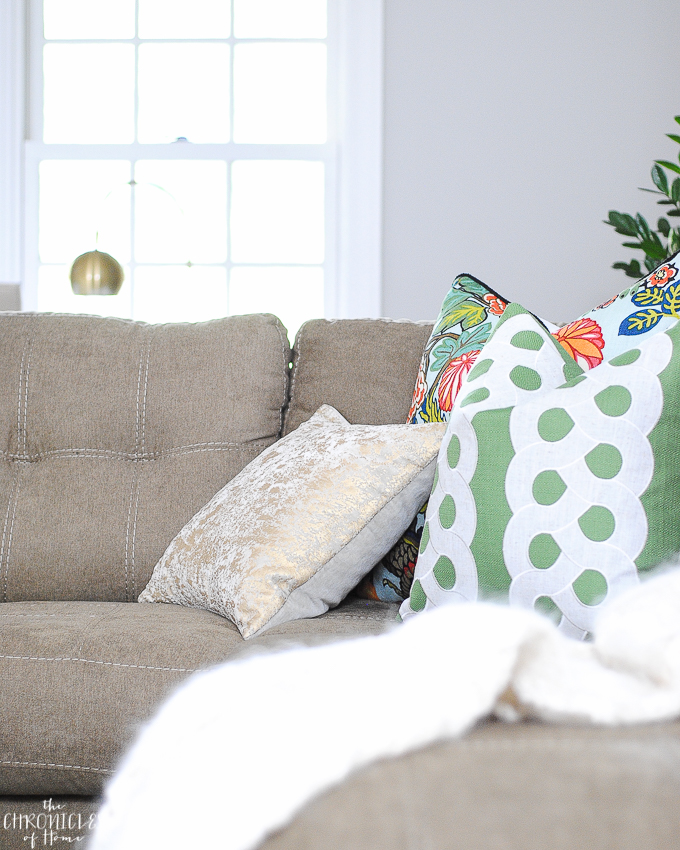 On the spool chairs, I added a pair of leopard lumbar pillows that I made from Braemore's Jamil Natural fabric. It's got this gorgeous velvety feel and I looooove the way the pattern pops against the light chairs.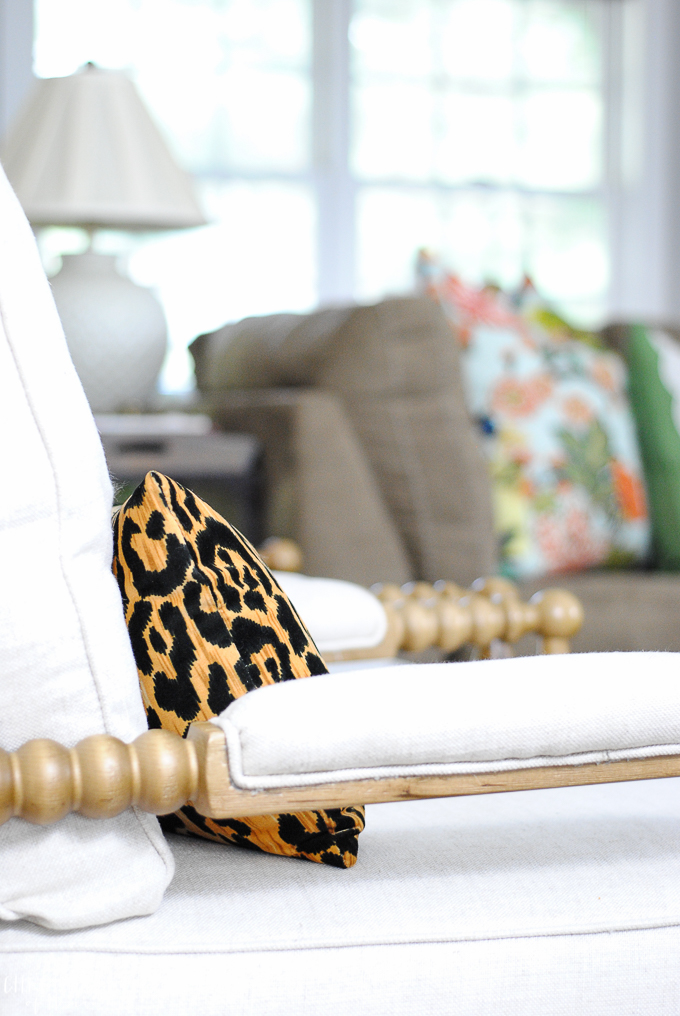 I also brought my beloved DIY lacquered grasscloth coffee table back into the room and styled it with my favorite coffee table accessories. I'm always about blending pretty and functional and you can find a mix of both on all of the accent tables in the family room.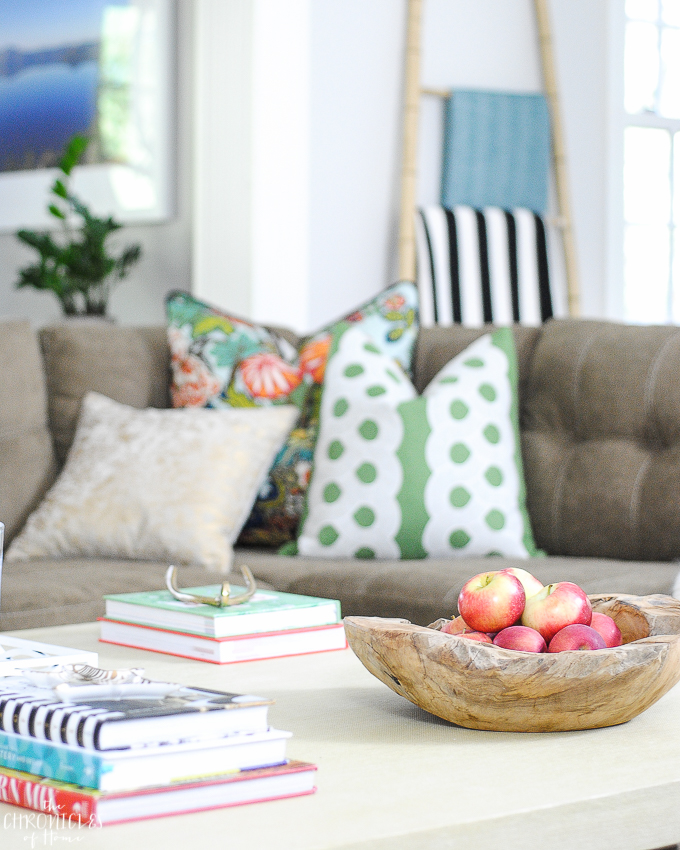 I'm a little hooked on coffee table books. And they're definitely my favorite thing to use to decorate a coffee table…go figure :) A little gold something-or-other on top always finishes the look for me.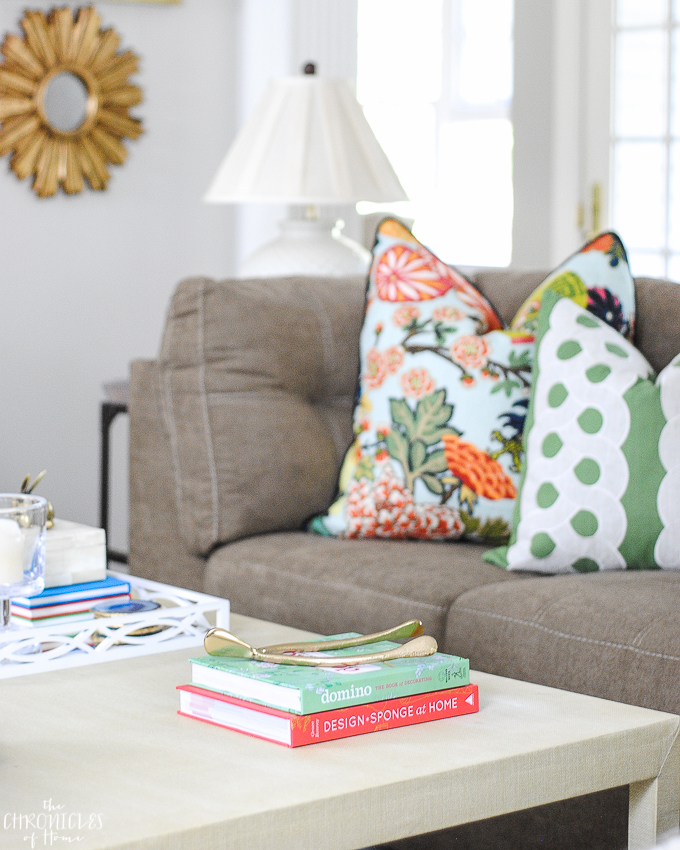 The little box under the bunny holds small remote controls.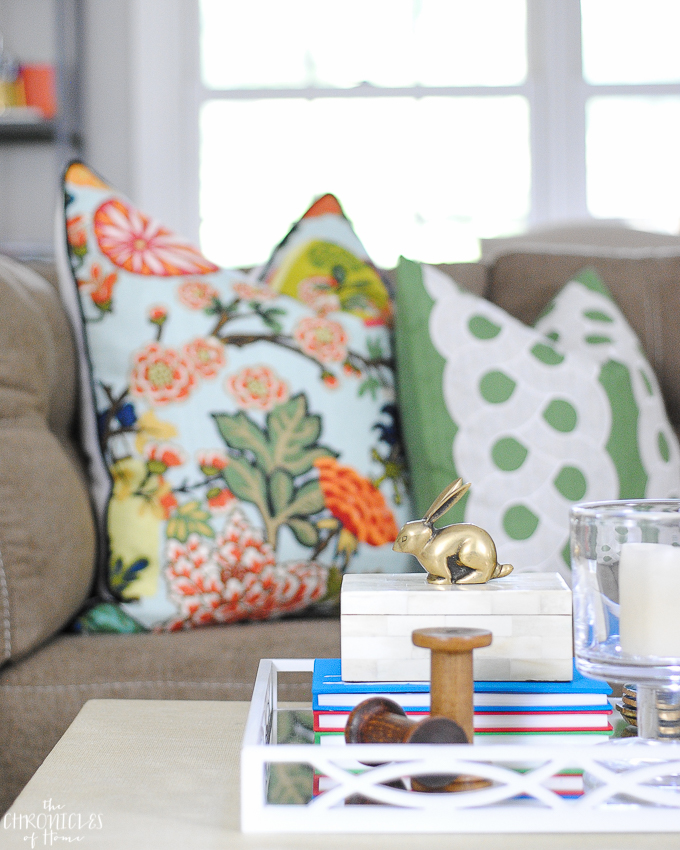 I don't think utilitarian things have to be completely obscured, and put our larger remotes in a ceramic bowl on the table next to the sofa. It's a great little trick for hiding things in plain sight, which I'm all about (see here and here for other examples).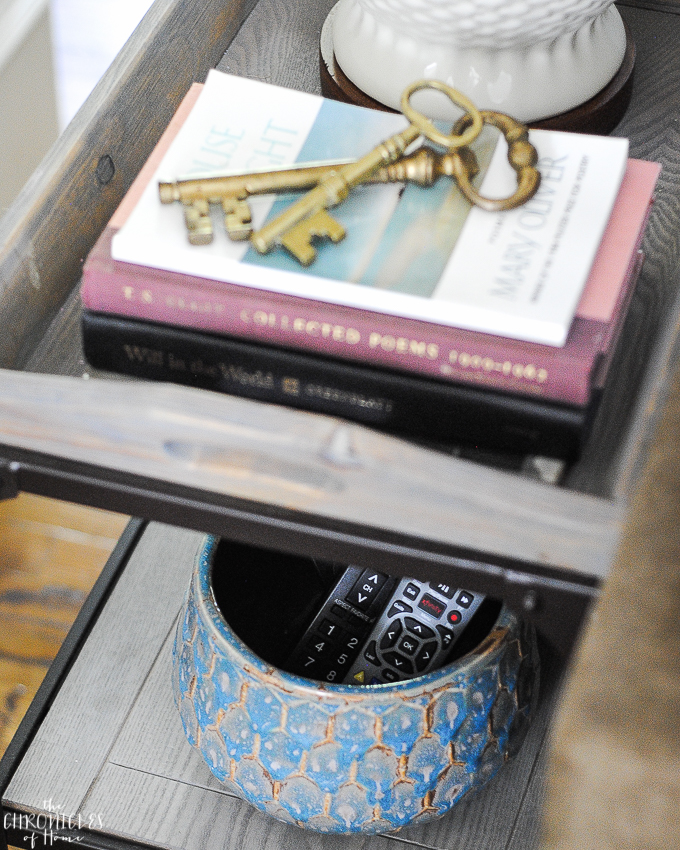 The other major purpose the family room serves for me is actually semi-hidden, behind the sofa. Can you see it?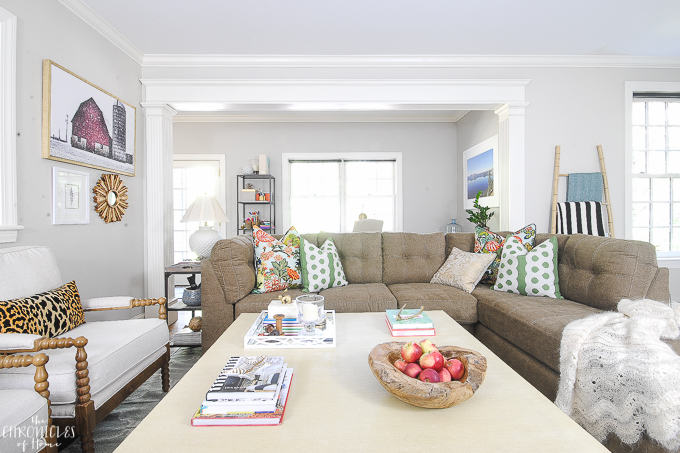 I set up a little office nook for myself in the addition space behind the sofa. With my girls being as young as they are it really helps me to have a workspace in the heart of our house. I hadn't bought a proper desk for myself though, and was instead using a console table we'd brought over from the old house. You can see that the narrow depth didn't leave much  surface space for anything beyond my laptop, a lamp, and a tray to hold essentials, plus the table didn't have a drawer.
I spotted this white Parsons desk at Big Lots and knew it was perfect instantly. The white would brighten things up, the size was generous, and a Parsons table is a classic look that will never, ever go out of style.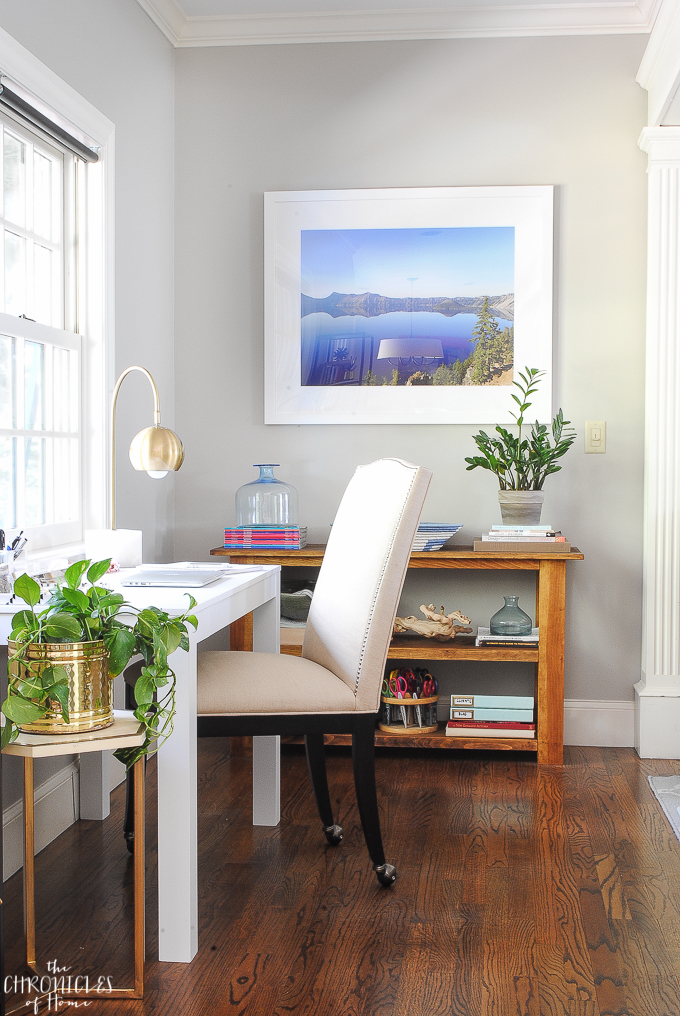 The price for quality was excellent and it was a cinch to assemble – just required screwing the four legs into the top. The desk has a slim drawer too and I am loving the concealed storage!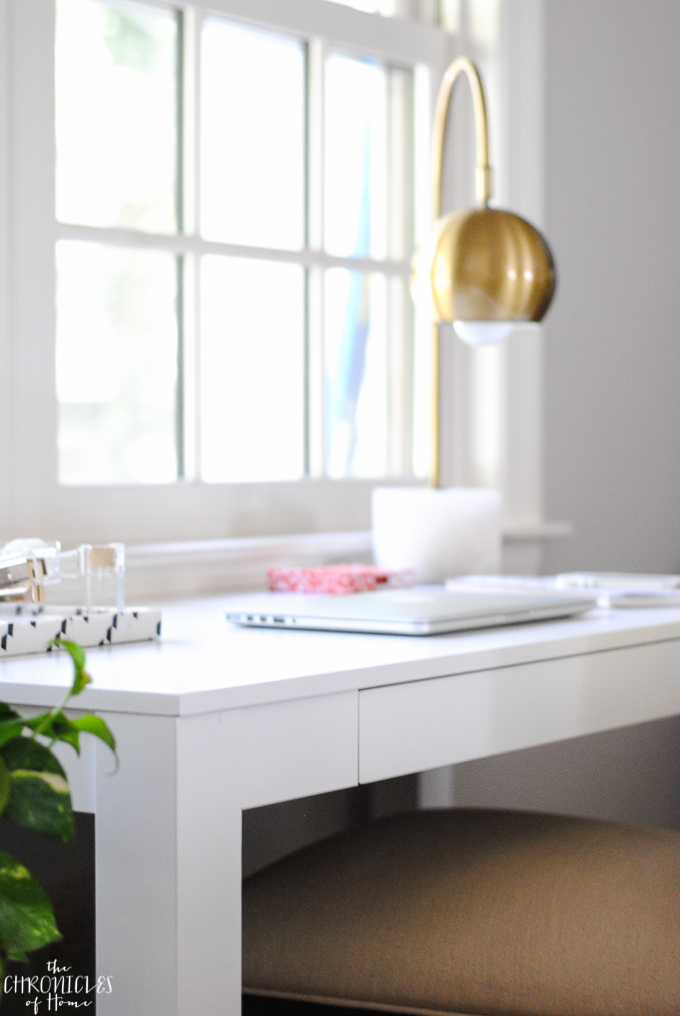 So with the same items – my laptop, the tray, and a lamp (albeit a skinnier one) – just look at how much more space I have for my calendar, phone, papers, whatever!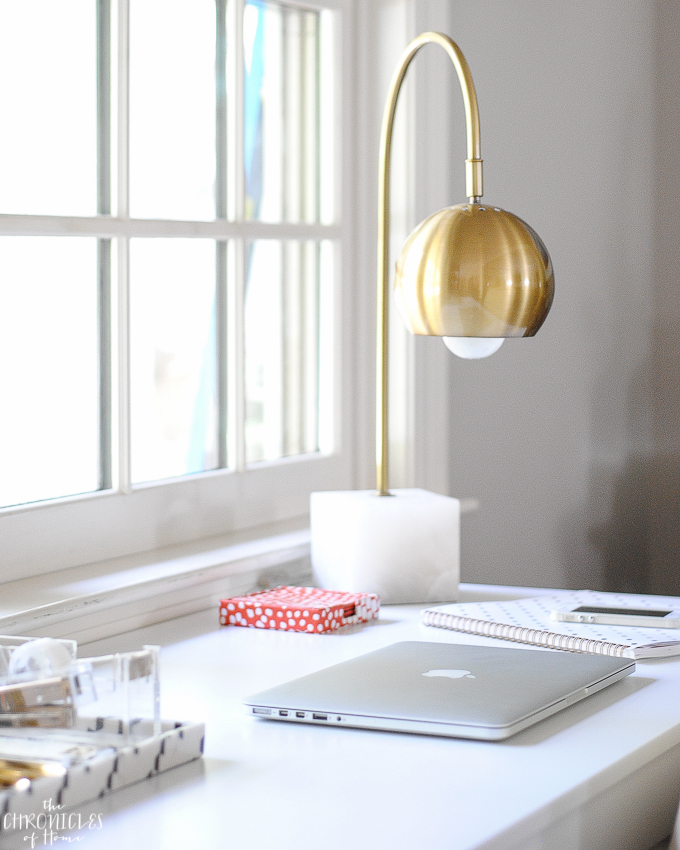 I'm absolutely thrilled with how this family room makeover came out. The additions of the sectional sofa and the Parsons desk from Big Lots have completely changed not only the look of the family room, but how it works for us. We now have a supremely comfortable place to watch TV and I have a roomy, stylish desk from which to work (guess where I'm sitting right now as I type this?!). Function always comes first when I'm putting a room together. I ask myself, "How are we going to use this room?" and everything else flows from there.
I was truly impressed by Big Lots customer service and selection – you can stay connected with them and stay up-to-date on news, sales, and more on Facebook, Twitter, Pinterest, and Instagram. I also thought this video was hilarious – do you not have these kinds of conversations with your friends? Because I feel like I do allll the time.