A few months ago I shared my project priorities for this year. So far I've started on the mudroom and guest room updates and have made some good progress, both actual progress and planning progress, and I hope to wrap both up in the next month or two. The finished basement is the biggest project I'm planning to take on this year and, honestly, it's a little overwhelming. But I find breaking a big project like this into steps or phases helps me to visualize the big picture, start a to-do list with actionable items, and just mentally makes it feel more manageable. I wanted to share the plans with you, as well as my process for breaking a project like this down so you can see how you might do it yourself. I also want to talk about why I'm taking this project on in the first place.
First of all, I always like to start a project like this by gathering inspiration photos. It helps me to focus on the look I want for the finished space. I'm finding myself myself drawn to light, airy basement family room images, like those below. I really want to put together a space that feels like it could be any room in the house, not necessarily a basement.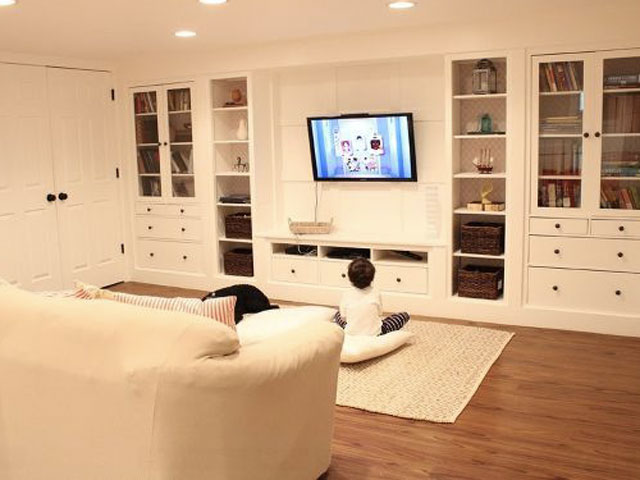 source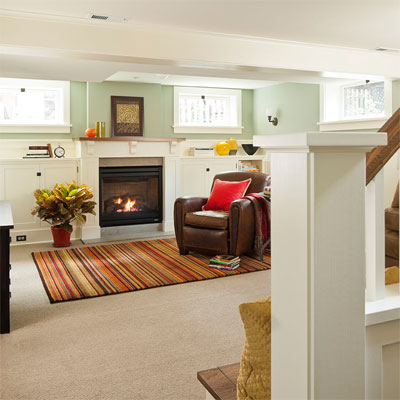 source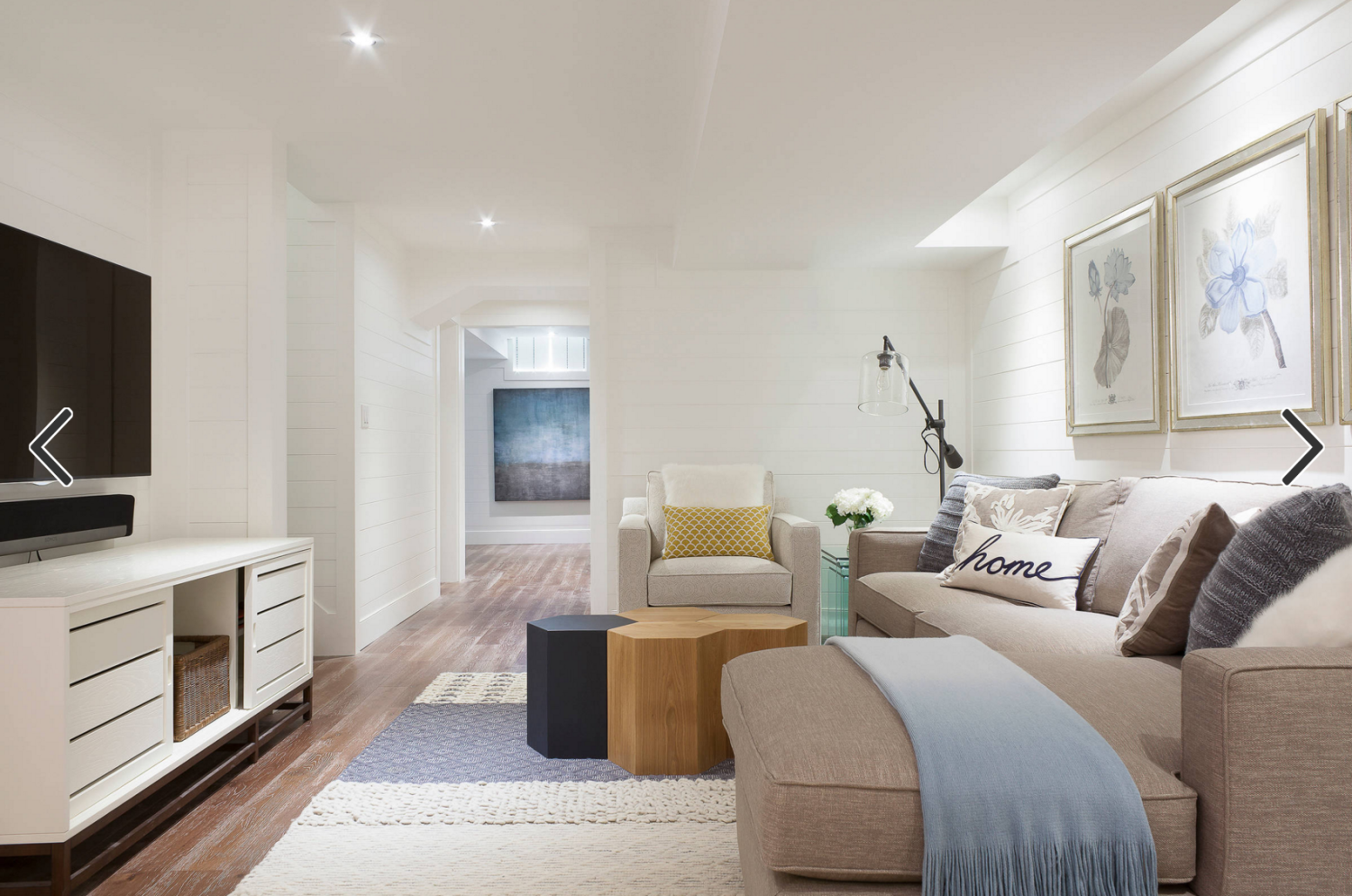 source
While we are lucky to have a large space in the basement that is finished in terms of having drywall and a rug, both are in pretty sad shape and need some serious updating if we're going to use the room as a comfortable family space.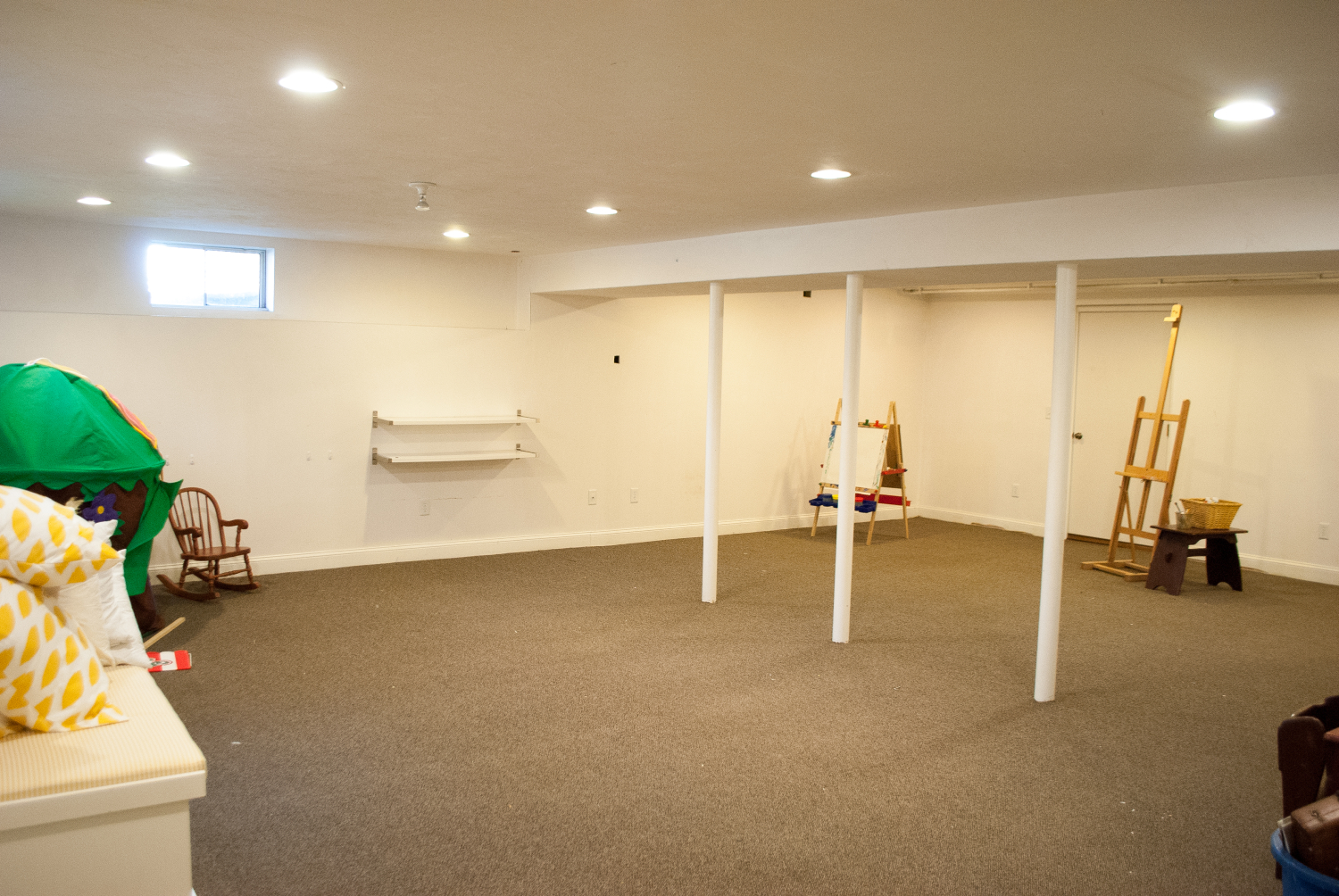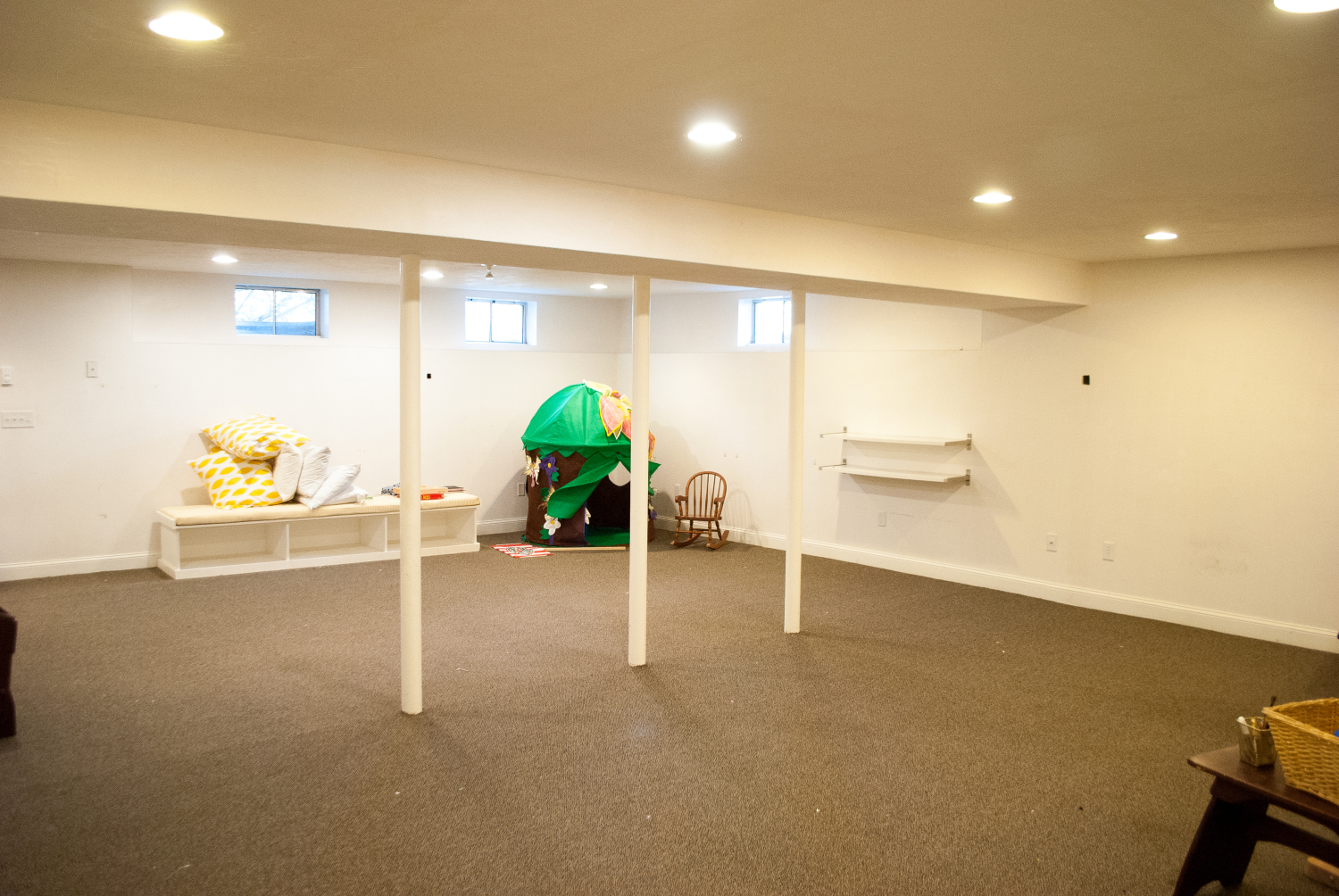 Phase One – Flooring
The existing rug is thin and rather threadbare in spots. The back egress door was leaking before we even bought the house two years ago and we just replaced the door to stop the leak. Every time it would rain the rug by the door was soaked. Add a typical damp basement environment to all that wet and the smell of mold/mildew was enough to knock you down in summer. I will be surprised if I rip up the rug and don't find mold. I'm hoping for just regular old mold and not black mold but that remains to be seen. Either way, the first step in the basement project is ripping up the existing carpet, dealing with whatever mold situation I find underneath, and installing new laminate wood flooring. 
I think this new flooring will have more impact on freshening and brightening the room than any other single part of the project. The current rug just looks old and drab and contributes to the overall feel of the room as old and drab. I can't say I am looking forward to ripping that carpet up but I am very much looking forward to getting the new flooring installed.
Phase Two – Moisture Management
One of the things that makes a basement feel so basement-y and not like a proper living space is the damp smell so many basements have. We used a small, portable dehumidifier in summertime, which helped, but wasn't quite powerful enough to really get rid of that basement smell. Ideally, I'd like to install a built-in dehumidifier that empties into a sink, and one large enough to manage the moisture level in the whole basement. I still need to research options to help me decide on the best fit for the space.
Phase Three – Walls and Windows
We have drywall, which is a big first step to have done for me, but the drywall has several large holes cut into it (probably from a repair at some point) and another wall is peppered with small holes (I'm guessing there was a dartboard there).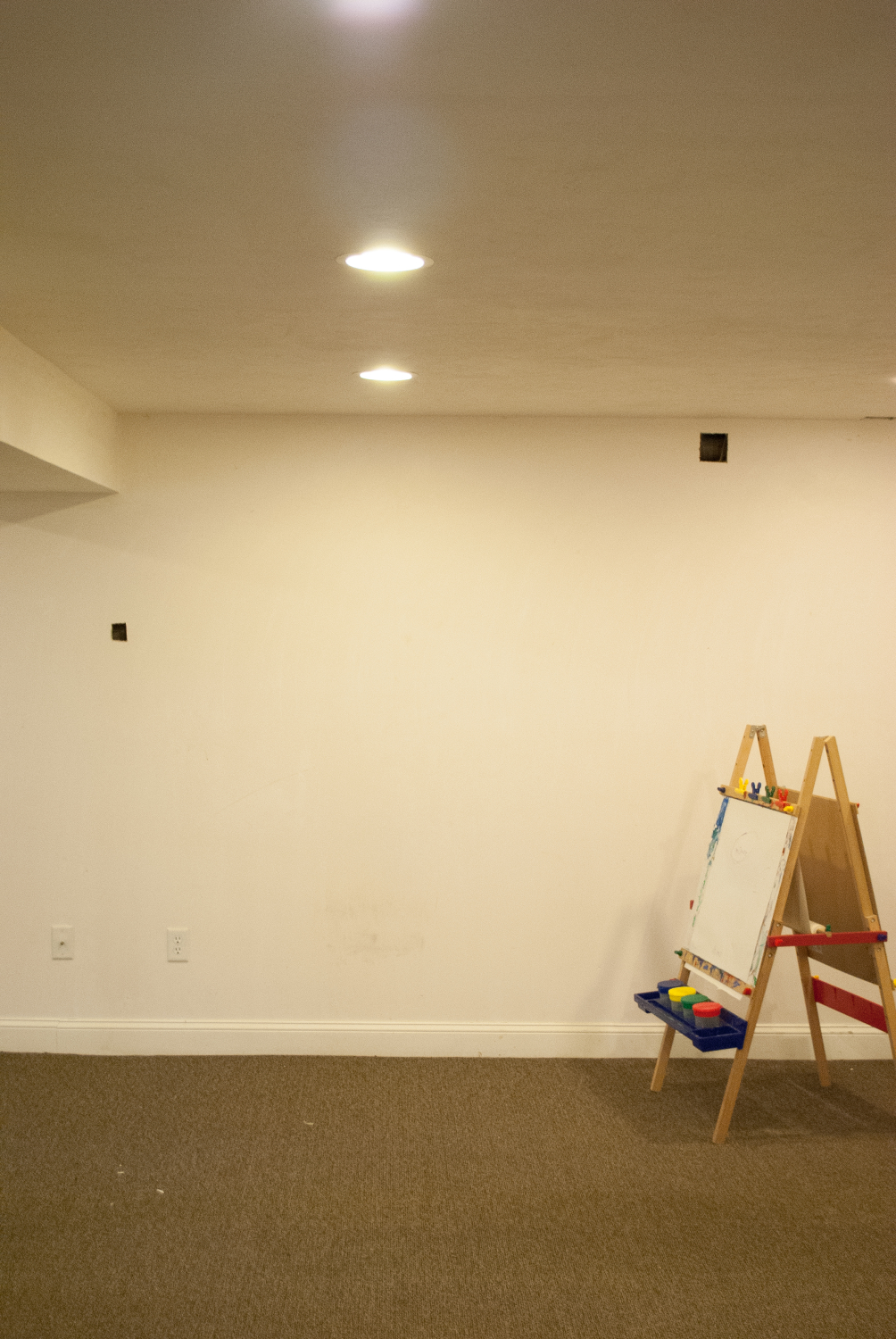 I'll repair the holes and also want to install either wainscoting (like I did here) or a board and batten treatment. This kind of detail does wonders for making any room feel polished and custom and will help elevate the basement to the feel of a main living space. Paint will also happen at this stage but I'm not settled on colors yet.
Phase Four – Trim Support Poles
The basement is split exactly in half by three steel support poles. They can't go anywhere for load bearing reasons but they don't have to be so utilitarian looking.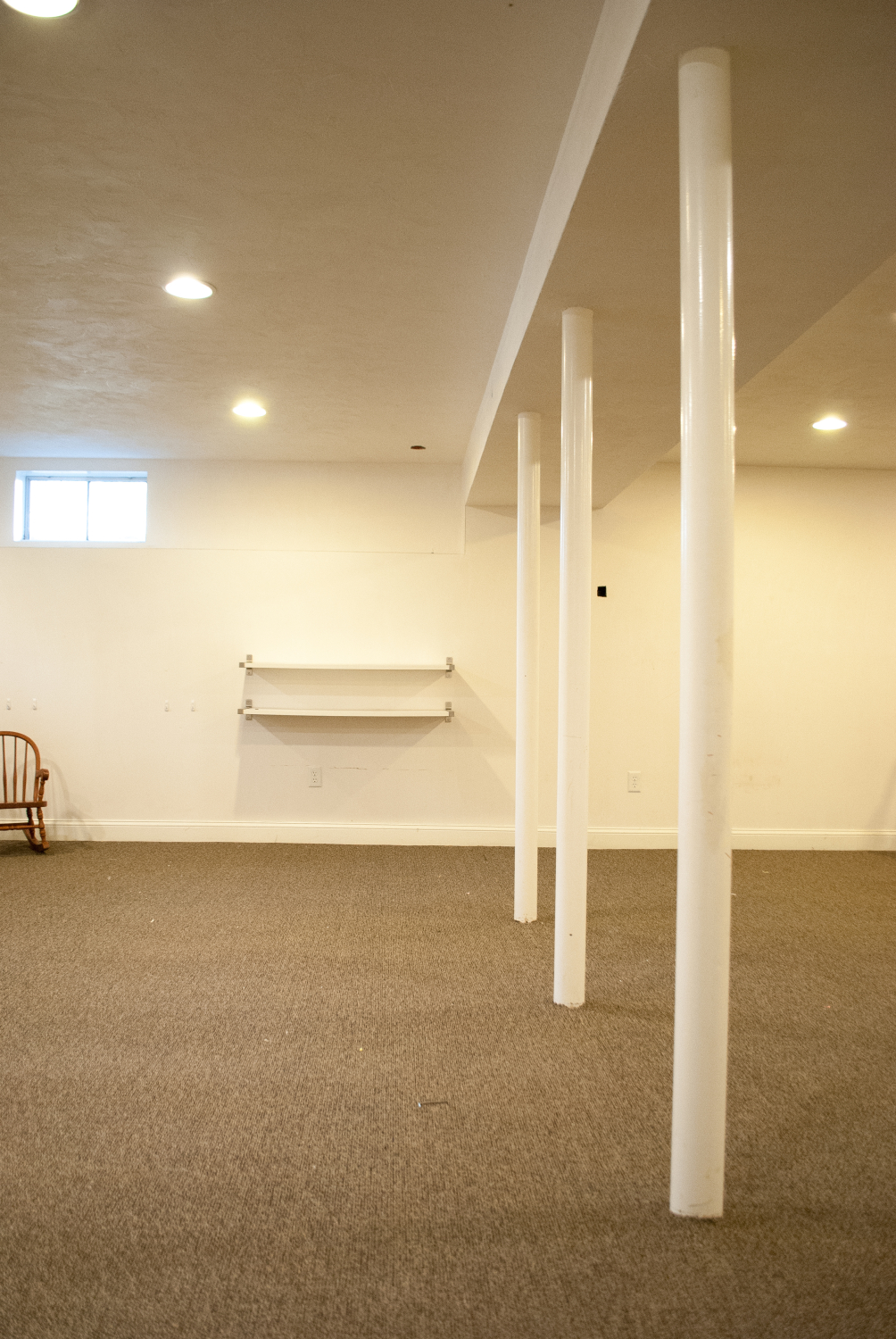 By wrapping them in wood boards and trimming the wood with moulding, they'll look like beautiful architectural details instead of steel poles that are there just because they have to be.
Phase Five – Built-Ins
Much like wainscoting, built-ins instantly elevate a room, and they have the added benefit of providing concealed storage. One side of the basement will have a TV, I'm planning to move the sectional from the family room downstairs, and will probably add a couple chairs to this space as well.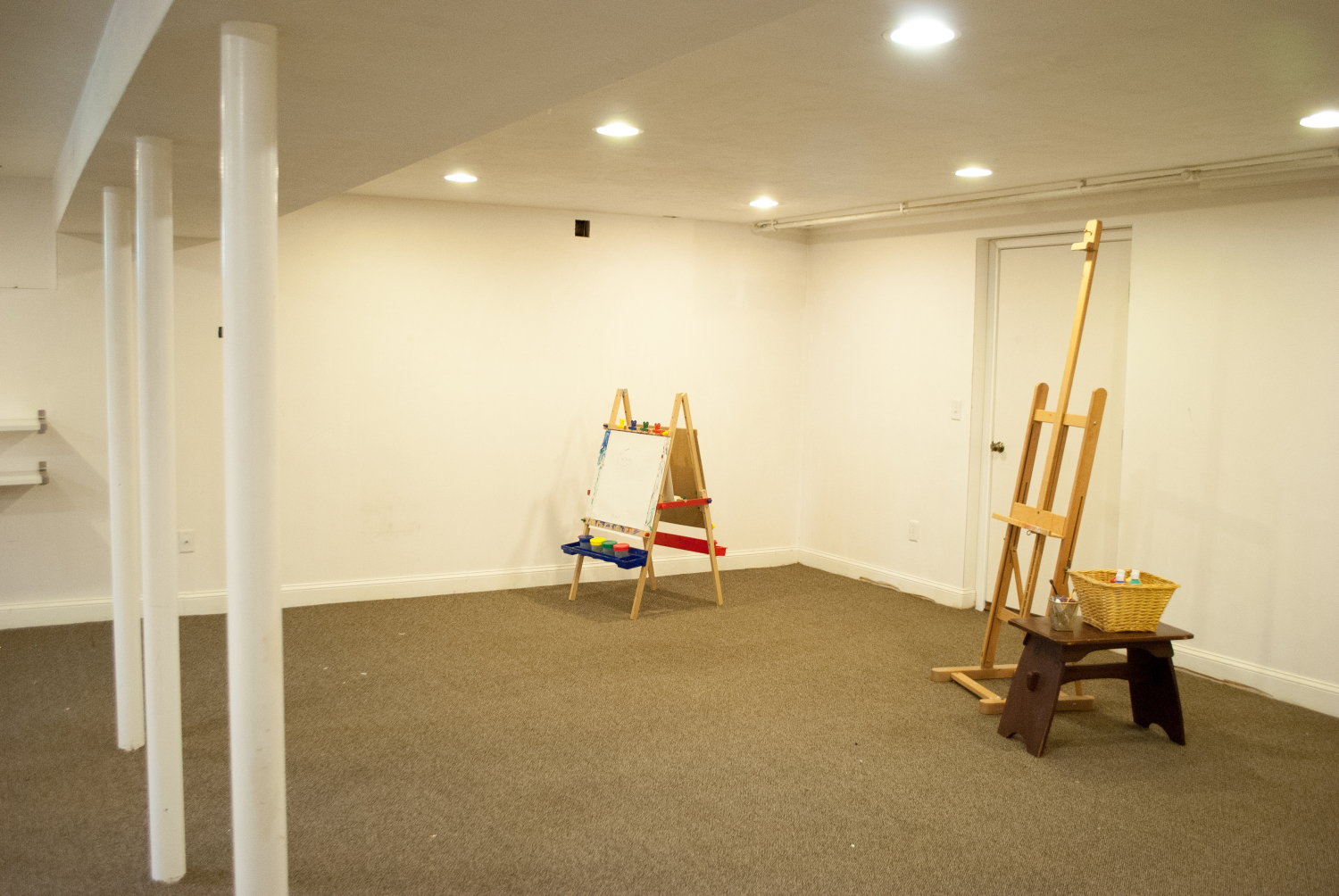 I may add some kind of built-in arrangement as part of the TV setup, but will definitely build one both for toy storage and to incorporate the basement windows in a way that makes them look like part of the plan instead of the necessary egress points they actually are.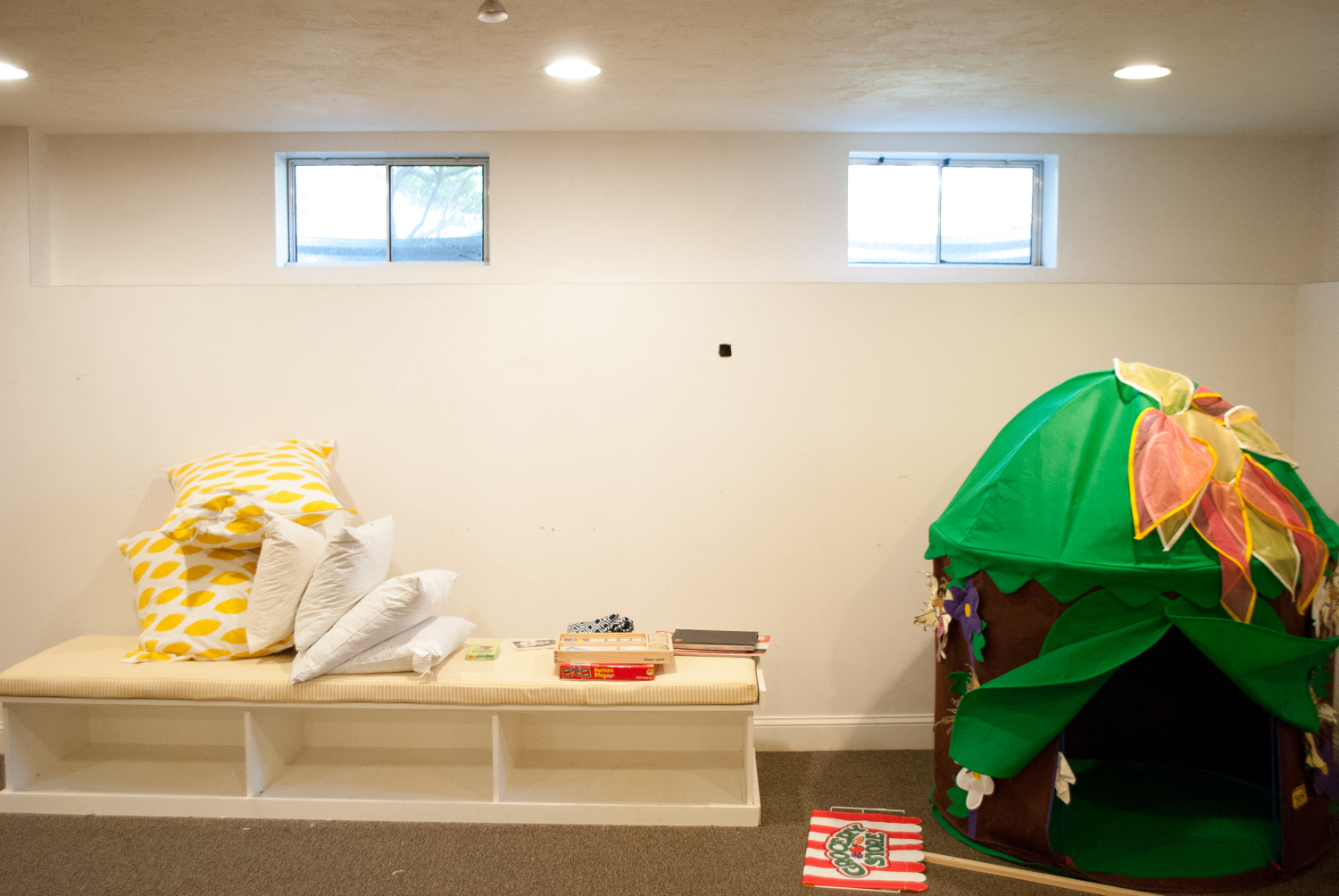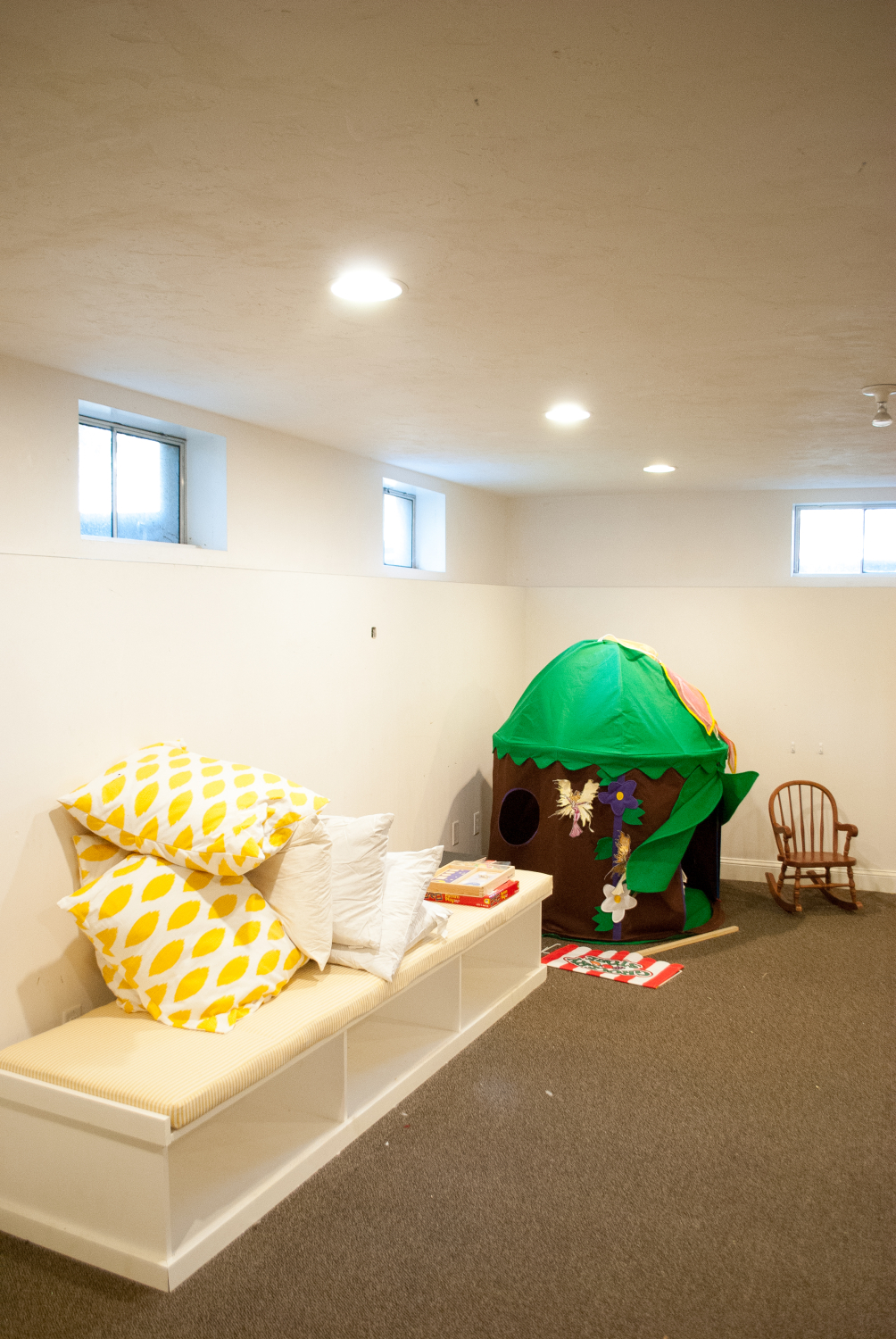 Phase Six – Lighting
The basement currently has recessed lights, which I'll convert to the same LEDs I used upstairs. There is also this rogue bulb light that hangs from the ceiling. Rewiring will be simple and I'll replace with a light that has a little more aesthetic value than a plain bulb (not hard to beat that!).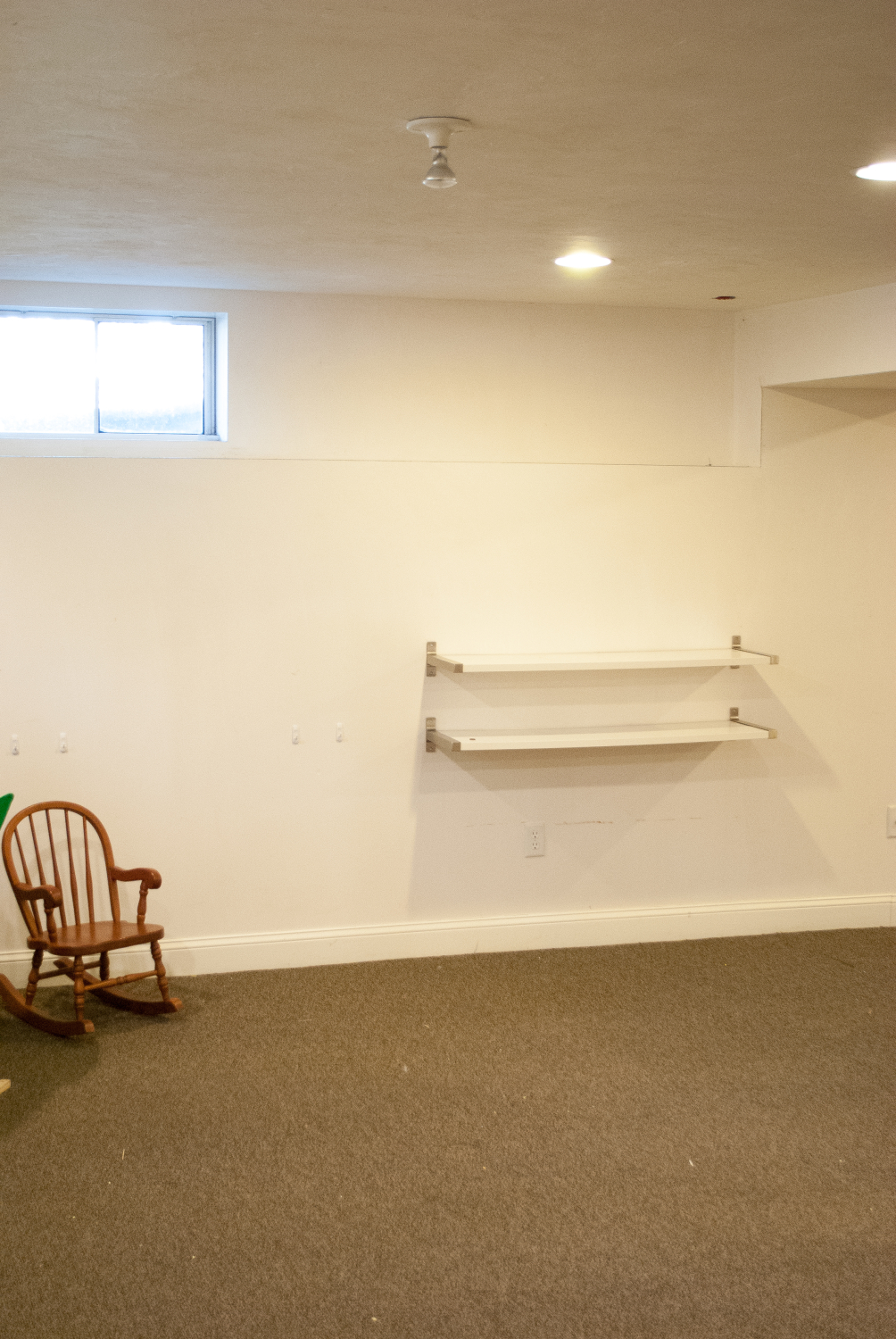 At this point the renovation process will be complete. All that will be left is adding in furniture, wall hangings, and finishing touches. As you can see, this is a BIG project with lots of steps. We will be investing money into this project and I will be investing months of my time to make it happen.
So why? Why am I spending all this time and so much effort to update the basement? First of all, it will allow us to reclaim the first floor family room as a largely toy-free zone. I am fine with my house looking like kids live here because kids do live here. But I also like the main living area to look reasonably put together as much as possible, and having toys spilling across half the family room gets in the way of that. If we didn't have the basement already finished I might just make do with things as they are, but the room is there, the hard work of framing and drywalling has already been done, and it seems a waste to me to leave this space unloved and unused when it has so much potential to function as a family lounge and play space for my family.
Even though we plan on staying in this house for a long time, there is always return-on-investment to consider as well. The enjoyment and extra space the room will give us is one part of the return-on-investment, but whenever we do decide to sell this house, potential buyers will see the basement as a polished, finished family space with potential for so many uses. The neighborhood I live in is very family-oriented and has been a draw for families looking at real estate for as long as it's been a neighborhood. It's a mile to the center of town but quiet and secluded. I think we all know how much basement playrooms/family rooms are in demand these days for young families so this basement project will add excellent value to our home. The room will grow with us as our daughters get older and whenever we decide to sell, it will make our house that much more attractive to potential buyers.
Have you ever taken on a project like this yourself? How did you manage to keep your head above water and stay on track?
This post was sponsored by Eastern Bank, though my plans for the basement and all opinions expressed are my own. I'm working with Eastern Bank to help spread awareness about their line of home equity loans, and how they can work for people looking to identify projects in their homes with a high return-on-investment.